Published by La rédaction · Photos by Cécile D. · Published on 27 September 2022 at 11h36
Alert exhibitions coming to an end this month! Are you sure you visited all the exhibitions you wanted? To make sure you miss out nothing and organize your outings as well as possible, have a look at our guide listing exhibitions living their last days in October 2022.
Oh no… The exhibition you wanted to visit, the one you put somewhere in your head and forgot right away... This exhibition is over.
And we know, between work, school, appointments, as well as great outings to enjoy daily in Paris, you might lose track of time. Days go by and you forget about this fabulous exhibition you wanted to see. And time still flies, and the exhibition closes and you are all sad and unhappy.
And promise, you will never experience such a disarray again: we have listed all the exhibitions in Paris and Île-de-France closing in October 2022. There are only a few days left to enjoy them. Grab tickets now!
Exhibitions you have to visit before they close:




Toucher le feu, femmes céramistes au Japon: the exhibition at the Musée Guimet
From June 1 to October 3, 2022, the Musée national des Arts Asiatiques (or Musée Guimet for friends) offers us to discover the exceptional work of female ceramicists in Japan with the "Toucher le feu, femmes céramistes au Japon" – or "Touching fire, female ceramicists in Japan" – exhibition. [Read more]




The Horizon of Khufu, an immersive nighttime journey in a pyramid to experience at the Arab World Institute
The Arab World Institute invites you to complete a unique journey, a virtual reality immersive experience taking you to one of the world's seven wonders. From June 14 to October 2, 2022, come and discover "The Horizon of Khufu". This July 2, enjoy an exceptional nighttime opening to discover this unusual experience. [Read more]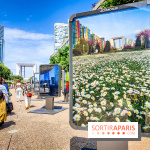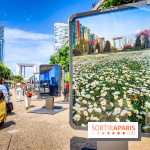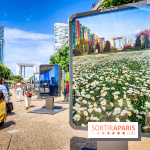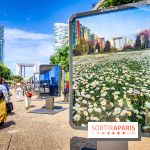 Les Extatiques 2022, the free open-air exhibition at La Défense and La Seine Musicale, our pictures
Les Extatiques, the monumental open-air exhibition at La Défense is back from June 22, to October 2, 2022, for the 5th edition. This year again, enjoy wonderful installations set between La Défense and the gardens of La Seine Musicale. [Read more]




The Art of Skate, the free street art exhibition at Fluctuart
Come and discover the art of skate from September 1 to October 14, 2022, with the free "The Art of Skate" exhibition. [Read more]




Floating Words, Ads Libitum's quirky and free exhibition at the Galerie Sakura
When pop culture meets traditional Japanese etchings… From September 7 to October 2, 2022, come and discover Ads Libitum's fun universe with exhibition Floating Words, held at the Galerie Sakura. [Read more]




"Andy Warhol, Paris and Fashion": the fashion and photo exhibition by Galerie Gagosian
From September 8 to October 12, 2022, Galerie Gagosian presents their photo exhibition related to fashion and taken by Andy Warhol. A genuine hymn to beauty and influence of Paris, the world's capital city of fashion. [Read more]
You have no more excuse: go now and enjoy these exhibitions before it is too late! Enjoy!