Published by La rédaction · Photos by My B. · Published on 18 August 2022 at 11h47
Paris is an open-air museum and beautiful exhibitions enlivens the cultural city. This time, let us discover some quirky exhibitions with very surprising and original stagings and themes!
Paris features the craziest concepts, including in cultural venues. We must say that for exhibition fans, the city is a genuine playground between iconic museums, secret gems and surprises to discover all year around. This time, let us think outside the box and discover some quirky displays expecting you now and soon in the city!
Impressive stagings, original themes, or crazy immersive concepts, the cultural world works hard to surprise you with fun ideas. And if you crave something extraordinary, you do not want to miss these fun displays expecting you in Paris and Île-de-France.
Furthermore, this page is updated accordingly. So, if you happen to be on a quest for the most original deals in the Paris area, save this guide and check it again soon to enjoy new ideas!
Ready? Buckle up, here we go for uncommon exhibitions to discover now and soon in Paris and its surroundings!
Quirky exhibitions running now in Paris and Île-de-France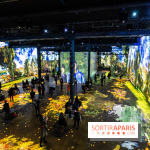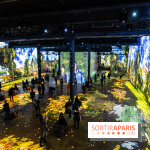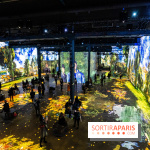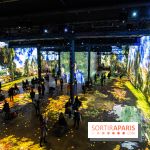 Cézanne at the Atelier des Lumières: the unmissable exhibition to enjoy now - our pictures
A door to Provence in the middle of Paris: from February 18, 2022 to January 1, 2023, the Atelier des Lumières takes us on an unusual journey through the "Cézanne, the Lights of Provence" exhibition. [Read more]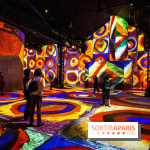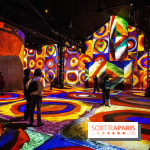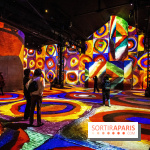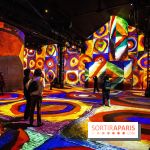 Kandinsky at the Atelier des Lumières: the immersive exhibition to discover - our pictures
Discover abstract art pioneer Vassily Kandinsky through the immersive exhibition of the Atelier des Lumières: "Kandinsky, The Odyssey of Abstraction". Running from February 18, 2022 to January 1, 2023. [Read more]




Fragile! Exhibition at the Cité des Sciences et de l'Industrie
Calling all budding scientists! Head to the Cité des Sciences et de l'Industrie to discover the museum's latest exhibitions for children aged 2 to 6! Called Fragile! it runs from February 19, 2022 to January 8, 2023. [Read more]




La Galerie Dior, the exhibition about the history of Maison Christian Dior at the 30 Montaigne museum
La Galerie Dior is a venue you do not want to miss if you love fashion. Set in the heart of 30 Montaigne, this exhibition area takes us to the very heart of the Maison Christian Dior's universe. Go and discover his inspirations and history through a series of magnificent stagings in this uncommon museum. [Read more]




A giant bamboo pavilion on the Parvis de La Défense for a sensory photo exhibition
Aqua Matter, here is the name of the crazy art installation expecting us from April 1 to September 22, 2022, on the Parvis de La Défense. In a 1,000sqm bamboo pavilion unveils an exclusive photo exhibition by Sebastião Salgado themed on water, this resource as necessary as fragile. [Read more]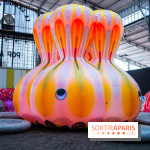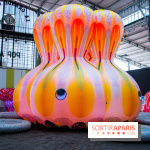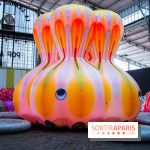 Pop air, the inflatable and immersive experience at the Grande Halle de la Villette: extra time
Starting from April 14, 2022, the Grande Halle de la Villette houses an exclusive and playful inflatable experience, Pop Air, made in partnership with Rome's Balloon Museum. The immersive exhibition is extended to September 4, 2022. [Read more]




Machu Picchu et les Trésors du Pérou: the immersive exhibition at the Cité de l'Architecture et du Patrimoine, our pictures
"Machu Picchu et les Trésors du Pérou" – Machu Picchu and the Treasures of Peru – here is the name of the compelling exhibition running from April 16 to September 4, 2022, at the Cité de l'Architecture et du Patrimoine. On the occasion, follow the footsteps of pre-Colombian civilizations to the mystery of Machu Picchu. A unique journey where visitors can admire over 190 original pieces from one of the greatest Peruvian museums! [Read more]




JAM CAPSULE, the cultural immersive experience is up at Paris Expo Porte de Versailles
Alert! JAM CAPSULE, the immersive exhibition taking you to a sensory experience to discover the most beautiful visual universes is coming from April 27, 2022, to Paris Expo Porte de Versailles. Sign up from Wednesday April 20! Do not miss this event providing you with 5 magical 360° journeys. [Read more]




Fugues in Color, the exhibition at the Louis Vuitton Foundation
The Luis Vuitton Foundation gathers five international artists for an uncommon exhibition testing these painters' creativity. From May 4 to August 29, 2022, come and discover "Fugues in Color". [Read more]




Europa Experience, a free and immersive European Union-inspired exhibition in Paris
From Saturday May 14, 2022, enjoy Europea Experience, a fun and free concept coming to Paris. On the menu, a 1,500-sqm exhibition inspired by the European Union delivering immersive, interactive and fulfilling experiences. Through a multimedia tour, including augmented reality installations and 360° movie theater, travel all around the European Union… from Paris. [Read more]




Le Temps des Dinosaures – the immersive life-sized exhibition at Paris Expo – Porte de Versailles
We thought they were gone… And yet, dinosaurs are alive and you can even meet the! Head to Paris Expo – Porte de Versailles from May 25 to August 28, 2022 to visit the immersive "Le Temps des Dinosaures" exhibition, an adventure for children and adults. [Read more]




Power and prestige, art of clubs in Oceania: the exhibition at the Musée du Quai Branly - Our pictures
Weapons, tools, symbols of power: clubs are given pride of place in the latest exhibition of the Musée du Quai Branly, running from June 8 to September 25, 2022. "Power and prestige, art of clubs in Oceania" takes you on an uncommon journey through the history of this oh-so special object. [Read more]




The Horizon of Khufu, an immersive nighttime journey in a pyramid to experience at the Arab World Institute
The Arab World Institute invites you to complete a unique journey, a virtual reality immersive experience taking you to one of the world's seven wonders. From June 14 to October 2, 2022, come and discover "The Horizon of Khufu". This July 2, enjoy an exceptional nighttime opening to discover this unusual experience. [Read more]




Maison Chaumet's Botanical exhibition is up at the Beaux-Arts de Paris
Botanical – Observing Beauty – here is the name of the magnificent and affordable exhibition by Maison Chaumet at the Beaux-Arts de Paris. From June 16 to September 4, 2022, go and discover a botanical tour including 400 masterpieces from several eras, including 80 haute-joaillerie pieces by Chaumet. Between drawings and herbariums, discover the house's inspirations and be blown-away! [Read more]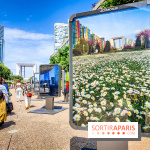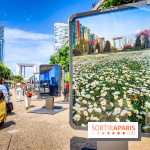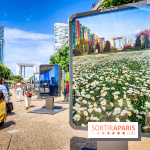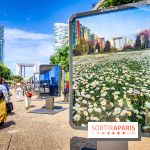 Les Extatiques 2022, the free open-air exhibition at La Défense and La Seine Musicale, our pictures
Les Extatiques, the monumental open-air exhibition at La Défense is back from June 22, to October 2, 2022, for the 5th edition. This year again, enjoy wonderful installations set between La Défense and the gardens of La Seine Musicale. [Read more]




Immersive exhibition inspired by the Lantern Festival at Paris Korean Culture Center - Our pictures
To celebrate the Taste Korea festival, the Centre culturel coréen – or Korean Culture Center – nestled in Paris 8th arrondissement concocts an exclusive immersive and free exhibition inspired by the famous lantern festival. Meet from June 30 to September 9, 2022, to enjoy this fabulous journey! [Read more]
Quirky exhibitions running soon in Paris and Île-de-France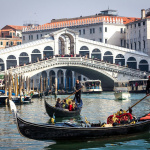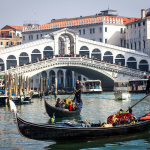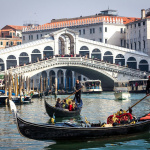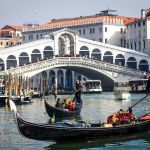 Venise Révélée, the exhibition at the Grand Palais Immersif in Bastille
From September 2022 to February 2023, the Grand Palais Immersif and the Opéra Bastille invite lovers of the "La Serenissima" to discover the digital exhibition, Venise Révélée. An exclusive dive into mysterious Venice for a never-before-seen journey in the heart of the City of Water! [Read more]




Special Forces, the striking exhibition at the Musée de l'Armée
They are elite units, soldiers told in movies: from October 12, 2022, to January 29, 2023, the Musée de l'Armée tells the story of the Special Forces through an immersive exhibition. [Read more]




HUMPTY/DUMPTY exhibition by Cyprien Gaillard at the Palais de Tokyo and Lafayette Anticipations
From October 19, 2022 to January 8, 2023, the Palais de Tokyo and Lafayette Anticipations house Cyprien Gaillard's HUMPTY/DUMPTY exhibition. An art project displayed in two locations at the same time, two different chapters. [Read more]




"Parade" exhibition by Guillaume Leblon at the Palais de Tokyo
From October 19, 2022, to January 8, 2023, the Palais de Tokyo offers contemporary art lovers to enjoy an exhibition focusing on artist Guillaume Leblon's work. [Read more]