Published by La rédaction · Photos by Laurent P. · Published on 30 June 2022 at 17h04
Craving a free exhibition in Paris? Come along and discover June 2022's cultural good deals in the city. Here are free exhibitions running!
There we go, June is here in Paris, and let us move on to summer in the city. The summer season has lots of good deals in store to delight cultural outing fans. Yes, just like the sun, free exhibitions are out and about too! So, you really do not want to miss this beautiful program.
To help you enjoy each good deal provided by the city, we have gathered exhibitions to enjoy Paris cultural richness for free. Proving you do not need to break the bank to enjoy Paris charm. Outdoors or indoors, here are free exhibitions to enjoy this June in Paris this early summer.
But please, make sure you keep this page in your bookmarks: this guide is updated accordingly, so, do not hesitate to check it out again regularly to miss none of our ideas.
Are you ready, then? Here we go for June 2022's free exhibitions in Paris and Île-de-France!




Immersive exhibition inspired by the Lantern Festival at Paris Korean Culture Center - Our pictures
To celebrate the Taste Korea festival, the Centre culturel coréen – or Korean Culture Center – nestled in Paris 8th arrondissement concocts an exclusive immersive and free exhibition inspired by the famous lantern festival. Meet from June 30 to September 9, 2022, to enjoy this fabulous journey! [Read more]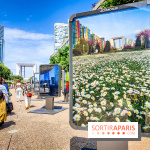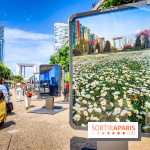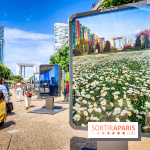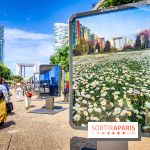 Les Extatiques 2022, the free open-air exhibition at La Défense and La Seine Musicale, our pictures
Les Extatiques, the monumental open-air exhibition at La Défense is back from June 22, to October 2, 2022, for the 5th edition. This year again, enjoy wonderful installations set between La Défense and the gardens of La Seine Musicale. [Read more]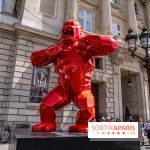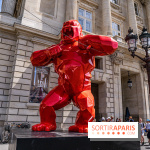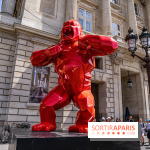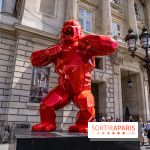 Orlinski's sculptures take over the 8th arrondissement, enjoy the open-air exhibition
Richard Orlinski unveils new pieces in the streets of Paris: from the Concorde to Madeleine, by the rue du Faubourg Saint Honoré, you might run into huge and strange animals… A fabulous open-air exhibition to enjoy from June 9 to July 9, 2022. [Read more]




Summer 2022's free exhibitions in Paris and Île-de-France: cultural good deals
The Parisian summer is about to be packed with good deals. Here are the free exhibitions expecting you in the summer season in Paris to improve your knowledge without breaking the bank! [Read more]




From La Hune with love, Melody Gardot's (free) photo exhibition
Melody Gardot expresses her talent through music and photography just as well. The American jazz singer displays her photographs at the La Hune gallery. A free exhibition called "From la Hune with love", running from May 24 to September 30, 2022. [Read more]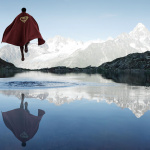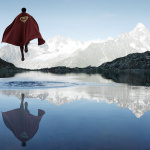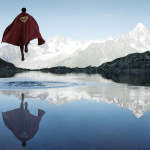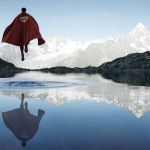 Pop Icons, the open-air photo exhibition at Bercy Village
And what if characters from the Star Wars saga were to strike a pose in front of the Eiffel Tower? Artist Benoît Lapray shows us more about his surprising universe mixing two worlds, through a free photo exhibition running at Bercy Village. From May 19 to September 18, 2022, come and admire Pop Icons. [Read more]




Free museums and monuments in Paris and Ile de France
Looking for a free museum in Paris? Musée des Beaux-Arts, Musée d'Art Moderne, Musée de l'Aviation, Musée des Arts Asiatiques, over 20 museums are free of charge, all year round, so, discover them! [Read more]
Craving for more? Have a look at our guide to June's unmissable exhibitions in Paris and Île-de-France.