Published by La rédaction · Photos by My B. · Published on 8 August 2022 at 20h49
How about visiting a romantic exhibition? Here are our favorite deals to make the most of a gorgeous and cultural outing in Paris with your date. After all, this museum-city is also the city of love.
Are you preparing a beautiful and romantic outing? We must say Paris deserves its reputation as the city of love: the City of Lights provides us with a romantic movie-worthy setting, so, we better make the most of it! After gardens and restaurants, here are the greatest romantic exhibitions in Paris.
Yes, the city is a genuine open-air museum. All year around, Paris lives to the rhythm of a busy cultural calendar, enabling us all to find something to do. And if you want to improve your knowledge with your other half, it is time to do so! And to help you out, we have gathered the best deals to enjoy a romantic exhibition.
If you particularly are fond of this type of outings, please save this page in your bookmarks! The selection is updated accordingly. Stay tuned, then!
Are you ready? Here we go for the most beautiful and romantic exhibitions for a romantic outing in Paris!




Sally Gabori, the surprising contemporary art exhibition at the Cartier Foundation
Her name is Mirdidingkingathi Juwarnda Sally Gabori and she is the star of the Cartier Foundation's exhibition. From July 3 to November 6, 2022, come and discover the work of this exceptional Aboriginal Australian artist! [Read more]




La Galerie Dior, the exhibition about the history of Maison Christian Dior at the 30 Montaigne museum
La Galerie Dior is a venue you do not want to miss if you love fashion. Set in the heart of 30 Montaigne, this exhibition area takes us to the very heart of the Maison Christian Dior's universe. Go and discover his inspirations and history through a series of magnificent stagings in this uncommon museum. [Read more]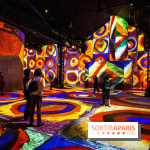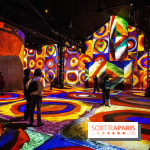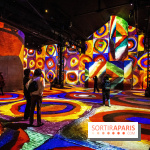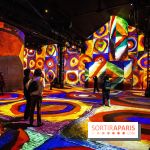 Kandinsky at the Atelier des Lumières: the immersive exhibition to discover - our pictures
Discover abstract art pioneer Vassily Kandinsky through the immersive exhibition of the Atelier des Lumières: "Kandinsky, The Odyssey of Abstraction". Running from February 18, 2022 to January 1, 2023. [Read more]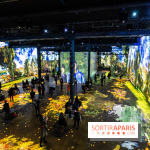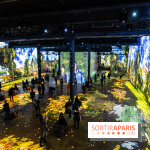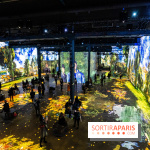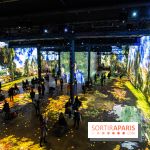 Cézanne at the Atelier des Lumières: the unmissable exhibition to enjoy now - our pictures
A door to Provence in the middle of Paris: from February 18, 2022 to January 1, 2023, the Atelier des Lumières takes us on an unusual journey through the "Cézanne, the Lights of Provence" exhibition. [Read more]