Published by La rédaction · Photos by My B. · Published on 19 July 2022 at 12h41
Feel like traveling without leaving Paris? Come along and enjoy an exceptional adventure in the heart of ancient Egypt with museums and art places in Paris and Île-de-France. Lots of exhibitions tell you all the secrets of this fascinating civilization…
Their civilization has been fascinating us all for thousands of years. We must say ancient Egyptians left an exceptional heritage behind that is still very mysterious. Pharaohs, temples and pyramids, mummies, archeological treasures, hieroglyphs, mythology, fabulous archeological epics… There are plenty of topics to explore!
This is very good news for all History fans: it means museums and places of art have still a lot to study and shine a light on through exhibitions. And this is the minimum to make us happy: it only takes an ancient Egypt exhibition to attract us like butterflies…
And this is why the program of museums in Paris and Île-de-France delights us this much. Enjoy exhibitions currently running or soon to be in the area. Here is a quick sum-up of ancient Egypt-inspired exhibitions in the museums of the capital city. This guide is updated accordingly, come back and check it out again regularly!
Current exhibitions:




The Horizon of Khufu, an immersive nighttime journey in a pyramid to experience at the Arab World Institute
The Arab World Institute invites you to complete a unique journey, a virtual reality immersive experience taking you to one of the world's seven wonders. From June 14 to October 2, 2022, come and discover "The Horizon of Khufu". This July 2, enjoy an exceptional nighttime opening to discover this unusual experience. [Read more]
Upcoming exhibitions: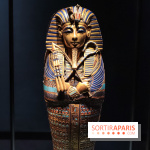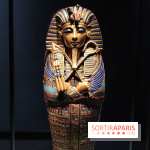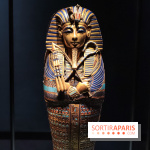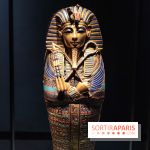 Ramses and the Pharaohs' Gold: the crazy exhibition coming to Paris La Villette
If you are fascinated by ancient Egypt, then let us meet soon in Paris for a new and exclusive immersion. As announced by Egyptian magazine "Egypt Independent", the travelling "Ramses and the Pharaohs' Gold" exhibition is coming to April 2023 to La Grande Halle de La Villette. Here is more about it. [Read more]
Egyptian influence is everywhere in Paris, and even outside museums! Take a walk in the streets of Paris and discover this fascinating and uncommon heritage.
Ancient Egypt: treasures from the Pharaohs to enjoy in Paris
Are you fascinated by ancient Egypt? If you are, then this is your lucky day: several museums and monuments in Paris shine a light on pieces from the pharaoh era. Keep reading and enjoy an Egyptian walk in Paris. [Read more]