Published by La rédaction · Photos by My B. · Published on 24 September 2022 at 16h10
Do you like exhibitions? We do too! And what we love even more is when they are free! Keep reading to discover the most beautiful October 2022's exhibitions in Paris on a budget.
How lovely Fall is! The bright colored trees, the soft warm drinks,Fall break and Halloween… And of course, exhibitions! October marks the beginning of a new season in museums and galleries in Paris: new programs begin, lots of surprises expect us.
But all these events cost a lot of money and sometimes, the budget cannot keep up. Fortunately, there are lots of free exhibitions in Paris and Île-de-France to quench our thirst of art and even when on a budget!
Free collections, galleries, art venues, open-air exhibitions, late-night openings, special events: your October cultural program will be very busy.
Have a look at the free art exhibitions and events expecting you this month. Do not hesitate to check this guide regularly: we add new ideas accordingly.
Here is our selection of free displays to enjoy in October 2022 in Paris and Île-de-France:




Free museums and monuments in Paris and Ile de France
Looking for a free museum in Paris? Musée des Beaux-Arts, Musée d'Art Moderne, Musée de l'Aviation, Musée des Arts Asiatiques, over 20 museums are free of charge, all year round, so, discover them! [Read more]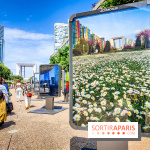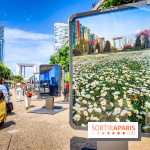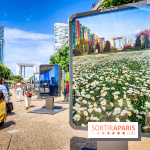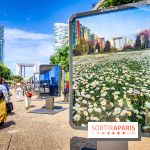 Les Extatiques 2022, the free open-air exhibition at La Défense and La Seine Musicale, our pictures
Les Extatiques, the monumental open-air exhibition at La Défense is back from June 22, to October 2, 2022, for the 5th edition. This year again, enjoy wonderful installations set between La Défense and the gardens of La Seine Musicale. [Read more]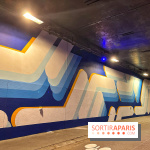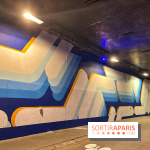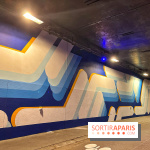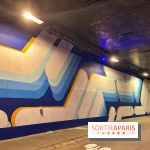 Street-art to soon cover the Paris Tunnel des Tuileries
The Tunnel des Tuileries goes very colorful! For two weeks, a dozen artists cover the Parisian tunnel reserved to soft mobilities in colorful murals to see until July 2023. [Read more]




Floating Words, Ads Libitum's quirky and free exhibition at the Galerie Sakura
When pop culture meets traditional Japanese etchings… From September 7 to October 2, 2022, come and discover Ads Libitum's fun universe with exhibition Floating Words, held at the Galerie Sakura. [Read more]




"Andy Warhol, Paris and Fashion": the fashion and photo exhibition by Galerie Gagosian
From September 8 to October 12, 2022, Galerie Gagosian presents their photo exhibition related to fashion and taken by Andy Warhol. A genuine hymn to beauty and influence of Paris, the world's capital city of fashion. [Read more]




Exhibition and entertainments about the Wallace fountains on the Champs-Elysées this Fall
For the 150th anniversary of the Walace fountains, the city of Paris delivers lots of entertainments about the famous water bodies. From September 24 to October 9, 2022, an exhibition tell about their story on the Champs-Elysées, along with entertainments. [Read more]




FRED jewelry house's first retrospective at the Palais de Tokyo
Fred jewelry house exhibits for the first time this Fall at the Palais de Tokyo. From September 28 to October 24, 2022, come and enjoy treasures and gemstones by Fred for an immersive tour telling you the wonderful story of the brand. [Read more]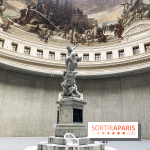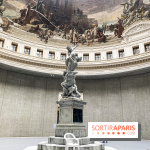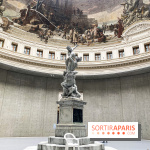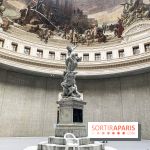 Free late-night opening on Saturday October 1, 2022, at the Bourse de Commerce
Feel like visiting the collections of the Bourse de Commerce? Enjoy the free late-night opening held on Saturday October 1, 2022, to discover this new and unmissable art place in Paris. [Read more]




Free museums and monuments this Sunday October 2, 2022 in Paris
Which museum can you visit for free on the 1st Sunday of the month, namely Sunday October 2, 2022, in Paris? We are delighted to enjoy our early month ritual: discovering a museum or monument free of charge! [Read more]




A crazy Street-Art exhibition at Paris City Hall: Capitale(s), de Banksy à Miss Tic
Calling all street art fans, Paris City Hall unveils their latest compelling and free exhibition called "Capitale(s): 60 ans d'art urbain à Paris". An exceptional display running from October 15, 2022, to February 11, 2023, and inviting us to discover pieces by over 70 artists, from Banksy to Miss Tic, including Invader, Swoon and Seth. [Read more]




Les Militantes, the committed and free exhibition by Maison Guerlain in Paris
From October 19 to November 14, 2022, Maison Guerlain invites you to discover their latest free exhibition. Come and meet "Les Militantes", namely female artists and women fighting for a fairer world. [Read more]
Have you made your choice yet? Do not hesitate to check the (free or charged) exhibition program of the month!