Published by Rizhlaine F. · Published on 17 September 2021 at 10h52
Wanting to celebrate your friend's bachelorette party in Paris? We've got you covered with great ideas to enjoy an unforgettable moment with your friends.
The bachelorette party is like the wedding: it requires organization. But it's not always easy to find a nice activity to do that can suit everyone. Don't panic, we've prepared a nice selection fitting all budgets and tastes and you're likely to find your happiness. In other words, nice addresses to ge some ideas. Ready? Let's go!




O'Kari, the hammam in Paris to visit with your girl friends
O'Kari is a traditional hammam that requires time if you want to enjoy it. Exclusively reserved for women, it has a whole range of rituals and treatments to wholeheartedly enjoy the oriental way of life. [Read more]




Sensation Spa, a haven of wellness in Paris
Sensation Spa is a unique place of wellness in Paris. This uncommon spa is the promise of a beautiful discovery thanks to unique massages. Be careful though, the address is highly addictive! [Read more]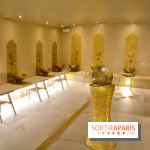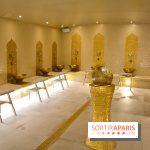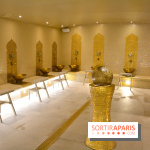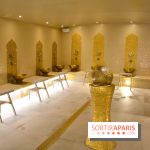 Les Bains d'AliA, a superb hammam at the gateway of Paris
Les Bains d'AliA, it's a hammam we've have been dreaming of in Paris. An exotic place of relaxation where we enjoy a genuine traditional body scrub, the whole in a sophisticated Oriental-inspired setting. Ready to get pampered properly? [Read more]




VIK Karaoke, the karaoke box in Paris Saint-Michel neighborhood
Do you like to sing along with your friends? If so, do not waste time and go to VIK Karaoke, the new Karaoke Box in Paris that has opened in Saint-Michel. Featuring a bar and three rooms for 8 to 15 persons, this is the new and perfect karaoke for all your singing evenings! [Read more]




Les Petites Flèches, the uncommon bar to play darts in Paris, reopens
Les Petites Flèches is this quirky bar coming to Paris 11th arrondissement. Here, you discover the concept of connected darts, never-seen before in Paris, while enjoying craft beers and tasty mezzes. [Read more]




Joséphine, the new hidden club in Paris théâtre du Châtelet
A new club is coming to Paris Théâtre du Châtelet. The Joséphine rocks Parisian nights with electro and hip-jop sounds every week from Thursday to Saturday.
Watch out, here comes the bride. Don't spoil the surprise!