Published by Manon C., My B., Rizhlaine F. · Photos by My B. · Published on 27 May 2022 at 10h48
Paris is filled with wonderful gardens and parks, green settings inviting you to relax, far from the city's hustle and bustle. Here are the most beautiful green places in the city and in Île-de-France!
What would be Paris without its gorgeous parks and gardens? If you feel like going to the countryside without even leaving the French capital, we suggest you go and (re)discover the most beautiful green places in the heart of the city and in Île-de-France.
As a matter of fact, there are many of them, and as soon as sunny days are back, this is the occasion to take some time to yoruself, have a picnic with friends, read a good book in the sun, or simply lay in the sun, feet out, far from the Parisian hustle and bustle!
From famous places to the most secret gardens, we invite you to enjoy the most beautiful parks and gardens in Paris, as well as the fascinating stories hidding behind these mythical and mysterious places. Alright then, this afternoon, let us make the most of the sun, and go out!
The most beautiful parks and gardens in Paris: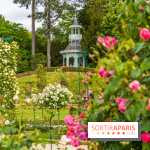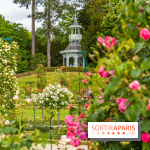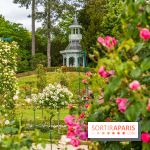 Parc de Bagatelle, its rose garden and magnificent gardens
The Parc de Bagatelle expects you by the Bois de Boulogne to make you enjoy its enchanting setting. From the Château de Bagatelle, to the beautiful rose garden, including the vegetable garden, here is a magical garden. [Read more]




Paris Vincennes Parc Floral, magnificent gardens and entertainments
The Parc Floral is the biggest park in Paris after the Bois de Boulogne, set within walking distance from the Château. In addition to his superb greenery, this is a giant park featuring playgrounds for children, miniature golf, four-wheeled bicycle rides, exhibitions-sales, shows, butterfly greenhouse and many more gems. [Read more]




Parc Monceau, the romantic and uncommon park in Paris
Parc Monceau is undoubtedly one of the most flowery parks in Paris, nestled between the 8th and 17th arrondissements. This is an original and uncommon park featuring ruins, sculptures and lush greenery. Come along and discover its story and special features. [Read more]




The Parc des Buttes Chaumont, the biggest charming park in Paris
The Parc des Buttes Chaumont set in Paris 19th arrondissement is one of the biggest green areas in Paris. For a run, a picnic or a bucolic walk, this large green setting is a must. [Read more]




Balzac's House and its confidential garden with views on the Eiffel Tower
Balzac's House or Maison de Balzac - that used to be home to the famous writer - is one of the literary gems in the city, set in the 16th arrondissement of Paris. This museum-home also houses an incredible garden with views on the Eiffel Tower and a café. [Read more]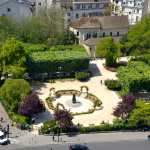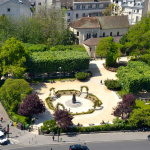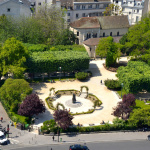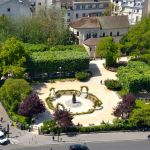 Square René-Viviani, an uncommon garden housing the oldest tree in Paris
The Square René-Viviani is undoubtedly one of the most uncommon gardens in Paris. in this garden set by the Seine riverbanks, discover a verdant location filled with historic remnants and open onto Notre-Dame. And it even houses the oldest tree in Paris! [Read more]




The Great Mosque of Paris and its garden filled with blossoming wisteria
With its charming shady courtyard, its garden and its traditional décor, the Great Mosque of Paris is worth a long tour if you happen to be in Paris 5th arrondissement. [Read more]




Square du Temple, feelgood park in Paris
Nestled in Paris 3rd arrondissement, a stone's throw from the Marché des Enfants Rouges, the Square du Temple is a lovely and feelgood garden. Here, Parisians and tourists play table tennis or chess, while children can enjoy the playground or observe ducks filling the pond. [Read more]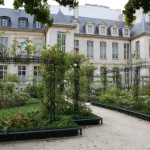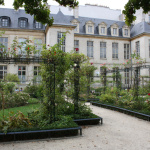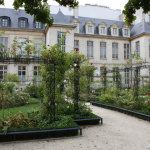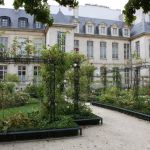 Square Saint-Gilles Grand Veneur, a rose garden in the heart of Paris
Looking for a romantic spot to chill on sunny days in Paris? Come along and discover the square Saint-Gilles Grand-Veneur Pauline-Roland, a secret garden featuring a magnificent rose garden! [Read more]




Musée de Cluny's medieval garden, a place untouched by time in Paris
How about travelling back in time? We offer you to go and discover a lovely park in Paris Latin Quarter. Here is the Musée de Cluny's Medieval Garden. [Read more]




Square Georges Cain, a little-known open air-like museum garden in Paris
In Paris, the Square Georges Cain is a very outstanding location. Set a stone's throw from the Musée Carnavalet, this little-known park provides us with a nice green setting where you can discover remnants of monuments. Let us tell you more about this square looking like an open-air museum. [Read more]




Palais Galliera square, a wonderful green park in Paris
A sun-filled garden awaits you behind Palais Galliera. This lovely green setting, also named Square Brignole-Galliera, is the ideal place to treat you to a break in a great place. [Read more]




Jardin Naturel Pierre-Emmanuel in Paris where nature is the strongest
In Paris, by the Père Lachaise cemetery lays an uncommon place where nature returned. Here is the Jardin Naturel Pierre-Emmanuel, a wild plant conservatory unveiling rich biodiversity. [Read more]




Jardin des Grands Explorateurs, a little-known stroll in Paris
Have you heard about the Jardin des Grands Explorateurs? This little-known park in Paris, set a stone's throw from the Jardin du Luxembourg, is yet worth the trip. Here, you will discover a secrete stroll in the middle of statues, as well as the magnificent Fontaine des Quatre-Parties-du-Monde. [Read more]




Jardins du Palais-Royal, one of Paris' beloved parks
The Jardins du Palais-Royal is one of the most coveted places in Paris when the sun shines. Let us tell you why. [Read more]




The Coulée Verte, a verdant walk in Paris
The Coulée Verte René-Dumont is a very beautiful but little-known walk in Paris unveiling a verdant path covering Bastille to the Bois de Vincennes, going above the Viaduc des Arts. This is an original spot to discover another face of Paris! [Read more]




Paris Parc André Citroën reopens
Parc André Citroën is set in Paris 15th arrondissement. This garden offers its visitors a green stroll in the middle of varied landscapes. We tell you everything. [Read more]




The Jardin du Luxembourg in Paris reopens
Paris Jardin du Luxembourg is a park valued by Parisians – nicknaming it "Le Luco" – as much as tourists. A bucolic and very lively garden that makes whoever comes to have a walk happy and even more when the sun is out! The parks reopens from May 30, 2020. [Read more]




The Tuileries Garden reopens
The Tuileries Garden is a must-see place in Paris! This garden goes along rue de Rivoli, linking two very famous places in Paris, the Louvre and the Place de la Concorde. And when we visit it, we quickly understand why the Tuileries Garden is a listed monument since 1991. We find manies statues along with works of art. Discover it from Sunday May 31, 2020. [Read more]
The most beautiful parks and gardens in Île-de-France: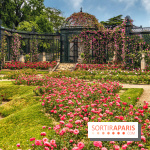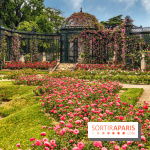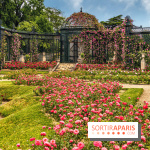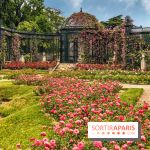 Val-de-Marne rose garden in L'Haÿe-les-Roses, the enchanting and remarkable garden
Looking for the most beautiful rose garden in Paris? Come to L'Haÿe-les-Roses in Val-de-Marne to discover the magnificent rose garden worth the trip! Both a conservatory for vegetable collections and remarkable garden, this rose garden will blow you away. [Read more]




The estate of Trianon and its gorgeous gardens
The Estate of Trianon is to be visited apart from the Palace. Set at two kilometers, it used to be a place of refuge for the kings who found rest and relaxation far from the Court. Designed by Louis XV, this estate becomes Marie-Antoinette's fiefdom as she changes the place and creates a hamlet like a small village. [Read more]




Square Médéric's Japanese Garden in Colombes
The square Médéric, this lovely local park in Colombes, unveils a charming 3,800sqm Japanese garden displaying bamboos, maple trees, cut trees, azaleas and pagoda. Run there to have a rest and enjoy this change of scenery. [Read more]




Parc Edmond de Rothschild's Japanese Garden in Boulogne
Let us run to Boulogne-Billancourt to discover the Japanese garden of the Parc de Boulogne, the park of Château Buchillot, in ruins, that used to be owned by Edmond de Rothschild. Between water ways, pine trees, maple trees and iconic red bridges, this is a great and relaxing change of scenery to enjoy right outside Paris. [Read more]




The lovely Japanese Ichikawa garden in Issy-les-Moulineaux
The Japanese Ichikawa garden, right outside Paris, was made thanks to a partnership between the city of Issy-Les-Moulineaux and the Japanese city of Ichikawa. They worked hand in hand to create the first authentic Japanese public garden in France. Let us run and discover this quiet garden perfect to meditate and relax. [Read more]




The Parc de l'Amitié, the magnificent Japanese park in Reuil-Malmaison
Are you looking for an original park and garden outside Paris? Head to Rueil-Malmaison to discover the Parc de l'Amitié, this surprising park with multiple treasures, unveiling a Japanese garden, an iconic red bridge, and lush plants. [Read more]




The Arboretum de Versailles-Chèvreloup and its Remarkable Garden
The Arboretum de Versailles-Chèvreloup expects you all year around in its remarkable 200-hectare park! Come and have a walk, a picnic or workout to your heart's content surrounded by 10,000 trees of over 2,500 different species. [Read more]




Albert-Kahn museum's garden takes you on a journey
The Albert-Kahn museum - that recently reopened - unveils magnidicent gardens you need to discover. Designed as staged gardens, this 4-hectare area delivers a magnificent Japanese garden and village, an English garden, a French formal garden, as well as forests and meadows. What a change of scenery! [Read more]




The Château de Saint-Jean de Beauregard and its Remarkable Garden
Set in Essonne, in the Parc Naturel Régional de la Haute Vallée de Chevreuse, the Château de Saint-Jean de Beauregard is a 19th century castle listed as Historic Monument and in a remarkable condition. One runs there to discover the estate and especially the kitchen garden labelled as Remarkable Garden. [Read more]




Rueil-Malmaison's Monet-inspired Parc des Impressionnistes
Rueil-Malmaison's Parc des Impressionnistes, set by the Sein, across the Ile des Impressionnistes, is a magnificent 1.2-hectare park paying tribute to impressionists' colors. Artificial lake, plants and flowers galore remind us of Claude Monet's garden in Giverny. [Read more]




Château de Vaux le Vicomte and its gardens, a fantastic estate in Seine-et-Marne
Château de Vaux le Vicomte is ready to welcome you all again. Set 50km from Paris, this is one of the jewels designed by Le Vau, Le Brun and Le Nôtre that inspired the Palace of Versailles. The castle gardens are a gem for beautiful strolls and entertainments for children. [Read more]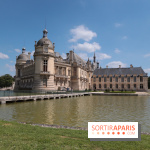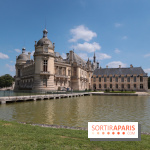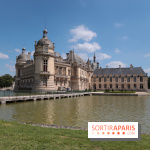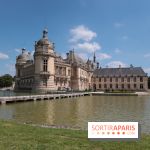 Château de Chantilly, visit of the castle, museums and park
The Château de Chantilly, French heritage gem, includes a magnificent castle, as well as a huge park, the Musée Condée and the Great Stables also housing the Musée du Cheval. [Read more]




Parc du Domaine de Sceaux, a historic place with a verdant landscape
In Hauts-de-Seine, the Parc du domaine de Sceaux is a landmark. This gigantic green setting attracts nature lovers and celebrates Hanami, the yearly blossoming cherry tree festival. [Read more]




Domaine de Saint-Cloud: a festive place at the gates of Paris
Domaine de Saint-Cloud is the magnificent park of the Château de Saint-Cloud, now gone. But today still, this magical estate is a festive place for local inhabitants and Paris lovers. [Read more]
And for themed outings: