Published by Rizhlaine F. · Published on 23 March 2022 at 09h52
Winter is coming to Paris! And if you feel ready to face the cold, then your bravery will be rewarded: here are great outing ideas you can enjoy this season!
Paris in the winter is magical. The beautiful of the French capital city encourages us to face the cold and enjoy wonderful winter outings expecting us there. Layer up and discover majestic exhibitions, and enjoy magical strolls before finding shelter in a cozy restaurant or a comforting tea house. On the menu, good food, cultural gems, and surprises like Paris has in store. Get your beanies, scarves and big coats out, it is time to discover the best outings of the winter in Paris!
For foodies:




Paris in the winter: 10 comforting spots in town
It is getting chilly, right? It is time to head to the most comforting spots in Paris! Warm restaurants or cozy tearooms, here are our favorite places to warm up with indulgence! [Read more]




Guide to the best raclette, tartiflette and fondue in Paris
This winter – as it gets colder – we feel like enjoying tasty winter dishes such as raclette, tartiflette or fondue… Unlimited, perched in the air or in temporary cabins… Here are a few venues where you can treat yourself to these cheesy dishes. [Read more]




Paris best traditional bouillons, brasseries and bistros
How about having a bite to eat in a typically Parisian restaurant? Here are the best addresses of traditional bouillons, brasseries and bistros in Paris! [Read more]




The best winter 2021-2022 bars, terraces and restaurants in Paris
This winter, some Parisian establishments and hotels decided to offer temporary bars, terraces and even restaurants with hot cocoa for some, cocktails and mulled wine of others and even typical dishes likely to fulfill your taste buds. Sortiraparis invites you to have a round of these winter bars, terraces and restaurants open for the Holidays. [Read more]




The best tearooms in Paris
Are you looking for a great tearoom in Paris for a sweet break? Head to one of our favorite tearooms... It will tickle your taste buds and you will have a very delightful time in the French capital! [Read more]




The best Coffee Shops in Paris
Coffee lovers unite! Because a coffee break is a ritual shared by many people worldwide, we decided to make you discover the best coffee shops in Paris. [Read more]




Guide to the best hot chocolates in Paris
Fancying a tasty hot chocolate? Come along and discover the best indulging drinks in Paris for this winter. From great houses to the most uncommon, without forgetting those made by famous pastry chefs, here is a guide to the best hot chocolates in Paris. [Read more]
Exhibitions:




Exhibitions closing in May 2022, in Paris
Alert exhibitions coming to an end this month! Are you sure you visited all the exhibitions you wanted? To make sure you miss out nothing and organize your outings as well as possible, have a look at our guide listing exhibitions living their last days in May 2022. [Read more]




The best exhibitions in Paris and Île-de-France this January 2022
What exhibition should we visit in January 2022 in Paris and Île-de-France? The new year starts with a selection of the greatest exhibitions displayed. Find out more! [Read more]




Free museums and monuments this Sunday June 5, 2022 in Paris - Public Holiday
Which museum can you visit for free on the 1st Sunday of the month, namely Sunday June 5, 2022 in Paris? On this public holiday, many venues are exceptionally closed. Yet, there are still a few museums and monuments ready to welcome you all! [Read more]




2022's most awaited exhibitions in Paris
What exhibitions are waiting for us in Paris in 2022? After an uneven cultural year, we are looking forward to finding wonderful exhibitions in Paris and Île-de-France museums, and we are sure there will be many of them. Keep reading to know more about the dates of this year's exhibitions. [Read more]




Museums and monuments open Saturday January 1, 2022 in Paris
And you? What do you do on January 1, 2022? If your good resolution is to go out more, do not stay home on this January 1, museums and monuments are open in Paris to celebrate the new year! [Read more]




Orlinski's sculptures displayed on Avenue George V and the Champs-Elysées
Looking for a free and open-air exhibition? Run and enjoy the Richard Orlinski exhibition taking place on Avenue George V. Over a dozen giant sculptures are displayed, covering 2 kilometers, along the beautiful Parisian avenue, between giant gorillas, bears and lions. A wonderful walk to enjoy until February 8, 2022. [Read more]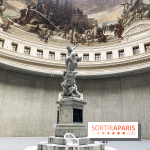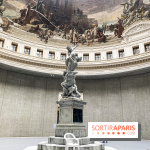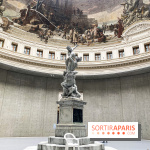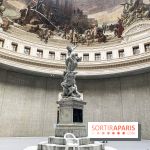 Free late-night opening on Saturday June 4, 2022 at the Bourse de Commerce
Feel like visiting the collections of the Bourse de Commerce? Enjoy the free late-night opening held on Saturday June 4, 2022 to discover this new and unmissable art place in Paris. [Read more]




Le Monde de Steve McCurry, Musée Maillol's compelling photo exhibition - extra time
From December 9, 2021 to July 31, 2022, the Musée Maillol is home to a large-sized retrospective of the most beautiful photographs taken by renown contemporary press photographed Steve McCurry. [Read more]




Gaudí, the Architect of the Imaginary: pictures of the exhibition at the Atelier des Lumières
The Atelier des Lumières pays tribute to architecture genius Gaudí, whose works of art have been listed as UNESCO World Heritage. From May 19, 2021 to January 2, 2022, come and enjoy the "Gaudí, the Architect of the Imaginary" exhibition. Starting from December 17, you can enjoy the exhibition until late in the night. [Read more]




Dali, l'énigme sans fin: the exhibition is up by night too at the Atelier des Lumières
You know his works, but do you really know what hides behind? Come and discover the secrets of one of the greatest painters of his generation at the Atelier des Lumières. "Dali, l'énigme sans fin" – Dali, the endless enigma – is on from May 19, 2021 to January 2, 2022. (Re)discover the exhibition by night, from December 17, 2021 to January 2, 2022. [Read more]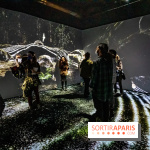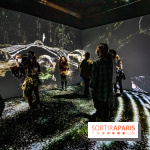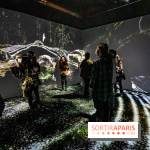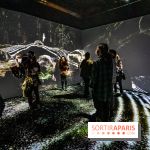 L'Odyssée Sensorielle, the compelling immersive exhibition at Paris Museum of Natural History
More than an exhibition, Paris Museum of Natural History offers a never-before-seen compelling immersive display: from October 23, 2021 to July 4, 2022, dive into the "L'Odyssée Sensoriel" and discover the living world as you have never experienced it before! [Read more]




Cinemode, our pictures of the Jean-Paul Gaultier exhibition at Paris Cinémathèque
Jean-Paul Gaultier is invited from October 6, 2021 to January 16, 2022 by the Cinémathèque for a compelling display of the movie costumes he has designed for several iconic movies! [Read more]




Thierry Mugler: Couturissime, the exhibition at the Mad - our pictures
Event alert! Paris Musée des Arts Décoratifs welcomes the Thierry Mugler : Couturissime exhibition. Save the date, get some days off, get your camera ready... This exhibition offers us an overview on the genius designer's career, an absolute icon in the fashion world. Originally scheduled from October 2020, it has been postponed to September 30, 2021 to April 24, 2022. [Read more]




Botticelli, Artist & Designer, the exhibition at the Musée Jacquemart-André - our pictures
From September 10, 2021 to January 24, 2022, the Musée Jacquemart-André invites lovers of Italian painting to discover an exhibition about Sandro Botticelli. [Read more]




Vogue exhibition at the Palais Galliera, enjoy 100 years of Vogue
The Palais Galliera presents "Vogue Paris 1920-2020", an exhibition celebrating the iconic fashion magazine 100th anniversary. It features photographs, drawings, magazines, archives and movies showing the importance of the magazine supporting Parisian fashion, haute-couture and young designers. Meet from October 2, 2021 to January 30, 2022 to discover this historic moment. [Read more]
Strolling:




Tuileries Garden Christmas Market 2021, last days
The Tuileries Garden Christmas Market is about to be back in 2021. Save the dates! This major Holiday event in Paris expects children and adults from Saturday November 20, 2021 to Sunday January 2, 2022 with an ice rink, Santa Claus and many gift ideas and tasting sessions. [Read more]




Jardin des Plantes light festival 2022: next year's edition theme unveiled!
Every year, the Jardin des Plantes presents a nighttime light festival in a magical setting! Gigantic lit statues of animals take over the place at nightfall. After a successful third edition, this great festival will be back for a new theme next year: The World of Minuscule in Large! To discover from November 2022, to January 2023. [Read more]




Lumières en Seine: last days of the light festival at the Domaine de Saint Cloud
Lumières en Seine, so is the name of this incredible concept expecting us from November 19, 2021 to January 9, 2022 at the Domaine de Saint-Cloud. This light festival promises a magical walk likely to enchant our winter nights. Discover pictures of this incredible and immersive installation. [Read more]




2021-2022 light festivals in Paris and Île-de-France
Light festivals are back in Paris and its surrounding to light up our nights for the Holidays. Follow the guide to discover places amazing us with lanterns and more breathtaking stagings this winter of 2021-2022. [Read more]




Lumières in La Villette: the immersive and free tour is up
La Villette is about to shine bright again! To close 2021 beautifully, a promising light festival takes over the place with light installations by Groupe F and 1024 Architectures. An uncommon and free outing we are looking forward to! Meet from December 2, 2021 to January 2, 2022. [Read more]




Winter strolls 2021-2022 in Paris and Île-de-France
All winter long, enjoy some great walks to take a breath of fresh air and unwind in the wilderness; this is the perfect time to take a lovely stroll with your family, your better half or your friends! Follow the guide to find out more about our great walk ideas this winter 2021-2022 in Paris and Île-de-France. [Read more]




Jours de Fêtes 2021, the funfair returns to La Villette
The funfair returns to La Villette Place de la fontaine-aux-Lions until Thursday January 6, 2022. On the menu? About sixty attractions for children and adults! [Read more]




Driving through Paris aboard an old car 2022
The new edition of the Traversée de Paris will take place this April 17, 2022. initially scheduled in March, the edition was postponed over a pollution peak. For this winter edition, about 700 vintage cars would have paraded in the city to discover historic places! [Read more]




Christmas village and market 2021 in front of Paris City Hall
For Christmas celebrations 2021, the city of Paris once again sets up a Christmas village in front of the City Hall including a mini-Christmas market and free entertainments from December 2021 to January 2022. [Read more]




A funfair is coming to the Cité Fertile: the Cité des Merveilles
An 8,000sqm funfair in a sustainable waste? This is what the Cité Fertile provides us with from December 4, 2021 to March 6, 2022. A wonderful program for this winter in Paris while waiting for the end of this never-before-seen venue. Merry-go-rounds, Christmas markets, food court and winter bar, here is the Cité des Merveilles – or the City of Wonders! [Read more]




The Festival du Merveilleux 2021 at the Musée des Arts Forains
From December 26, 2021 to January 2, 2022, the Musée des Arts Forains celebrates the Roaring Twentis for the new edition of the Festival du Merveilleux. About ten days devoted to entertainments and wonders expect (big) children in the temple of funfair so that you can make your Holidays even more enjoyable. [Read more]




Thoiry Lumières Sauvages 2021-2022, the Chinese lantern festival is on
Thoiry Lumières Sauvages is the fantastic lantern festival lighting up the gardens of the Château de Thoiry with thousands of Chinese lanterns. This magical outing is back from October 31, 2021 to March 6, 2022. [Read more]




Umbrella sky for Christmas lights and tree 2021 at Bercy Village: entertainments
Bercy Village lightens up for the Holidays! From November 18, 2021 to January 16, 2022, lights bring a magical touch to this way. On the menu? 1,200 sparkling umbrellas by Patricia Cunha. [Read more]




Vaux-le-Vicomte en lumières: the Holidays season celebrates Jean de la Fontaine's 400th birthday
For this Christmas 2021, the Château de Vaux-le-Vicomte turns into an enchanting castle with thousands of colors. From November 20, 2021 to January 2, 2022, with its fairytale-like decors, its lights, and its light festival in the French formal garden, and video mapping show on the chateau façade, little ones and grown-ups will be over the moon. This year, the catsle pays tribute to Jean de la Fontaine's 400th birthday with never-before-seen entertainments. [Read more]