Published by La rédaction · Photos by My B. · Published on 21 July 2022 at 16h32
Looking for ideas to enjoy in Hauts-de-Seine? Come along and discover the heritage and unmissable places and spots in department 92. After all, Île-de-France is packed with treasures worth the trip!
Paris is considered as one of the most beautiful cities in the world. We must say with the beauty of its monuments and streets telling its story and evolution, the French capital city is very charming and we easily fall under its spell. But did you know that going beyond the beltway, there are more little-known gems expecting you in the rest of Île-de-France?
Yes, the Île-de-France region also enjoys a great heritage that begs to be discovered. Uncommon venues, relaxing landscapes, great activities, here is what to expect beyond the Parisian borders. Today, our feet take us to Hauts-de-Seine, west of Paris.
Did you know? This is the second wealthiest department in France after Paris, according to a 2021 INSEE inquiry. The Hauts-de-Seine department is both an unusual heritage, bucolic walks and very trendy spots attracting foodies beyond the border of the 92 department. But where to start? Here are great places to visit for a wonderful Île-de-France getaway!
For more discoveries, stay tuned: this guide is updated accordingly. To make sure you miss nothing to do in Hauts-de-Seine, think about saving the link and check it out again regularly.
Heritage, cultural outings & walks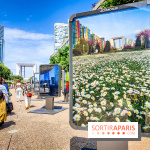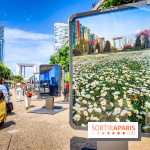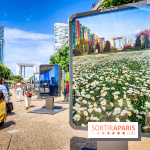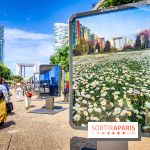 Les Extatiques 2022, the free open-air exhibition at La Défense and La Seine Musicale, our pictures
Les Extatiques, the monumental open-air exhibition at La Défense is back from June 22, to October 2, 2022, for the 5th edition. This year again, enjoy wonderful installations set between La Défense and the gardens of La Seine Musicale. [Read more]




Autour du Monde : La traversée des images, new Musée Albert-Kahn's inaugural exhibition
For its reopening to the public on April 2, and after years of renovations, the musée départemental Albert-Kahn proposes a temporary exhibition, until November 13, called "Autour du Monde, la traverse des images, d'Albert Kahn à Curiosity". [Read more]




The Parc de l'Amitié, the magnificent Japanese park in Reuil-Malmaison
Are you looking for an original park and garden outside Paris? Head to Rueil-Malmaison to discover the Parc de l'Amitié, this surprising park with multiple treasures, unveiling a Japanese garden, an iconic red bridge, and lush plants. [Read more]




Parc Edmond de Rothschild's Japanese Garden in Boulogne
Let us run to Boulogne-Billancourt to discover the Japanese garden of the Parc de Boulogne, the park of Château Buchillot, in ruins, that used to be owned by Edmond de Rothschild. Between water ways, pine trees, maple trees and iconic red bridges, this is a great and relaxing change of scenery to enjoy right outside Paris. [Read more]




Château de Malmaison, from the palace to the museum
Set in Rueil-Malmaison in Hauts-de-Seine, the Château de Malmaison now houses the Musée national Napoléonien, or the National Napoleon Museum. At the Revolution, Joséphine Bonaparte purchased it and the house became the Imperial Palace of Malmaison, turning it into the headquarters of the government for a while. [Read more]




The lovely Japanese Ichikawa garden in Issy-les-Moulineaux
The Japanese Ichikawa garden, right outside Paris, was made thanks to a partnership between the city of Issy-Les-Moulineaux and the Japanese city of Ichikawa. They worked hand in hand to create the first authentic Japanese public garden in France. Let us run and discover this quiet garden perfect to meditate and relax. [Read more]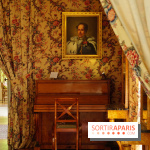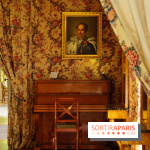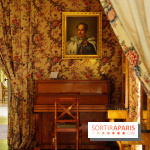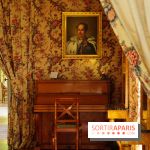 Maison de Chateaubriand: an incursion in the heart of literary and architectural romanticism
At the end of RER B, heading to Robinson, stand the Maison de Chateaubriand in the Domaine de la Vallée-aux-Loups. Discover this elegant house that was used by the writer and his wide for many years. [Read more]
Indulging spots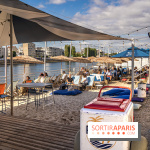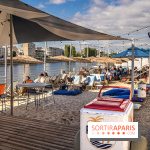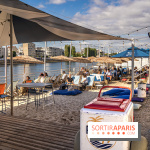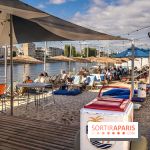 Polpo Plage, the beach-terrace on the Sseine
Craving a beautiful fine sandy beach to sip a drink in the sun, an oyster in hand? Let us run to Polpo Plage expecting us from Thursday to Sunday to take it easy. [Read more]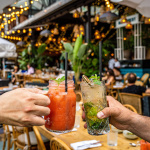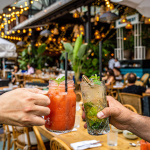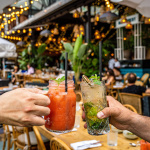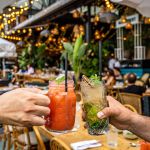 Quai Ouest restaurant, the festive brasserie terrace featuring BBQ and fun
Quai Ouest, the famous floating restaurant in Saint-Cloud, underwent a makeover, and enjoys a new menu to appeal you even more. With its huge seaside guinguette-inspired décor, its new indulging menu, its BBQ Wednesday offer, live music and entertainments for kids on Sundays, this is the perfect location for friends and family. [Read more]




New Mama Shelter La Défense's rooftop restaurant-bar and its menu by Pierre Chomet
A restaurant-bar on a roof, on the 14th floor? Here is what to expect at Mama Shelter La Défense. On the menu, enjoy Asian dishes created by Pierre Chomet. [Read more]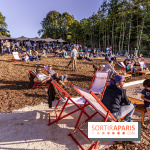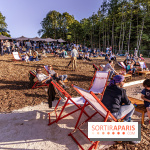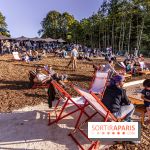 Perchoir Y, the latest crazy food camp – guinguette – barbecue in Meudon
Perchoir Y is the latest festive guinguette you will love this summer. A huge terrace across a lake, in front of the historic Hangar Y in Meudon, providing you with entertainments, bar and barbecue for you to have a blast. [Read more]




L'Eden Paris: the festive and trendy terrace-barge in Boulogne-Billancourt
Looking for a new place to chill by the water in Western Paris? Head to L'Eden, a festive and trendy boat featuring a terrace on the quay and at the front of the barge to sip on some delicious cocktails or nibble on good food. [Read more]




Doppio Malto, the Italian brewer king of braised meat at La Défense Les 4 Temps shopping mall
Calling all craft beer and meat fans! Doppio Malto, Italian brewer and restaurant specialized in beer and braised meat invites you to discover their new venue in the heart of La Défense Les 4 Temps shopping mall, open since April 13, 2022. A great venue we tried… Let us tell you more about it! [Read more]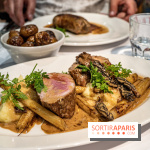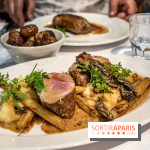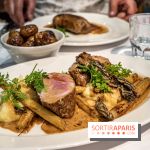 Le Petit Comte, the mouthwatering bistro in Boulogne
Head to Boulogne, just outside Paris, to discover Le Petit Comte, this very French bistro named after the Comte de Gascogne. This place has it all in terms of yummy, laid-back and simple food. [Read more]




Seven Up, the rooftop with swimming pool and barbecue in Paris unveils a Circus spirit this summer!
The Seven Up is a fabulous rooftop with a swimming pool expecting you outside Paris, in Boulogne-Billancourt. From May 18 to late September, you are expected on Wednesdays to enjoy the Circus Wednesdays, nights themed on circus with fakir, sword swallower, fire breather, magic tricks and more uncommon performances to the sound of DJ sets! [Read more]




Zest, France Dessert Champion Cyril Gaidella's bakery-patisserie and tearoom
Zest, this the name of 2017 France Dessert Champion Cyril Gaidella's bakery-patisserie and tearoom, enchanting Neuilly-sur-Seine, right outside Paris. Go and discover sourdough breads, homemade viennoiseries, and delicious pastries as indulging as can be. [Read more]




With Mie, finger food style sandwiches in Neuilly, perfect for a picnic
For an impromptu picnic or a light lunch on-the-go, With Mie is the solution with mini-sandwiches based on fresh ingredients. [Read more]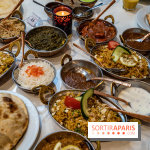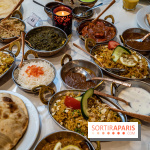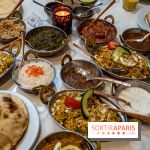 Diwali restaurant for a genuine gustatory journey to India
Sponsored - If you happen to be looking for a genuine gustatory journey in Île-de-France, Diwali's traditional Indian cuisine in Rueil-Malmaison is a go-to! [Read more]




Renewal of Le Durand Dupont in Neuilly
This past summer, Le Durand Dupont in Neuilly sur Seine reopened with a new team. Shell bar, cocktail bar, brunch... Here are the novelties at the new Le Durand Dupont. [Read more]




Eugène Eugène hidden terrace, reopening for the summer 2020
How about a shady and quiet terrace? Head to Eugène Eugène, a super restaurant only 3 kilometers from Paris. This place if a true oasis of freshness with a delicious menu and a relaxed atmosphere. [Read more]




La City, tasty restaurant at the top of La Défense Grande Arche
La City is the bistronomic restaurant of La Défense, set at the top of the Grande Arche. Have a seat and enjoy a meal 110 meters above the ground, on the 35th floor. [Read more]




L'Île restaurant-bar unveils the widest terrace in Western Paris
A beautiful and wide terrace in Western Paris, how does it sound to you? Good? Well, then, head to L'Île restaurant set in Issy-Les-Moulineaux and its impressive and new terrace designed by renowned architect Laura Gonzalez. [Read more]




Mano, Maximilien Kuzniar's first (and already rewarded) restaurant in Boulogne
Maximilien Kuzniar works in Boulogne. This is where the chef opened Mano, his very first restaurant. A place where he serves seasonal food, and where the menu changes every week. The place has been already rewarded by patrons. [Read more]




Dubble opens a big healthy spot in La Défense
A new healthy spot has opened in La Défense! Head by the Alto Tower to discover the great Dubble fast good restaurant serving healthy and balanced dishes all year around. [Read more]




Marco Marco, the pizzeria at La Défense, reopens
Marco Marco opens its doors at La Défense from June 15, Monday to Friday for lunch. People working in the business area now have a new spot to enjoy tasty pizzas. [Read more]
Current entertainments




Rock en Seine 2022: full lineup
After cancelling the editions 2020 and 2021 over the health crisis, Rock en Seine festival will be back in 2022 at the Domaine National du Parc de Saint-Cloud. And for this new edition, Rock en Seine hits hard with Stromae, Nick Cave & The Bad Seeds, Tame Impala, La Femme, Jamie xx, Kraftwerk, as well as Idles, Parcels and Yungblud, Soulwax and Perfume Genius! Unfortunately, following the cancellation of Rage Against The Machine's EU tour, the shows on Tuesday August 30 are cancelled. [Read more]




Water features and paddling pool at the Parc André Malraux in Nanterre (92)
How about playing in the water? Within walking distance from La Défense, stands the verdant 25-hectare Parc André Malraux in Nanterre. Go and discover the free 1,200 sqm waterpark expecting children and adults on hot summer days. [Read more]




Albert-Kahn museum's garden takes you on a journey
The Albert-Kahn museum - that recently reopened - unveils magnidicent gardens you need to discover. Designed as staged gardens, this 4-hectare area delivers a magnificent Japanese garden and village, an English garden, a French formal garden, as well as forests and meadows. What a change of scenery! [Read more]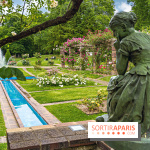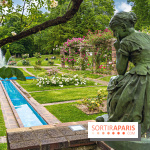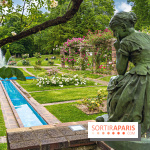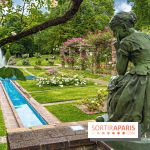 Parc Lebaudy's rose garden on the Ile de Puteaux
Let us run to Puteaux, by the Seine, right outside Paris in Hauts-de-Seine to discover the Parc Lebaudy and its fabulous free rose garden open to all. This gorgeous park gathers about 1,600 rose bushes and 200 kinds of roses in a French formal garden. [Read more]




AccroCamp Rueil, tree-climbing site in Rueil-Malmaison
AccroCamp is a tree-climbing site chain set at the gates of Paris, especially in Rueil-Malmaison. In a part of the forest, AccroCamp offers you to climb in trees, completing highly secured courses open to children from 3. Giant trampolines, fantastic ziplines, and 15-meter jump, here are challenged waiting for you and your kids. Reopening from February 12, 2022. [Read more]




AccroCamp Forêt de Meudon in Chaville, tree-climbing site in Hauts-de-Seine (92)
AccroCamp, the tree-climbing site in the Forêt de Meudon in Chaville, Hauts-de-Seine (92) set within the Parc Forestier de la Mare Adam welcomes you with friends or family for a day in the trees! Reopening from February 5, 2022, after closing for the winter. [Read more]




Parc du Domaine de Sceaux, a historic place with a verdant landscape
In Hauts-de-Seine, the Parc du domaine de Sceaux is a landmark. This gigantic green setting attracts nature lovers and celebrates Hanami, the yearly blossoming cherry tree festival. [Read more]




Square Médéric's Japanese Garden in Colombes
The square Médéric, this lovely local park in Colombes, unveils a charming 3,800sqm Japanese garden displaying bamboos, maple trees, cut trees, azaleas and pagoda. Run there to have a rest and enjoy this change of scenery. [Read more]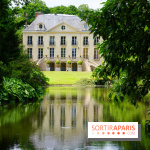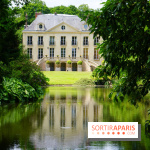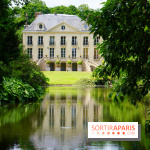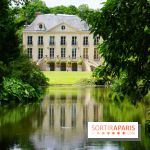 Arboretum de la Vallée-aux-Loups: an Ile-de-France getaway surrounded by remarkable trees
No need to go deep in the Île-de-France to enjoy majestic wilderness. About fifteen kilometers from Paris, the Arboretum du Domaine départemental de la Vallée-aux-Loups enchants lovers of gardens and plant species. [Read more]




Rueil-Malmaison's Monet-inspired Parc des Impressionnistes
Rueil-Malmaison's Parc des Impressionnistes, set by the Sein, across the Ile des Impressionnistes, is a magnificent 1.2-hectare park paying tribute to impressionists' colors. Artificial lake, plants and flowers galore remind us of Claude Monet's garden in Giverny. [Read more]