Published by La rédaction · Photos by Lucas N. · Published on 25 July 2022 at 08h21
Feel like discovering Île-de-France? Come along and discover Seine-Saint-Denis's major heritage and places. The best outing ideas in department 93 are waiting for you!
We are all crazy about Paris, you know that. But did you know the rest of the Île-de-France region enjoys a magnificent heritage, often little-known, and yet worth the trip? This is why today, we have decided to left the capital city behind for a bit and conquer the treasures of the Île-de-France region. Next stop? Seine-Saint-Denis.
Set North-East of Paris, the 93 department is one of the smallest in France, covering 236 square kilometers. And yet, it is the most inhabited one in the region, after the capital city. Seine-Saint-Denis unveils a beautiful heritage and one of these gems is the Saint Denis Basilica, within metro reach and housing the royal necropolis. You get it, this is where the Kings of France rest.
So, are you ready to explore the treasures of Seine-Saint-Denis? Here are major places to visit and great locations, as well as the current entertainments. Treat yourselves to an Île-de-France getaway likely to be packed in great discoveries!
For more discoveries, stay tuned: this guide is updated accordingly. To make sure you miss nothing to do in Seine-Saint-Denis, think about saving the link and check it out again regularly.
Heritage, cultural outings & strolls




The Basilica of Saint Denis: the necropolis of the Kings of France
How about (re)discovering the Basilica of Saint-Denis? Listed as Historic Monument, this religious building set in Saint-Denis houses the necropolis of the kings of France, and is a landmark for all fans of history and curious people likely to go on a hunt to the Parisian heritage. [Read more]
Indulging spots




Ernest, the solidarity-driven restaurant financing food aid!
The Ernest charity opened a solidarity-driven restaurant to finance their actions. Set within walking distance from the Porte de Bagnolet, in the 2,000sqm of garden of a new third place called "Le Sample", this restaurant works with residing chefs and is thought as a place of meeting and sharing relying on the charity's values. Come and enjoy their terrace! [Read more]




Karlito Perché, the BBQ on MOB Hôtel rooftop
A BBQ on a rooftop! This is possible! Head to MOB Hôtel in Saint-Ouen to discover Karlito Perché and its huge rooftop brazier! [Read more]




Villa9Trois, the Montreuil institution gets a gourmet youth therapy
The Montreuil institution Villa9Trois gets a second youth as encouraged by young chef Camille Saint-M'Leux who decided to start again with a clean slate. [Read more]




Melting Pot, the latest tasty and beautiful food court in Bagnolet
Melting Pot is the latest food court that opened this past Fall in Bagnolet. On the menu? Pizzas, burgers, pasta, Thai cuisine and even Indian food. Everything is homemade and to be enjoyed in a colorful venue worthy of the trip. We love the concept. [Read more]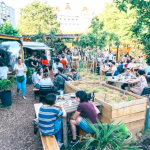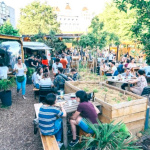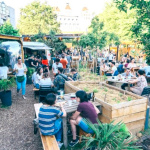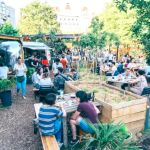 Jardin21: Canal de l'Ourcq big festive garden is back
Eastern Paris expects you again by La Villette with the edition 2022 of Jardin21 turning 5 this year. Meet from June 3, 2022! [Read more]




Metà e Metà, the Italian pizzeria and delicatessen in Montreuil
At Metà e Metà, one enjoys original Neapolitan pizzas and fresh and homemade pasta while sipping nice and organic wines from Italy. Before you go, let's visit the delicatessen, well-stocked in nice and Italian products. [Read more]




Auberge des Saints Pères, the (very) affordable Michelin-starred restaurant near Paris
This is a gem we would love to keep a secret. The Auberge des Saints Pères in Aulnay-sous-Bois, is a relatively affordable Michelin-starred restaurant. In Seine-Saint-Denis, chef Jean-Claude Cahagnet serves sophisticated food and one can dine from 49 euros. [Read more]
Current entertainments




27 Pantin: an open-air street-art museum
Street art fans are expected in North-East of Paris to discover 27 Pantin. Behind this open-air museum hides a wonderful initiative both artistic, cultural and participative? Carried out by Maison du Projet, 27 Pantin unveils over forty pieces giving the Îlot 27 area a very colorful and new face! Shall we go and visit it, then? [Read more]




Plaine Forme, Coubron tree climbing park
Located in the heart of the Regional Forest of Bondy, in a forest just 25 minutes from Paris, PLAINE FORME is a center specialized in outdoor sports coaching and initiation to "new sensations" activities: adventure courses, jumping stilts, bike stepper... You will definitely not be short of activities at PLAINE FORM! Reopening from April 2, 2022, after closing for the winter. [Read more]