Published by My B. · Photos by Lucas N. · Published on 1 August 2022 at 11h49
Do you happen to be in Paris in August? Well, in that case, here is a few unusual spots to discover Paris in a new way, a few original outings you will love to visit or discover.
How about thinking outside the box and discover the unusual side of Paris? Between original little-known places or secret locations, here are the best ideas the city and its surroundings have for the summer 2022.
Did you know there was a secret garden at Balzac's House and the Monte Cristo castle was hiding a surprising Moorish lounge? Here are great spots to discover this August in Paris to enjoy surprising and mind-blowing locations.




Château de Monte-Cristo, Alexandre Dumas's incredible home
Discover the Château de Monte-Cristo, the home designed by writer Alexandre Dumas. In an English garden, in the heart of Yvelines, by Saint-Germain-en-Laye, enjoy an exuberant 19th century castlen and the small Château d'If. Come along and discover this hidden heritage, listed as Historic Monument. [Read more]




The Moulin Jaune and its remarkable gardens, white and Peace & Love picnic style
The Moulin Jaune du Clown Slava is an incredible place to discover. With its remarkable garden inspired by Alice in Wonderland, this unique location is a must. Yet note it only opens on special events upon booking. Do not miss the next events on July 30 and 31 for the white picnic and on August 27 and 28, 2022, for a Peace & Love weekend. [Read more]




Albert-Kahn museum's garden takes you on a journey
The Albert-Kahn museum - that recently reopened - unveils magnidicent gardens you need to discover. Designed as staged gardens, this 4-hectare area delivers a magnificent Japanese garden and village, an English garden, a French formal garden, as well as forests and meadows. What a change of scenery! [Read more]




Balzac's House and its confidential garden with views on the Eiffel Tower
Balzac's House or Maison de Balzac - that used to be home to the famous writer - is one of the literary gems in the city, set in the 16th arrondissement of Paris. This museum-home also houses an incredible garden with views on the Eiffel Tower and a café. [Read more]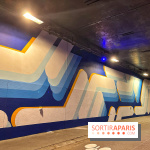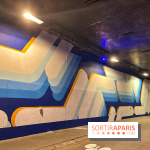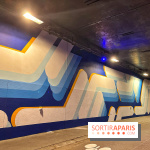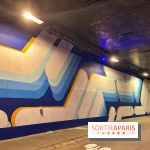 Street-art to soon cover the Paris Tunnel des Tuileries
The Tunnel des Tuileries goes very colorful! For two weeks, a dozen artists cover the Parisian tunnel reserved to soft mobilities in colorful murals to see until July 2023. [Read more]




The Coulée Verte, a verdant walk in Paris
The Coulée Verte René-Dumont is a very beautiful but little-known walk in Paris unveiling a verdant path covering Bastille to the Bois de Vincennes, going above the Viaduc des Arts. This is an original spot to discover another face of Paris! [Read more]




Paris Musée Nissim de Camondo in pictures
Belonging to the MAD Paris and set by the Parc Monceau, the Musée Nissim de Camondo is dedicated to the French decorative art from the second half of the 17th century. [Read more]




La Canopee, Beffroi de Montrouge's latest indulging and festive rooftop
La Canoppee – here is the name of the latest rooftop terrace coming to the rooftop of the Montrouge belfry at the gates of Paris. A huge green and festive terrace with DJ sets serving a great and affordable fusion menu so you can have a blast. [Read more]




The Tour Saint-Jacques, the bell tower with gorgeous views
The Tour Saint-Jacques and its panoramic views on Paris opens from June 10 to early November. Set within walking distance from the City Hall, the historic monument is a curiosity to discover, with its 54 meters and 300 stairs. Visits are to be completed in small groups. [Read more]
And for more unusual outings:




8 uncommon places to discover this summer in Île-de-France
How about making the most of the summer to discover treasures in Île-de-France? Although Paris is one of the most beautiful cities in the world, the region around the French capital also enjoys a rich heritage and uncommon gems! Here are the most original locations in the Paris area! [Read more]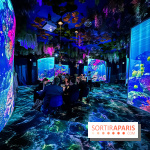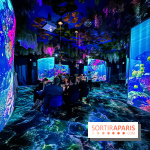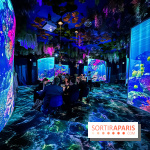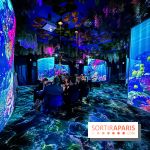 Quirky restaurants in Paris, our best ideas
Looking for a quirky and unusual restaurant in Paris? You want something new, spectacular, and something awe-inspiring in your plate? Enjoying a meal in a unique setting or context? For uncommon culinary experiences, keep reading! [Read more]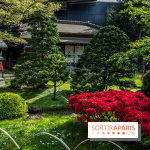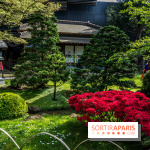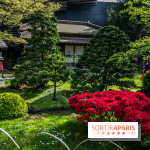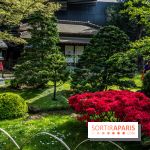 The most unusual parks and gardens in Paris
Feel like discovering another side of Paris? This time, we offer you to go and discover the most unusual parks and gardens in town, great green places likely to surprise you. [Read more]




Quirky exhibitions in Paris
Paris is an open-air museum and beautiful exhibitions enlivens the cultural city. This time, let us discover some quirky exhibitions with very surprising and original stagings and themes! [Read more]