Published by My B. · Photos by My B. · Published on 3 August 2022 at 09h30
Do you love Japanese culture and look for places shining a light on Japan in Paris? Between original restaurant, exotic park, cafés or exhibitions, here are places to enjoy Japanese culture in Paris.
Do you miss Japan or love its culture? How about enjoying Japan in Paris? To live to Japanese time, come along and discover different spots allowing you to enjoy a bit of the Country of the Rising Sun without even leaving Paris and its region.
Are you fascinated by the Japanese culture? Do you feel like diving into its universe, gastronomy, its art and folie with original and unusual concepts to discover always more? How about discovering the best and new spots that make Japan in Paris?
Japanese ideas to enjoy in Paris:





Maison de la Culture du Japon
The MCJP presents traditional and contemporary Japanese culture to a large public. [Read more]




Sabō: the Japanese tearoom at OGATA Paris
For an incredible and relaxing trip to Japan, meet at Sabō, OGATA Paris's famous tearoom, nestled in the 3rd arrondissement. Unplug and enjoy. You are off to some unique experience to the universe of tea. [Read more]




Kibo No Ki, the Japanese ramen and pokebowl restaurant offering you to try on kimonos
Kibo No Ki is the tasty Japanese restaurant set within walking distance from the Madeleine, in Paris 9th arrondissement, serving delicious ramen and pokebowls, and offering you to try kimonos on at the end of the meal. To have a great meal and a good time, here is a place that has it all. [Read more]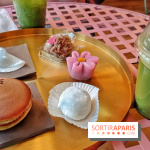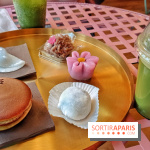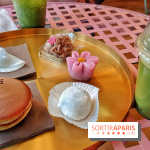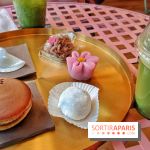 Le Renard Café, the Japanese culture-devoted bookstore-café in Paris
A stone's throw from the Le Renard Doré bookstore in Paris 5th arrondissement opened the Le Renard Café shining a light on the Japanese culture, between manga, bubble tea and quality pastries. [Read more]




Toucher le feu, femmes céramistes au Japon: the exhibition at the Musée Guimet
From June 1 to October 3, 2022, the Musée national des Arts Asiatiques (or Musée Guimet for friends) offers us to discover the exceptional work of female ceramicists in Japan with the "Toucher le feu, femmes céramistes au Japon" – or "Touching fire, female ceramicists in Japan" – exhibition. [Read more]




Albert-Kahn museum's garden takes you on a journey
The Albert-Kahn museum - that recently reopened - unveils magnidicent gardens you need to discover. Designed as staged gardens, this 4-hectare area delivers a magnificent Japanese garden and village, an English garden, a French formal garden, as well as forests and meadows. What a change of scenery! [Read more]




DokiDoki: the Japanese handroll bar in downtown Paris
Calling all Japanese flavor fans! Paris 1st arrondissement welcomes a newcomer, DokiDoki. With the strong will to make you travel to the country of the Rising Sun, this indulging and elegant venue introduces you to the art of "Omakase", offering delicious handrolls, made to order before your eyes! Come along! [Read more]




Kafé Buki in Paris: the delicious coffee shop taking us to Japan
How about taking the time to unwind while sipping on genuine coffee and nibbling on delicious Japanese pastries? Come along, we take you to Kafé Buki, a very friendly and indulging Japanese coffee shop. [Read more]




Pablo Cheese Tart, the first Japanese tart store in Paris
Pablo Cheese Tart, the famous and successful Japanese store comes to Paris. Forget American style cheesecake tarts, Pablo Cheese Tart serves jiggly tarts coming in plenty of flavors, as well as boba teas to discover. [Read more]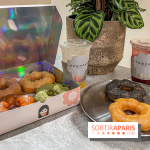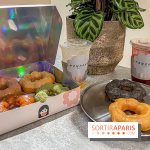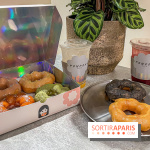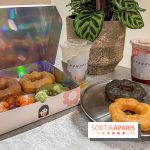 Ponpon, the first mochi donut store in Paris
Indulging food alert! The first mochi donut store has opened in Paris! Ponpon Café, here is the name of this spot already meeting great success attracting everyone in Paris. We tried it and loved it! [Read more]
To go further: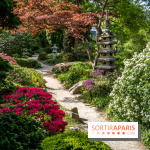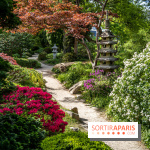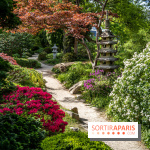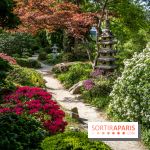 The most beautiful Japanese gardens around Paris
Looking for a quiet garden? Come along and discover the most beautiful Japanese gardens right outside Paris. Between public and museum garden, these exotic gardens have it all for a change of scenery and a boost of serenity. Anyway, enjoy these fabulous gardens. [Read more]




The best Japanese restaurants in Paris
In the mood for a Japanese restaurant in Paris? From sushis to ramens via bentos and tapas, we tell you everything about our favorite adresses to enjoy Japanese dishes! [Read more]




A tasty ramen in Paris?
Are you looking for a tasty ramen in Paris, you know this typical Japanese bowl of noodles? Here are the best venues tested and approved to enjoy it every time. [Read more]




Our favorite Japanese tearooms
Calling all Japanese tea and pastry fans, here are our favorite tearooms in Paris we tried and approved. Enjoy the best spots to enjoy a Japanese cup of tea made by the book or some tasty matcha cakes and mochis. [Read more]




The best Izakaya in Paris, the greatest Japanese tapas bars to discover
Are you fond of izakaya? You know, these Japanese bars where you can meet over tasty dishes served with sake or beer. Discover our favorite ones in Paris for a delightful break with friends or your date. [Read more]




Japanese bakeries in Paris, our favorite locations
Feel like making your taste buds travel? We have found the best Japanese bakeries in Paris! [Read more]




Japanese restaurants to enjoy outside in Paris
Maki, ramen and sushi fans, Japanese restaurants in Paris expect you outside to make the most of the beautiful weather. Keep reading to find out more! [Read more]