Published by Rizhlaine F. · Photos by Violaine D. · Published on 21 September 2022 at 11h53
How about breaking the routine and unwind? How perfect, Île-de-France is packed with magnificent and surprising landscapes, and great places to relax. Here are havens of peace expecting you so you can rest without having to leave the Paris region.
Whether it is to break the routine or mark a break in your fast-paced Parisian life, you happen to be in need of a rest from time to time. Taking time to yourself, to relax, is essential to be calm. But you are probably saying you do not have the time for that and you are always postponing a break indefinitely.
And yet, the solution is obvious! Beyond the limits of the capital city, the Île-de-France region has lots of surprising treasures – often little-known – taking us to the middle of mind-blowing landscapes, as well as great places to relax. You get it, today, we are sharing the best spots to rest without having to leave the Parisian region. And some of these outings are easily accessible with public transportation, so you really have no excuse!
And stay tuned, if you feel like discovering more good deals to recharge your batteries in Île-de-France, this guide is updated accordingly. Do not hesitate to check it out again regularly!
The best places to rest without leaving the Paris area:




Les Etangs de Corot, the hotel, restaurant and Spa underwent a makeover
4-star hotel set in Ville d'Avry, Hauts-de-Seine, Les Etangs de Corot reopens after 14 months of renovations. To recharge your batteries and relax, discover this new Relais & Château in its bucolic setting also featuring a Michelin-starred restaurant, a spa, and a café. [Read more]




La Maison des Marronniers, an indulging and idyllic yoga retreat resort easily accessible
Picture this: a holistic place of life to enjoy yoga retreat and unwind without leaving Île-de-France. La Maison des Marronniers is this very haven of peace withing RER reach where wellness and good food are the watchwords. Come along to this unusual spot expecting you in Essonne. [Read more]




Discover Île-de-France: bicycle from Paris to go vegetable harvesting
Craving adventures? The bike lane along the Canal de l'Ourcq allows us to go on a bicycle ride away from Paris. On the menu, a forest park and for those who want to keep going, you can go fruit and vegetable harvesting in Seine-et-Marne. On your mark? Get set, pedal! [Read more]




Île Fanac in Joinville-le-Pont: lush walk, canoe-kayak, rowing and indulging barge
In Joinville-le-Pont, treat yourselves to a quiet break on the Île Fanac, to discover the elegant houses with pontoons. On the menu, a walk in a gorgeous green setting, canoe-kayak and rowing on the Marne River, as well as more gems to enjoy. [Read more]




Île-de-France heritage: a bucolic walk from bridge to bridge in the Vallée de Chevreuse
At the end of RER B, the village of Saint-Rémy-lès-Chevreuse is the starting point of several walk routes in the Vallée de Chevreuse. Among them, the small bridge hike. [Read more]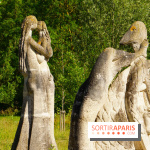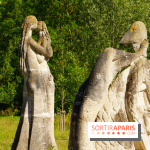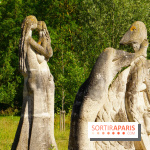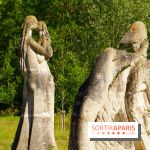 A surprising walk in the Dhuys river's sculpture garden
Craving art and nature? Go and discover a little-known location set about forty kilometers from Paris to discover original sculptures scattered in the landscape. [Read more]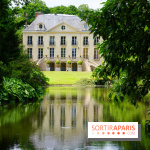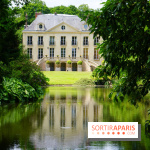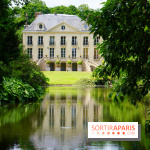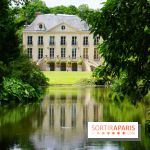 Arboretum de la Vallée-aux-Loups: an Ile-de-France getaway surrounded by remarkable trees
No need to go deep in the Île-de-France to enjoy majestic wilderness. About fifteen kilometers from Paris, the Arboretum du Domaine départemental de la Vallée-aux-Loups enchants lovers of gardens and plant species. [Read more]




The renewal of Maison Fournaise, Chatou's Ile des Impressionnistes restaurant
Maison Fournaise – the guinguette that inspired Renoir's "Luncheon on the Boating Party" – rises again with a new décor, a new chef and a new menu. Treat yourselves to a bucolic break by the water. [Read more]