Published by Julie M. · Photos by Caroline J. · Published on 13 August 2022 at 11h21
Looking for an activity to keep your children busy on Wednesday August 17, 2022, in Paris? Whether you are parents, grandparents, or a nanny, here is a selection of outings to enjoy in Paris with kids!
Game rooms, sensational experiences, movies, exhibitions and more, Sortiraparis has found great ideas for your family to enjoy on Wednesday August 17, 2022, be ready!
Unforgettable Outings




What do to with children this summer 2022 in Paris?
This summer, there are many entertainments to enjoy in Paris. Here are the unmissable outings to enjoy this summer: theme park novelties, original family outings, workshops and cultural outings... In other words, you will enjoy dream vacation in Paris this summer 2022. [Read more]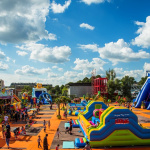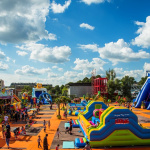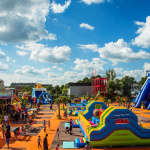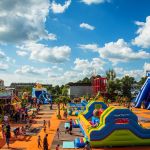 Europa Kids: inflatable playground at the Parc de la Villette in Paris
If you were to go to only one place this summer, you must run to Europa Kids. From June 25 to August 28, 2022, the Parc de la Villette provides the famous inflatable village again to entertain children and adults. Inflatable castles, huge slide, trampoline, water jets... What else would you ask for? [Read more]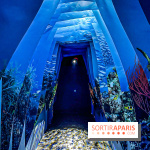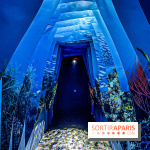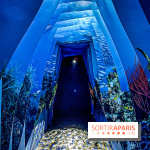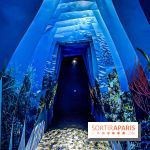 Science Experiences, the concept between museum and theme park in Bercy Village – DISCOUNT CODE
Families are expected at Science Experiences, a brand-new and playful spot mixing museum and theme park, bringing science to life in Bercy Village. The best way to encourage kids to pay interest to sciences by experiencing from the inside… And of our readers, this summer 2022, we have a Sortir à Paris special discount code at the end of the article! [Read more]
Clearing your brain and dreaming: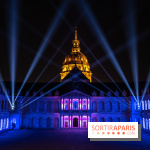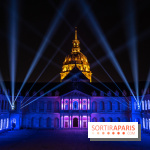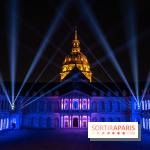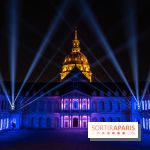 Nuit aux Invalides 2022 in Paris: the Napoleon light and sound show returns -tickets
Nuit aux Invalides, or Night at the Invalides, is THE wonderful light and sound show in Paris this summer. The organization announces the show is back from July 16 to September 1, 2022, to take us back to Napoléon Bonaparte's history. A magnificent show to book now! [Read more]




Polnarêves: Michel Polnareff's immersive experience at the Le Palace theater
Another immersive experience awaits you all at the Le Palace theater. This time, Michel Polnareff has decided to give it a go and provide you with "Polnarêves", a visual and musical 360° experience. Meet from June 2, 2022 to March 1, 2023, to discover Michel Polnareff's dreams in Paris. [Read more]




Classique au Vert festival 2022: program of the free concerts in Paris Parc Floral
The Classique au Vert festival returns from June 29 to September 7, 2022, in the heart of Paris Parc Floral. Classique au Vert invites music lovers and neophytes to enjoy good tempo and great weather with famous and rising artists. [Read more]




Paris Jazz Festival 2022 at the Parc Floral: lineup of the free nighttime shows
Paris Jazz Festival is back to the Parc Floral from June 29, to September 7, 2022, always featuring so many musical talents to discover in a bucolic setting. Here is the lineup of the free nighttime shows! [Read more]




Thor: Love and Thunder, review and official trailer and poster of the latest Marvel movie
Love, rock, and fun: Thor is back with a new movie, opening from July 13, 2022, in France. Marvel studios unveiled another trailer for Thor: Love and Thunder. [Read more]




Open-air movie theater in La Villette 2022, program
La Villette open-air film festival will be back from July 20 to August 21, 2022 in Paris. On the menu: a month of free movie screenings on La Villette lawn, themed on dancing! [Read more]
Having fun and letting off steam:




Parc Hérouval – the outdoor activity center with beach and water features
Parc Hérouval is a theme park and outdoor activity center going au naturel. Set one hour from Paris, in a wonderful and wild setting, Parc Hérouval welcomes you over 20 hectares of greenery. On the menu: beach and water features, mini-train, mini-petting farm, slides, bumper boats, ponies, barbecues… This is the perfect place to meet the family, relax and have fun. [Read more]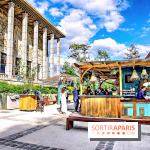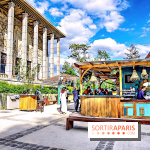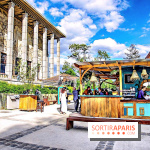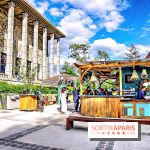 Summer 2022's kids-friendly terraces in Paris
You may be wondering where to go to the city with your kids. Lush terrace, solidarity-driven terrace or bucolic terrace… Here are terraces 2022 to enjoy with your children! [Read more]




Claude Monet's House and Gardens, sweet life at the gates of Paris
Sponsored - Set in Giverny, Claude Monet's house and gardens reopened in April. A historic place telling you about the private life of Monet. One could almost hear the voice of the Master in the garden, see him under the wisteria of the famous Japanese bridged, smell the dish stewed for his family and friends in the blue kitchen, and following his silhouette to the large studio. [Read more]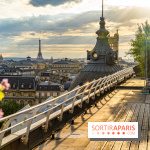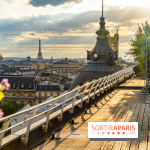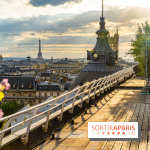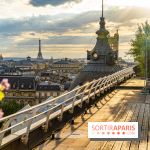 Tourism: how to visit Paris in a couple of days
Discovering Paris in a couple of days is a very difficult challenge! Choose a theme, an exhibition, a landmark to visit thanks to our guide created to optimize your short stay in the city. [Read more]




Discover all the summer events in the AccroCamp parks!
Sponsored - All the summer long, the 7 AccroCamp parks are open and hold events for the entire family! Between tree-climbing with your family, beach at the door of Paris, workshops for the youngest ones, they have it all planned for you to have a fun summer. [Read more]




Free activities and outings to enjoy August 2022 in Paris
Free outings in Paris in August? We have some in head! Are you looking for good deals to enjoy the city without going broke? Here are a few tours and activities you will love without having to blow up your outing budget. [Read more]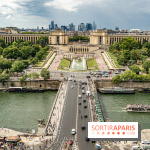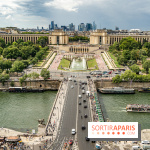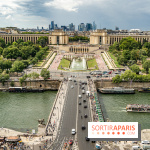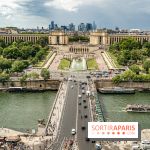 What to do this week - August 15 to 21, 2022, in Paris and Île-de-France
Being bored in Paris is impossible: every day, dozens of events wait for us! This week, from August 15 to 21, 2022, is no exception: between exhibitions, concerts, restaurants, shows and family-friendly outings, you will find what you need to have fun. Are you looking for your next outing? Keep reading to enjoy this week's best outings! [Read more]
Discovering in a playful way:




Summer holidays 2022: Museums and exhibitions for children
This summer 2022, I know you would like to relax and enjoy discoveries with your children to entertain them while educating them! There is nothing quite like showing them see, wild animals, and other exhibitions filling Paris. Sortiraparis walks you through the museums and animations likely to delight children and adults. [Read more]




The Louvre opens the Studio, a new place for children and families
Calling all young art lovers, the Louvre opens the Studio for exclusive workshops about the ongoing exhibitions. Alone or with their families, children can discover many art practices and have fun while learning a lot. [Read more]




Unmissable exhibitions running in Paris and Île-de-France
Every month, museums and galleries in Paris and Île-de-France display always more exhibitions. To help you choose your next outing in this host of options, we have selected a few exhibitions you need to visit in August 2022. [Read more]




Exhibitions closing in August 2022, in Paris
Alert exhibitions coming to an end this month! Are you sure you visited all the exhibitions you wanted? To make sure you miss out nothing and organize your outings as well as possible, have a look at our guide listing exhibitions living their last days in August 2022. [Read more]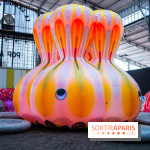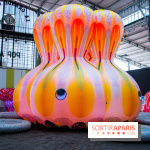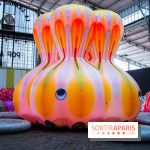 Pop air, the inflatable and immersive experience at the Grande Halle de la Villette: extra time
Starting from April 14, 2022, the Grande Halle de la Villette houses an exclusive and playful inflatable experience, Pop Air, made in partnership with Rome's Balloon Museum. The immersive exhibition is extended to September 4, 2022. [Read more]




Van Gogh, La Nuit Etoilée: the immersive exhibition at Paris Atelier des Lumières returns in August
Inaugurated in 2019, Paris Atelier des Lumières takes us again to Van Gogh's universe, for an immersive display to enjoy from Monday August 1 to Saturday August 27. For 35 minutes, roam around Van Gogh's most beautiful paintings, rediscovering this poorly received genius back in the days. His story, his brushstroke and his evolution are unveiled. We also discover his "Dreamed Japan", a dive into the heat of Japanese tales and decors, a magical moment you don't want to miss. [Read more]
Enjoying good food:




Les Maquereaux Rive Gauche, the latest friendly fish boat restaurant
Opened only a few weeks ago, Les Maquereaux Rive Gauche – the latest place by Les Maquereaux – is already a success. Set on a moored boat, in the 13th arrondissement, Les Maquereaux Rive Gauche provides small fish dishes to share or not, before dinner. [Read more]




Restaurant and café terraces hidden in gardens that we love
With the warmer weather, we want to go to the countryside and unearth great cafés and lush restaurants a tad confidential. Between museum terrace or sunny terrace nestled in a fabulous park or garden, here is our selection of great deals to relax and enjoy the sun. [Read more]




Pizzou Aligre, our pictures of the great pizzeria with 100% made in France toppings
After a first venue within walking distance from Pigalle, Pizzou, the made in France pizza king, provides you with a new canteen in the heart of the Aligre area, in the 12th arrondissement. A great menu shining a light on the French terroir to discover if you like fusion cuisine. We visited and here is our review! [Read more]




Ladurée's 160th anniversary teatime on the flowered terrace
How about indulging us to a lovely and delicious teatime on a terrace? Head to the new flowered terrace of the historic Maison Ladurée store on the Champs-Elysées for a scrumptious break mixing pastries and macarons to enjoy this summer. [Read more]




Kem Glaces, the craft ice cream pop-up back in the heart of Paris
Craving craft ice cream? Run and discover Kem Glaces creations, set in a pop-up store, from June 22 to September 25, 2022, at 7 rue Tiquetonne, in Paris 2nd arrondissement. The ideal way to cool off on these hot summer days. [Read more]




Takumi in Paris: the Japanese cheesecake-specialized bakery
The authentic Japanese cheesecake can be enjoyed at Takumi! Set in downtown Paris, this bakery also serves the flavorsome cream puff, cheese tart and sando. [Read more]
Here are some ideas to keep you lil' angels busy on this special day.