Published by Julie M. · Photos by Caroline J. · Published on 1 July 2022 at 09h06
Looking for an activity to keep your children busy on Wednesday July 6, 2022, in Paris? Whether you are parents, grandparents, or a nanny, here is a selection of outings to enjoy in Paris with kids!
Because children have an endless supply of energy, we always have to have great outing ideas to keep them busy on Wednesdays or school breaks. Sortiraparis has found great ideas for your family to enjoy on Wednesday July 6, 2022, be ready!
Unforgettable Outings




What do to with children this summer 2022 in Paris?
This summer, there are many entertainments to enjoy in Paris. Here are the unmissable outings to enjoy this summer: theme park novelties, original family outings, workshops and cultural outings... In other words, you will enjoy dream vacation in Paris this summer 2022. [Read more]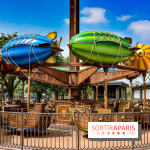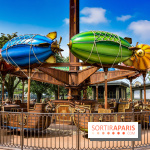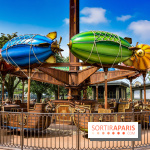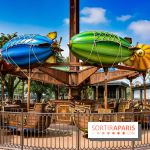 Jardin d'Acclimatation, the theme park in the heart of Paris
Paris Jardin d'Acclimatation welcomes you for moments of fun and relaxation. This family-friendly theme parks provides 40 rides for toddlers starting from 1, a petting zoo, and restaurants by the Bois de Boulogne at the gates of Paris. [Read more]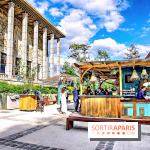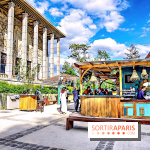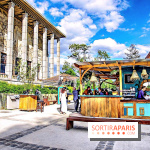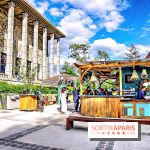 Summer 2022's kids-friendly terraces in Paris
You may be wondering where to go to the city with your kids. Lush terrace, solidarity-driven terrace or bucolic terrace… Here are terraces 2022 to enjoy with your children! [Read more]
Clearing your brain and dreaming:




Polnarêves: Michel Polnareff's immersive experience at the Le Palace theater
Another immersive experience awaits you all at the Le Palace theater. This time, Michel Polnareff has decided to give it a go and provide you with "Polnarêves", a visual and musical 360° experience. Meet from June 2, 2022 to March 1, 2023, to discover Michel Polnareff's dreams in Paris. [Read more]




The Lion King musical at Paris théâtre Mogador extended for a 2nd season
Hakuna Matata! The Lion King musical is back to Paris théâtre Mogador, 10 years after its latest performance at the theater. Even though the show was said to start from September 2020, because of the coronavirus epidemic, it is postponed to Fall, 2021. The show has been extended for a second season already and will be performed until December 31, 2022. [Read more]




Paris Jazz Festival 2022 at the Parc Floral: lineup of the free nighttime shows
Paris Jazz Festival is back to the Parc Floral from June 29, to September 7, 2022, always featuring so many musical talents to discover in a bucolic setting. Here is the lineup of the free nighttime shows! [Read more]




Classique au Vert festival 2022: free concerts in Paris Parc Floral
The Classique au Vert festival returns from June 29 to September 7, 2022, in the heart of Paris Parc Floral. Classique au Vert invites music lovers and neophytes to enjoy good tempo and great weather with famous and rising artists. [Read more]




Fête du Cinéma 2022 and movies for €4 for all
From July 3 to 6, 2022, Fête du Cinéma is back for the 37th edition. Once again, this is the perfect occasion to enjoy movies for €4. [Read more]
Having fun and letting off steam: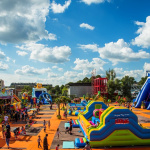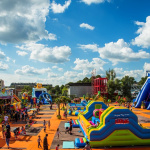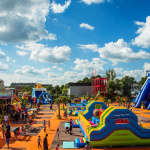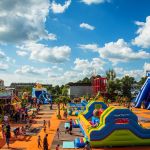 Europa Kids: inflatable playground at the Parc de la Villette in Paris
If you were to go to only one place this summer, you must run to Europa Kids. From June 25 to August 28, 2022, the Parc de la Villette provides the famous inflatable village again to entertain children and adults. Inflatable castles, huge slide, trampoline, water jets... What else would you ask for? [Read more]




Summer 2022: how to cool off with children in Paris
It is hot, and even very hot. Are you looking for a place to stay cool with children this summer in Paris? Here are the best ideas to stay cool or cool off when you have kids. [Read more]




What to do this Wednesday July 6, 2022, in Paris and Île-de-France
What do to this Wednesday July 6, 2022? Sortiraparis comes along with you every day to tell you more about outings to enjoy on your own or with your family in Paris and Île-de-France. Keep reading to find out more about what to do on Wednesday July 6, 2022. [Read more]




Good deals of the week - July 4 to 10, 2022 - free or cheap outings in Paris and Île-de-France
A new week begins and with it, a whole range of things to discover in Paris and around! Keep reading to find out more about the best deals of the week (July 4 to 10, 2022) in Paris and Île-de-France. [Read more]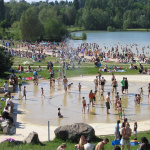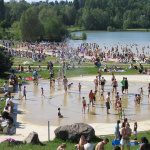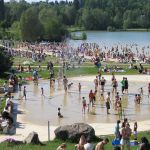 Where to swim for free in Paris and Ile de France this summer 2022?
Heat is hitting hard and you are looking for a beach where to sunbathe and bathe for free? To feel like on vacay without paying at all, discover the greatest spots where you can take your family and friends in Paris and Ile-de-France. [Read more]




Immersive exhibition inspired by the Lantern Festival at Paris Korean Culture Center - Our pictures
To celebrate the Taste Korea festival, the Centre culturel coréen – or Korean Culture Center – nestled in Paris 8th arrondissement concocts an exclusive immersive and free exhibition inspired by the famous lantern festival. Meet from June 30 to September 9, 2022, to enjoy this fabulous journey! [Read more]
Discovering in a playful way:




The Louvre opens the Studio, a new place for children and families
Calling all young art lovers, the Louvre opens the Studio for exclusive workshops about the ongoing exhibitions. Alone or with their families, children can discover many art practices and have fun while learning a lot. [Read more]




Summer holidays 2021: Museums and exhibitions for children in Paris
This summer 2021, I know you would like to relax and enjoy discoveries with your children to entertain them while educating them! There is nothing quite like showing them see, wild animals, and other exhibitions filling Paris. Sortiraparis walks you through the museums and animations likely to delight children and adults. [Read more]




Exhibitions closing in July 2022, in Paris
Alert exhibitions coming to an end this month! Are you sure you visited all the exhibitions you wanted? To make sure you miss out nothing and organize your outings as well as possible, have a look at our guide listing exhibitions living their last days in July 2022. [Read more]




Les femmes portent le monde: Lekha Singh's photo exhibition at the Musée de l'Homme, our pictures
The Musée de l'Homme offers us to discover Lekha Singh's works – a photographer who traveled the world to meet women carrying the world. To discover from June 29, 2022 to January 2, 2023. [Read more]




The Horizon of Khufu, an immersive nighttime journey in a pyramid to experience at the Arab World Institute
The Arab World Institute invites you to complete a unique journey, a virtual reality immersive experience taking you to one of the world's seven wonders. From June 14 to October 2, 2022, come and discover "The Horizon of Khufu". This July 2, enjoy an exceptional nighttime opening to discover this unusual experience. [Read more]




Summer Garden 2022 at Paris Musée du Quai Branly: when nature comes to PAris!
Sponsored - You do not need to leave Paris to enjoy quiet and wilderness... From July 3 to August 28, 2022, summer comes to Quai Branly garden. A free and playful event for all themed on nature, environment and the living! [Read more]
Enjoying good food:




Le Mouffetard, the perfect restaurant for tapas or a brunch in the Latin Quarter
Sponsored - In the heart of the Latin Quarter, Le Mouffetard is known as one of the oldest buildings in the street. This summer, the restaurant set up tapas, available daily from 4 p.m. to 11 p.m., to shine a light on exceptional cuisine for a pre-dinner drink; and at weekends and on public holidays, from 10 a.m. to 5 p.m., enjoy a brunch with seasonal products thoroughly selected by the chef. [Read more]




Madame Brasserie by Thierry Marx, the restaurant on the 1st floor of the Eiffel Tower is open
Madame Brasserie is the name of the new restaurant by Thierry Marx on the first floor of the Eiffel Tower. Enjoy unobstructed views on Paris whilst having creative French cuisine shining a light on local produces. Here is what to expect. [Read more]




Ernest, the solidarity-driven restaurant financing food aid!
The Ernest charity opened a solidarity-driven restaurant to finance their actions. Set within walking distance from the Porte de Bagnolet, in the 2,000sqm of garden of a new third place called "Le Sample", this restaurant works with residing chefs and is thought as a place of meeting and sharing relying on the charity's values. Come and enjoy their terrace! [Read more]




Kem Glaces, the craft ice cream pop-up back on the Printemps Haussmann Femme rooftop
Craving craft ice cream? Run to 7e Ciel to discover Kem Glaces creations, set in a pop-up store, from June 22 to September 25, 2022, on the rooftop of Printemps Haussmann Femme. The ideal way to cool off on these hot summer days. [Read more]




Our favorite Japanese tearooms
Calling all Japanese tea and pastry fans, here are our favorite tearooms in Paris we tried and approved. Enjoy the best spots to enjoy a Japanese cup of tea made by the book or some tasty matcha cakes and mochis. [Read more]




The best tearooms to enjoy tasty pastries in Paris
A tearoom, for sure, but an indulging tearoom, please! Discover the best cafés and tearooms to enjoy delicious pastries and cakes in Paris, those not giving indulging creations a miss so one can pair their tea or coffee as they should. [Read more]
Here are some ideas to keep you lil' angels busy on this special day.