Published by La rédaction · Photos by My B. · Published on 30 April 2022 at 11h49
Are you looking for a lovely restaurant in the Marais neighborhood in Paris? We have selected you the crème de la crème of this ultra-trendy spot. From breakfast to dinner, here are the best of the Marais restaurants we tried and approved!
The Marais is a young and trendy Parisian neighborhood where it feels good to live in. Also, it is very easy to spend the whole day roaming around the are near Rue des Rosiers for example, admiring the Tour Saint-Jacques, walking along the Seine riverbanks, visiting hidden museums… But all this can whet the appetite, right? If you want to fill your stomach as much as your eyes during these rambles, here are the best restaurants in the Marais neighborhood.




DimDimSum Paris, the flawless Chinese dim sum and bao restaurant – karaoke
DimDimSum is the delicious dim sum, bao and steam food restaurant in the Marais. Homemade dumplings made in front of you based on classic and original recipes, super fluffy bao and more steamed food, as well as two karaoke booths to sing along, here is a fabulous spot to have some fun time. [Read more]




ONdA, the first revisited Tapiocas counter – the indulging Brazilian pancakes
Have you heard about tapiocas? The Brazilian pancakes based on cassava flour? OndA is the name of the latest street-food counter in the Marais area inviting you to discover them in innovative recipes. How about adding some sun to our stomachs? [Read more]




Odette, L'Auberge Urbaine by the Rostang family, goes into gnocchis
Odette is the urban inn by the Rostang family, set in the Halles neighborhood, indulging us to sophisticated and flavorsome seasonal dishes. And this year, the house comes with a new menu shining a light on gnocchis... Keep reading! [Read more]




Nessia, the chef bistro taking our taste buds on a journey in Paris 3rd arrondissement
Nessia is the name of the latest restaurant that opened in late June 2022, in Paris 3rd arrondissement, by the Marais. Thomas Cherbit and Maximilien Dieupart serve a short menu based on seasonal produces and we love it. Go and discover this chef's bistro mixing tasty dishes and beautiful plates. [Read more]




TiTi Palacio, La Félicité's huge festive bar-restaurant is up
TiTi Palacio is a huge 500sqm bar-restaurant recently opened within hotel-inn The People Paris Marais, itself set in the latest eco-district of La Félicité Paris Sully-Morland. [Read more]




Ototo by Onii-San, the temporary sando temple in the Marais
Ototo is the pop-up restaurant devoted to sando in the Marais area. On the menu, this cult Japanese street-food dish in several recipes to enjoy all summer around! [Read more]




Baobar, the delicious bao counter in the Marais
Baobar, this is the name of the gua bao and Taiwan specialty restruant by the MAHUMAHU team. Have a seat at the counter and enjoy tapas-like dishes to share, packed with flavors. [Read more]




Janet by Homer, Lobster king Moïse's Wagyu Corned Beef sandwich
Lobster Roll World's Champion Moïse Sfez opens Janet by Homer, a street food place serving real corned beef sandwich, New York style, based on Wagyu beef. Let us run and discover this new and indulging spot. [Read more]




Kaviari Delikatessen and its seafood produces come to the Marais
Seafood caterer Kaviari opened a new and 6th Delikatessen, in Paris Marais. On the menu of this venue both a restaurant, coffee shop and caterer, wonderful seafood to enjoy on site or at home. Between taramasalatas, smoked salmon, marinated salmon, caviar and smorrebrods, we do not know where to start. [Read more]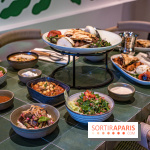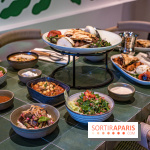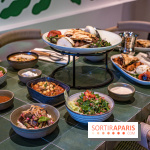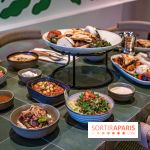 Qasti Shawarma & Grill, Alan Geaam's Lebanese eatery
Alan Geaam is unstoppable and keeps developing himself in the Marais area. After Qasti, Saj, a bakery and the Auberge Nicolas Flamel, he is now opening a new Lebanese street-food eatery called Qasti Shawarma & Grill. [Read more]




Le Beef, Le Marais latest meat restaurant
Meat lovers, here is a restaurant likely to delight you: Le Beef. This Le Marais restaurant mostly serves meat, especially cured beef cooked several ways. Get your most beautiful fork out! [Read more]




The Auberge Nicolas Flamel with Grégory Garimbay at the helm
Genuine institution in Paris, the Auberge Nicolas Flamel welcomes a new cook, chef Grégory Garimbay. The oldest inn in Paris made the most of the past couple of months to get a makeover, very soft. And the plates unveil gourmet cuisine that does not deny its classic roots but shooting at the stars. [Read more]




L'Enoteca: Charming Italian restaurant and wine cellar in the Marais area
L'Enoteca is part of those irresistible tables in Le Marais since it has been offering you for almost 30 years to come and enjoy tasty Italian cuisine around very good wines. On the menu, Transalpine specialties, especially pasta, as well as candied eggplant. [Read more]




Chez Julien, Le Marais gourmet restaurant dedicated to truffle
Gourmet restaurant Chez Julien has made of truffle its specialty. In a quiet street set in Le Marais neighborhood, eat on the large and very pleasant terrace. A good spot for summer lunches and after work parties. [Read more]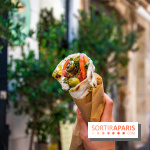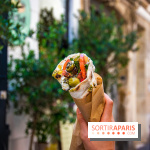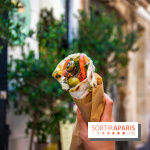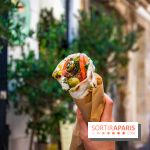 Man'ouché, the Lebanese street food restaurant a stone's throw from Centre Pompidou
Chawarmas, flatbread and other pittas lovers are expected at Man'ouché, a Lebanese restaurant serving street food and set a stone's throw from Centre Pompidou, rue Rambuteau. The perfect spot to eat on the go while discover Lebanon and its tasty cuisine! [Read more]