Published by La rédaction · Photos by Caroline J. · Published on June 1st, 2022 at 10:38 a.m.
In the mood for a cocktail on a trendy terrace, but you do not know where to go? Do not panic! Sortiraparis have got you covered and offers a selection of trendy terraces in Paris... From the terrace set on the Seine riverbanks to the one providing parties to the latest trendy one... Discover now the best and often coveted trendy terraces in Paris for spring-summer 2022!
When sunny days are finally here, we want to make the best of the warmer weather and have a drink (alcohol-free or not) with friends... And is there anything better than trying Paris trendiest terraces to have a good time?!
On that matter, trendy terraces are not lacking in Paris. And more and more of them pop here and there, making us very happy. Perched, by the water, nestled in greenery, scrumptious or musical... Trendy terraces are often stormed when spring and summer arrive. So, sometimes, you need to elbow your way through a comfy chair, and you can only enjoy the moment.
Trendy terraces often taken by storm, but definitely worth it because of the special atmosphere. This is also the occasion to discover a place before anyone else, and to talk about it to as many people as you can!
Trendy terraces in Paris for spring-summer 2022:




The Montparnasse Tower unveils a craft-beer bar this summer 2022 on their rooftop
This summer 2022, the Montparnasse Tower opens a craft-beer bar by La Brasserie Fondamentale on their 210-meter (688.97-feet) high rooftop! [Read more]




Hotel Rochechouart opens their rooftop bar for the summer
Head to the 9th floor of Hotel Rochechouart to discover the Bar sur le Toit reopening for the summer. On the menu, Italian dishes to share (or not), signature cocktails and even a teatime! [Read more]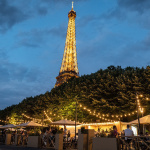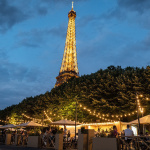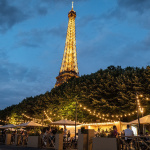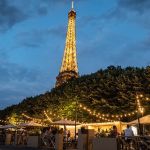 Bal de la Marine, the guinguette-restaurant by the Seine at the foot of the Eiffel Tower
The Bal de la Marine, a festive guinguette by the Seine mixing music and restaurant, expects you again for the summer. The occasion to chill out and dance all week long by the water, in a unique setting and a friendly atmosphere. [Read more]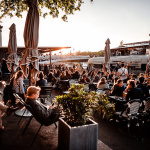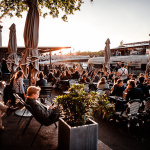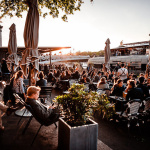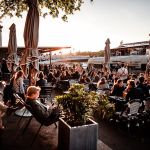 The Flow at Paris: the restaurant-bar-terrace, club and rooftop barge by the Pont Alexandre III
The Flow is a festive venue ideally set by the Seine, by the Pont Alexandre III with views on the Grand Palais and the Eiffel Tower. Doubling as a restaurant, bar, show venue, club and rooftop, this lively guinguette has it all to provide you with great nights by the water. [Read more]




The Hotel de Crillon unveils their Secret Summer Garden
The Hotel de Crillon invites you to their "Secret Garden" from Tuesday June 28 to Friday July 8, 2022, to cool off in a floral and plant-filled setting, safe from preying looks. Come and have a drink or enjoy the palace pastry chef's iconic sweet creation! [Read more]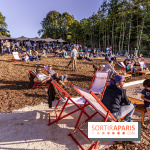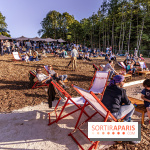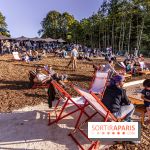 Perchoir Y, the latest crazy food camp – guinguette – barbecue in Meudon
Perchoir Y is the latest festive guinguette you will love this summer. A huge terrace across a lake, in front of the historic Hangar Y in Meudon, providing you with entertainments, bar and barbecue for you to have a blast. [Read more]




La Canopee, Beffroi de Montrouge's latest indulging and festive rooftop
La Canoppee – here is the name of the latest rooftop terrace coming to the rooftop of the Montrouge belfry at the gates of Paris. A huge green and festive terrace with DJ sets serving a great and affordable fusion menu so you can have a blast. [Read more]




The Oz Rooftop Café on the roof of La Cité de La Mode et du Design
The Cité de la Mode et du Design offers us a nice terrace of the Australian brand Café Oz. Let's discover the Café Oz Rooftop! [Read more]




Bar à Bulles – Machine du Moulin Rouge's hidden and verdant rooftop terrace
Bar à Bulles is the discreet rooftop of the Moulin Rouge. Have a seat in this lush setting, surrounded by vintage furniture lovingly bargain-hunted and hanging plants. Enjoy lively parties, movies and nice and affordable cocktails. [Read more]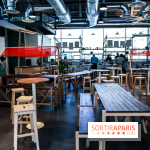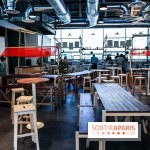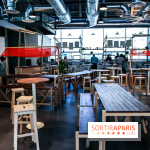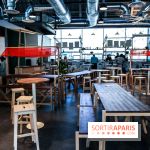 HOBA: sustainable food court at Paris Parc Martin Luther King - our pictures
You may have heard about the temporary "HO" terrace. This spring, discover HOBA, the latest place devoted to sustainable food. Initiated by Hasard Ludique team, this new mouthwatering food court expects you from June 2, 2022, in the middle of the Parc Martin Luther King in Paris 17th arrondissement. [Read more]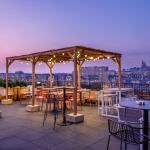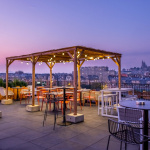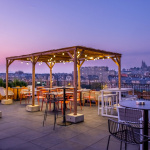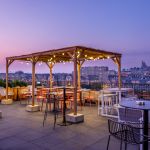 Station M, hotel Maison Montmartre's latest rooftop with views on Paris
Hotel Maison Montmartre unveils Station M, their latest rooftop with unobstructed views on the Sacred Heart and the Eiffel Tower. On the menu, tapas, cocktails, workshops and a perched boules ground! [Read more]




BHV Marais Perchoir - the urban jungle rooftop terrace
Perchoir Marais, the coveted BHV rooftop terrace in the heatr of Paris with views on the Eiffel Tower, the City Hall and Paris rooftops, expects you again for the summer. Between Vietnamese dishes and great cocktails, treat yourselves to a relaxing evening. [Read more]




Cheval Blanc's summer garden-inspired rooftop terraces
How about enjoying a new rooftop? Head to the Jardin aka Cheval Blanc's 650sqm rooftop serving verdant terraces for great moments above Paris rooftops. [Read more]




Peninsula Paris rooftop bar and breakfast serving gorgeous views
Looking for a beautiful rooftop in Paris? Peninsula Paris terrace bar – open to all without prior booking – is now available. It is time to go touch the clouds and enjoy a delicious cocktail with veggie tapas while enjoying the city. [Read more]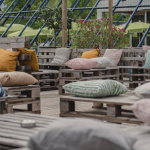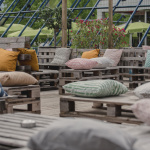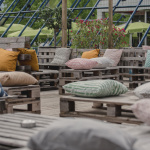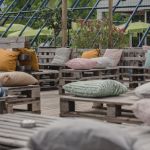 Papa Cabane: Paris beautiful summer terrace returns
Good news! The beautiful and large 1000-sqm terrace set just behind Paris Accor Arena is back. Meet from Wednesday to Saturday until late August to (re)discover Papa Cabane's very pleasant concept! [Read more]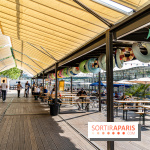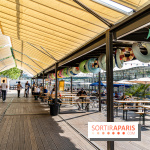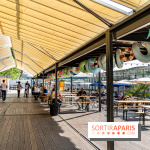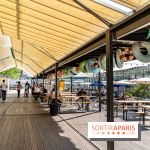 Rosé Piscine, the new festive and sporty terrace-bar of Javel is unveiled
Rosé Piscine, the new bar-guinguette of the Why Not Productions family, who created the different Rosa Bonheur, has opened its doors. While waiting for the opening of the Arche Javel just opposite, which promises a huge swimming pool on a barge, we go to relax, dance, enjoy ourselves and do sports with a great program! [Read more]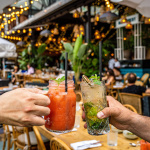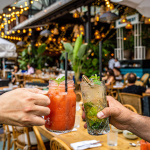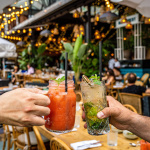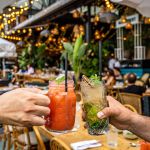 Quai Ouest restaurant, the festive brasserie terrace featuring BBQ and fun
Quai Ouest, the famous floating restaurant in Saint-Cloud, underwent a makeover, and enjoys a new menu to appeal you even more. With its huge seaside guinguette-inspired décor, its new indulging menu, its BBQ Wednesday offer, live music and entertainments for kids on Sundays, this is the perfect location for friends and family. [Read more]




Cabanon Perché, summery rooftop by Terrass Hotel and fantastic views on Paris and the Eiffel Tower
Cabanon Perché is the summer rooftop by Terrass" Hotel. On the menu, an exotic terrace taking us to the South since May 19, 2022. Seaside vibe, gin cocktails and seafood, the beach is back! [Read more]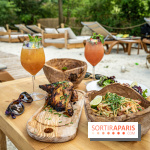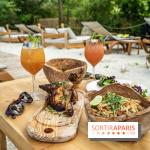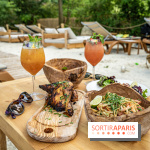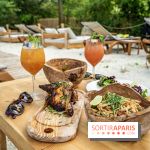 Beach Parisienne, Chalet du Lac's huge terrace-beach back to the Bois de Vincennes
How about having a drink on the beach without even leaving Paris? This is the fantastic experience provided by Chalet du Lac's Beach Parisienne this summer. Meet from May 29, 2022, at the Bois de Vincennes to discover an exclusive beach. [Read more]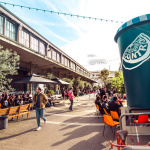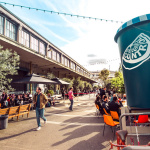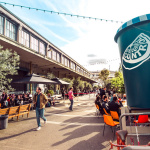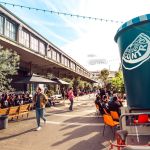 Ground Control reopens and shines a light on African culture and cuisine
Did you miss it? Ground Control reopens its wide and indulging terrace shining a light on African culture and cuisine. We are already drooling! [Read more]
Enjoy!