Published by La Rédac · Photos by Rizhlaine de Sortiraparis · Published on August 31th, 2023 at 03:12 p.m.
Discover our selection of the best healthy brunches in Paris for a fresh, healthy and delicious meal this weekend!
Looking for a healthy brunch in Paris this weekend? For those who live on love and fresh water, we reveal the best spots for a fresh and healthy brunch. A good healthy brunch in Paris, we say yes! To eat healthy, organic and fresh, we have found some great addresses to have brunch around good flavors for the happiness of the taste buds and to keep in shape because we are worth it.
Healthy brunches are becoming more and more popular in Paris, and for good reason: they allow you to treat yourself while maintaining your health. In our selection, you will find addresses offering brunches made with fresh, organic and local ingredients, featuring balanced and tasty dishes. Whether you are vegetarian, vegan, gluten-free or simply looking for a healthy meal, you will find a healthy brunch in Paris that suits you.
These establishments are distinguished by their commitment to offering fresh and healthy dishes, prepared with quality ingredients, from organic or local agriculture. They put forward original and creative recipes, which will delight both lovers of healthy cuisine and gourmets in search of new flavors.
Healthy brunch prices vary depending on the establishment, the ingredients used and the quality of the products offered. You'll find options for every budget, from affordable brunch to high-end brunch. Whatever your budget, you'll be able to treat yourself to a relaxing, feel-good moment.
As with any brunch, advance reservations are recommended, especially if you're planning to go to a popular establishment. Space can be limited, especially on weekends. So be sure to plan ahead and reserve your table to fully enjoy your healthy brunch in Paris.
Finally, don't forget that brunch is above all a convivial moment to share with your loved ones. Take advantage of this opportunity to discover new flavors, exchange around healthy food and create beautiful memories. So, are you ready to get on the healthy side of brunch?
Explore our selection of the best healthy brunches in Paris and get ready to enjoy a fresh, healthy and delicious meal this weekend!




Cali Uptown's comforting brunch with a Californian twist
Cali Uptown, the Cali Sisters' restaurant in the 10th arrondissement, unveils a Californian brunch that's as generous as it is comforting. [Read more]




Rivages' exceptional brunch at the Scribe Paris Opéra by Martin Simolka
Rivages, the restaurant at the Scribe Paris Opéra, launches its brunch every Sunday. In an elegant setting under a sublime glass roof, we're off to feast on the dishes of new chef Martin Simolka. Kids firiendly, this brunch is also ideal for families, and is sure to delight parents in search of relaxation in an adapted dining room. [Read more]




Café Maréva République: brunch all day long
Sponsored - At Café Mareva Republique, you can enjoy generous, home-made brunches just a stone's throw from the Canal Saint Martin. You'll find the famous salted sweet potato waffles, as well as sweet waffles, pastries and homemade juices. Gluten-free, lactose-free, vegetarian and vegan options. [Read more]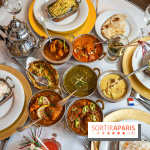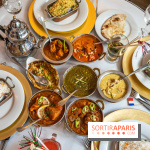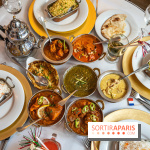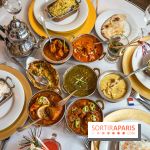 The Jaipur Café Brunch, for a healthy meal on Saturdays, Sundays and public holidays!
An all-you-can-eat Indian brunch that's as tasty as it is delicious? Jaipur Café is located in the 10th arrondissement of Paris, a stone's throw from Faubourg Poissonnière. Every Saturday, Sunday and public holiday, enjoy an affordable, gourmet brunch for 29 euros. [Read more]




P1 Bouche, the new healthy, gourmet restaurant featuring products from Atelier P1
In the heart of the 18th arrondissement, discover the restaurant derived from Atelier P1, just a stone's throw away, where you can enjoy delicious, healthy and gourmet bakery specialties in a warm, sunny setting. [Read more]




The first Japanese brunch in Paris, hidden in a passageway
Kimochi, the famous sushi-burger restaurant nestled in the corner of Passage des Panoramas, is launching the first Japanese brunch in Paris. Available every day, we're off to discover this spot that marries gourmet delights with healthy dishes. [Read more]




Brunch with British recipes, colorful and balanced by Treize au jardin
Fresh, seasoned products, cooked with love: if we had to summarize the brunch of Treize au Jardin, the tea room set up in front of the Jardin du Luxembourg, that's surely what we would say. [Read more]




Maison Mère's semi-vegan brunch: an irresistible menu for gourmet Sundays
Looking for a gourmet brunch in Paris? At Maison Mère, we discover two formulas, one of which is vegan with healthy dishes that play on our sins! Guaranteed 100% pleasure and 0 guilt! [Read more]




Azur Café, the Mediterranean coffee shop
Azur Café is the name of this new café-restaurant on the rue de Ponthieu, a stone's throw from the Champs-Elysées. You can go there at any time of the day to enjoy a Mediterranean menu, created by the starred chef Romain le Cordroch. [Read more]




The healthy buffet brunch of the Nouvelle République
If you feel like a healthy brunch in Paris, head to the Nouvelle République in the 11th district. Every Sunday, this intimate hotel gives appointment to the Parisians for a healthy and vegetarian Big Breakfast, in the form of a big buffet with a musical atmosphere relaxation. And there's no need to say, we enjoy ourselves! Play our game on Instagram to win a night and a healthy brunch! [Read more]




Le Drugstore restaurant launches Californian brunch
New brunch alert! Gourmets and gourmands meet at Le Drugstore restaurant to discover a brand new rendezvous based around Californian cuisine from October 5, 2019. Avocado toast, pancakes and cheesecakes... Enjoy the flavors of America's most feel-good state! [Read more]




The all-you-can-eat healthy brunch at the Hotel Grand Powers in Paris
Are you tempted by a good Sunday brunch in Paris? Head to the Grand Powers Hotel to discover an all-you-can-eat buffet around fresh and exceptional products and healthy dishes that will delight your taste buds. [Read more]