Published by Manon C., La rédaction , Rizhlaine F. · Photos by My B. · Published on March 3rd, 2023 at 11:50 a.m.
Gastronomic, bistronomic, affordable or trendy, discover the new restaurants in Paris to try without further delay.
Paris is a vibrant city where new restaurants keep popping up, month after month, week after week, day after day. So much so that it is sometimes difficult to keep up with all the new addresses to try and stay on top of things.
From gourmet restaurants to small, affordable eateries, from establishments that pay tribute to the greatest French classics to restaurants that offer the best specialties in the world, whether Asian, South American or Mediterranean, there is always a new address to try in Paris.
If you're one of the early adopters looking for the latest in the City of Light, then good news: you're in for a treat. Discover without further delay the new restaurants in Paris tested by us, and make sure you stay up to date and don't miss any culinary revolution that is happening in the capital.
Stay tuned, this guide is updated very regularly with brand new restaurants; remember to consult it regularly to keep up with the latest restaurant openings in Paris!
New restaurants in Paris, our good addresses:




Carte sur table 2023: 20 great Bordeaux wines at "wine shop prices
Sponsored - Find 20 great Bordeaux wines at "caviste prices" on beautiful Parisian tables, around a unique culinary experience from March 20 to April 20, 2023. [Read more]




Underground Coffee: the experience that shakes up the codes!
Sponsored - In the heart of the 12th district of Paris, a unique establishment has opened its doors: Underground Coffee. Located at 12 avenue Ledru Rollin, this bar-restaurant-tattoo parlour offers a unique experience between culinary pleasures, tattooing and mojitos. [Read more]




JoeyStarr signs the menu of Bleu Coupole, the restaurant of Printemps Haussmann
The famous rapper JoeyStarr signs the new menu of the restaurant Bleu Coupole located in the Printemps Haussmann in Paris, to discover from March 20 to June 15, 2023. Discover the culinary talents of the artist for a delicious gourmet moment. [Read more]




Chimère, a contemporary and stylish brasserie in Opéra
With its neat vintage decoration and embered plates, the neo-brasserie Chimère unveils itself, near the Opéra Garnier. [Read more]




Tribunali, large pizzas and plump panuozzi by Gennaro Nasti
Gennaro Nasti is unstoppable as he opens Tribunali, near Batignolles. On the menu, authentic Italian street-food, pizza a rot e carrett' on one side, panuozzi on the other. [Read more]




Kubri, a contemporary Lebanese restaurant that brilliantly reinvents the genre
Opened by three women, including chef Rita Higgins, Kubri is reshuffling the cards of Lebanese cuisine with contemporary dishes never seen - let alone tasted - in Paris. A success just a few steps from the Cirque d'Hiver. [Read more]




Alla Mano, fried Italian street-food to eat with your fingers in Sentier
Head to the Sentier to discover Alla Mano and its Italian street-food specialties: supplì, Roman cousins not so far from the Sicilian arancini; and panzerotti, a kind of doughnut filled in the manner of a pizza frita. [Read more]




Opening of the renovated and free Bourdelle Museum, its novelties and its café-restaurant
The Bourdelle Museum, dedicated to the famous sculptor, is preparing to reopen its doors on March 15, 2023. A new itinerary designed for children, new scenographic features and a new café-restaurant are on the program of discoveries that await you. [Read more]




Rhodia, the café-restaurant of the Bourdelle Museum arrives
The Bourdelle Museum reopens its doors after several months of work, and unveils a new café-restaurant to be discovered as of March 28, 2023, within the former workshops of the famous sculptor. Named Le Rhodia in homage to Antoine Bourdelle's daughter, this spot promises an original and comforting menu, inspired by the artist's life. [Read more]




Papa Pool, we tested the restaurant of Arnaud Delvenne and Stéphane Rotenberg in Clamart
Papa Pool is the name of the latest restaurant of the Bistrots Pas Parisiens which has just opened its doors, led by Arnaud Delvenne and Stéphane Rotenberg. Let's go to Clamart in the Hauts-de-Seine to discover this spot in the spirit of a mountain chalet, which will soon be transformed into a grandiose seaside resort with a giant terrace. We discover a bistro menu that is accessible. [Read more]




Jòia bun by Helene Darroze, we tested the ultra-gourmet burger restaurant
Hélène Darroze, our beloved star chef and Top Chef judge, is launching Jòia Bun, a bistronomic restaurant offering ultra-gourmet burgers with a Southwestern twist. We love these homemade burgers, which are a real change from the ordinary! [Read more]




Bonchon, the fried chicken restaurant opens its doors
Bonchon, the world-famous Korean fried chicken street-food chain, is coming to Paris on March 9, 2023. Head to the 2nd arrondisseemnt to (re)discover the best chicken wings by Business Insider. [Read more]




Magnum 150CL, the restaurant that honors forgotten brasserie dishes just a few steps from the Parc Monceau
Magnum 150CL is the right address for you, just a stone's throw from the Parc Monceau, in the 17th arrondissement of Paris. Here you can enjoy a gourmet and comforting cuisine that highlights forgotten brasserie dishes while giving them a refined touch, with a wine list that will make oenophiles green with envy. [Read more]




Ephemera, the first immersive restaurant in Paris that takes us Under The Sea
Ephemera is the name of the first immersive and affordable restaurant that takes us 'Under The Sea' for this first edition. Direction the 13th district in the heart of a hidden room of the MK2 Bibliothèque for an incredible experience during a meal. [Read more]




La Chambre Bleue, the gastronomic restaurant by Dani Garcia at the Maison Delano Paris
La Chambre Bleue is the name of this new gastronomic restaurant by dani garcia, which will open its doors on April 1, 2023 in the new hotel of the Maison Delano Paris, which is located in an 18th century mansion. With a menu focused on seafood, Spanish and Mediterranean dishes, as well as a wine and cocktail list inspired by Picasso, La Chambre Bleue awaits you for beautiful discoveries, all in a friendly and festive atmosphere. [Read more]




Nour, small Israeli street-food counter and grilled arayes
Nour unveils to a large number of people the arayes, the must-haves of the Levantine street cuisine, still too little known in Paris. [Read more]




Osteria Brutto, an Italian restaurant like in New York, but in the Vth district
Osteria Brutto has just opened on rue Gracieuse, in the 5th arrondissement of Paris. An Italian restaurant, but like in New York, where Italian cuisine is served as it has been reinterpreted in the United States by Italian immigrants. [Read more]




Flat Bread : Baptiste Trudel opens (finally!) his street-food shop dedicated to flat breads
After years of unbearable waiting for street-food lovers, chef Baptiste Trudel has finally opened his street-food shop dedicated to flat breads, and it's a success. [Read more]




Nonos, Paul Pairet's restaurant-grill at the Hôtel de Crillon
Chef Paul Pairet has completely redesigned the former Brasserie d'Aumont in the Hôtel de Crillon and unveiled Nonos, a restaurant-grill, and Comestibles, a grocery store. The conclusion is clear: you can't help but enjoy it. [Read more]




Casa Eminente, ephemeral restaurant and bar in the style of an authentic Cuban house
In the manner of an authentic Cuban house, Casa Eminente invites you to get away from it all with its ephemeral restaurant and bar, open at the back of a charming green courtyard until next July. [Read more]




Faurn and his man'ouchés, Alan Geaam's Lebanese pizzas
Alan Geaam has opened Faurn, a restaurant a stone's throw from his previous locations, where he makes it a point to introduce the man'ouché, the Lebanese cousin of pizza! [Read more]




Bonnie : the bar-restaurant and club perched in the SO/Paris hotel
A new spot with a perched terrace opened in Paris on September 6, 2022. Here is Bonnie, the restaurant-bar and club signed Paris Society which takes its quarters on the 15th and 16th floors of SO/Paris, the trendy hotel on the quays of the Seine in the Marais district. [Read more]




Unagi, a contemporary Japanese bistro to discover in the 16th
Unagi, a new Japanese restaurant, has recently opened in the 16th district of Paris. A contemporary bistro where they serve home-made food, very tasty, made with fresh and quality products. Special mention for the chicken gyozas and the toro sashimi, which you should not miss. [Read more]




Mondaine de Pariso, the new festive and chic Parisian table of Paris Society
Mondaine de Pariso is the name of Paris Society's new festive and chic address in the capital. Located in the 8th arrondissement of Paris, Mondaine de Pariso, which opens on November 23, 2022, is a festive, upscale restaurant with live music. [Read more]




Too Restaurant, we tested the sublime panoramic restaurant of Paris, menu and pictures
TOO Restaurant, it's the name of the restaurant that madness which opened its doors last October. We went to discover this restaurant with an exceptional panoramic view on the Seine, the Sacré-Coeur, Notre-Dame or the Eiffel Tower. [Read more]




Granite, Tom Meyer's star-studded restaurant
Tom Meyer has opened his first restaurant in Paris, Granite, with Stéphane Manigold and Anthony Chenoz as pastry chef. A new table that could well get a star in a few weeks. [Read more]




Passionate: the new gastronomic restaurant in the 9th district of Paris
Sponsored - Led by talented Japanese chef Satoshi Horiuchi, Le Passionné is a new Parisian dining experience that offers a bold, modern interpretation of French cuisine, while honoring small local producers and seasonal produce. [Read more]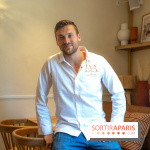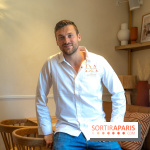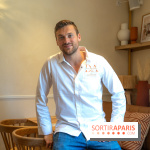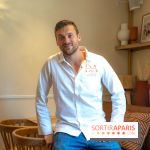 Dame Augustine, the delicious and affordable restaurant of Lilian Douchet, Top Chef 2022
Lilian Douchet, who you followed in Top Chef 2022, has just opened his contemporary bistro in Paris called Dame Augustine. We went to discover this new spot that does not lack charm. Divine cocktails, dishes at the top (chef) which wants to be affordable, greedy and without fuss. [Read more]




Giovanna : the trattoria in Batignolles that smells like Italy
Notice to all lovers of sweet Italian flavors. Head for the Batignolles district in Paris to discover Giovanna, the new trattoria of the Clan des Mama. On the menu? A colorful and relaxed place, a generous and gourmet cuisine and clever drinks to enjoy an aperitivo like in Italy! [Read more]




Solum, the new festive Parisian restaurant located under the Alexandre III bridge
Solum is one of the latest arrivals among Parisian festive restaurants. Installed under the Alexandre III bridge, Solum offers a high quality cuisine for dinner, before moving on to a more festive moment in the evening, with live music. And to finish in the club. [Read more]




Dar Mima, Jamel Debbouze's restaurant, in tribute to his mother, on the roof of the Arab World Institute
An address high up in the sky, to taste the cuisine of Fatima, Jamel Debbouze's mother. This is what awaits you at Dar Mima, the restaurant signed by the artist and Paris Society on the roof of the Arab World Institute. [Read more]




Chardonnay, the little brother of the Crus de Bourgogne
Opened right next door to its big sister Aux Crus de Bourgogne, the Chardonnay is the latest offspring of the Dumant family, the turbulent child version. A new bistro with no fuss and no muss, where the tables are filled with dishes that smell of the French tradition. [Read more]




Bonnard : the bistronomic and vegetarian restaurant in the Marais in Paris
Are you a lover of vegetarian and gourmet cuisine? Head to the Marais in Paris to push open the doors of Bonnard, a tasty bistronomic and vegetarian restaurant where Chef Eliott Guigou is in charge of the kitchen. [Read more]




Bomaye, amazing African burgers inspired by traditional African dishes
At Bomaye, you can discover and taste African burgers with recipes that pay homage to traditional African dishes, such as mafé, garba, yassa chicken or alloco. [Read more]




Father Lacheese, the cheese-buvette of Monbleu and its raclette at will
How about an all-you-can-eat raclette? It's happening in Monbleu's cheese dairies and restaurants! The opportunity to discover Père Lacheese, the new cheese shop and bar of the House, just a step away from Père-Lachaise ! [Read more]




Yakuza by Olivier, the Japanese table of Maison Albar Hotels Le Vendome
Lovers of Japanese cuisine, take note of this beautiful address! Go to Yakuza by Olivier, the restaurant of Maison Albar Hotels - Le Vendome, which gives pride of place to Japanese gastronomy, while adding a Mediterranean touch. For those in a hurry, a lunch menu is available for 45€, served in 45 minutes! [Read more]




Salvaje Paris, the festive Japanese restaurant and cocktail bar with an African atmosphere, video
Salvaje arrives in Paris and waits for you in the 8th district within its restaurant and its immersive bars to taste a superb Japanese cuisine decorated with crazy cocktails, the whole in a crazy atmosphere like Douanier Rousseau with music and show every evening. [Read more]




Le Cyrano, affordable and comforting bistronomy in a historical setting
For its fabulous historical Art Nouveau decoration or for its affordable bistro dishes, there is a good reason to go and discover the restaurant Le Cyrano, just a few steps from the Place de Clichy. [Read more]




Jolia, the new Middle Eastern table from Dalia's team
The Dalia team unveils its new Middle Eastern restaurant: Jolia, near Père Lachaise. [Read more]




Parenthèse Brunch, the cheap and gourmet brunch all week long
Parenthèse Brunch is the new gourmet café, exclusively dedicated to brunch to be enjoyed all week long. Head to the 10th arrondissement to discover this new affordable and generous offer. [Read more]
New Divine Brunchs in Paris: Discover the Unpublished Restaurants and Gourmet Spots
Discover the new divine brunches in Paris for unique gourmet experiences on weekends! [Read more]
So, which new address should we try today?