Published by La rédaction · Photos by Julie M. · Published on April 24th, 2023 at 01:21 p.m.
Looking for a restaurant with a beautiful view of Paris? Discover our good addresses where you can enjoy a dinner or a lunch while taking advantage of a beautiful panorama on the capital.
Paris is a real open-air museum, and by day or night, the city offers a sublime landscape that one never tires of. With its famous zinc roofs, its historical monuments seen from above and its avenues drawn to the line, witnesses of the passage of the baron Haussmann in the capital, the City of Light is as pretty seen from below as contemplated from the sky.
If you are looking for a good address where you can enjoy a good meal while taking advantage of a breathtaking view of Paris, then you are in the right place. Discover without further delay the gourmet places that offer you a breathtaking view of the capital. Whether it's in a restaurant with a view of the Eiffel Tower or at the counter of an address with a beautiful view of the rooftops of Paris, you'll be delighted by the detour.
For a lunch or a dinner, go and discover these cafés, restaurants, bars, terraces, rooftops and even boats that offer the opportunity to spend a delicious moment while admiring the beauty of Paris. How not to fall under its charm? Here are the best addresses!
Restaurants with a beautiful view of Paris, our good addresses :




Riviera Fuga, an Italian-Japanese restaurant floating on the Seine as beautiful as it is delicious
Barely open, the Riviera Fuga floating restaurant is already a firm fixture on the banks of the Seine, with its cuisine combining Italian and Japanese influences. [Read more]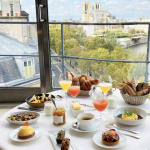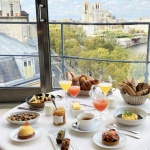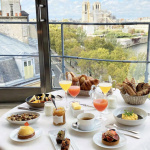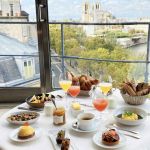 Parisian institution La Tour d'Argent gets a makeover
A true Parisian institution, the Tour d'Argent unveils a new, more contemporary face, with the creation of a new bar and the opening of its rooftop. [Read more]




10th Heaven, the rooftop bar with the best view of the Eiffel Tower, is back!
Fancy a tête-à-tête with the Eiffel Tower? Le 10ème Ciel, the Pullman Tour Eiffel's famous bar, reopens its doors on July 8, 2023, allowing you to admire the beautiful lady at night with a cocktail and tapas in hand, to the accompaniment of a DJ set. [Read more]




Le Perchoir Porte de Versailles: a rooftop terrace-restaurant at the heart of an urban farm
Discover Le Perchoir Porte de Versailles, a must-visit rooftop restaurant located in the heart of Europe's largest urban farm, nestled in Paris. A beautiful terrace for a drink, brunch or lunch and dinner, with a menu that respects the environment and uses local produce, it's sure to be a good time. [Read more]




Le Café de l'Homme: the Trocadero's terrace restaurant with a view of the Eiffel Tower, reborn!
The Café de l'Homme is getting a makeover after several months of renovation and closure in May 2023. Let's go and rediscover this restaurant whose terrace offers one of the most beautiful views of Paris on the Trocadero and the Eiffel Tower. New decor, new gourmet menu, the place reinvents itself and awaits you again every day from noon to 2 am. [Read more]




Alice Arnoux at the Perchoir Ménilmontant, an iodized and perched residence
The chef Alice Arnoux settles in the Perchoir Ménilmontant for six months. An iodized and perched residence in which we dive head first. [Read more]




Living Kitchen at Zoku Paris: the rooftop not to be missed!
Let's go and discover the brand new Living Kitchen, the trendy rooftop spot of Zoku Paris, which unveils restaurant, bar and festive terrace in the 17th district. [Read more]




Bonnie : the bar-restaurant and club perched in the SO/Paris hotel
A new spot with a perched terrace opened in Paris on September 6, 2022. Here is Bonnie, the restaurant-bar and club signed Paris Society which takes its quarters on the 15th and 16th floors of SO/Paris, the trendy hotel on the quays of the Seine in the Marais district. [Read more]




Too Restaurant, we tested the sublime panoramic restaurant of Paris, menu and pictures
TOO Restaurant, it's the name of the restaurant that madness which opened its doors last October. We went to discover this restaurant with an exceptional panoramic view on the Seine, the Sacré-Coeur, Notre-Dame or the Eiffel Tower. [Read more]




Act II (formerly Au_Top): the secret rooftop in Paris for a high Japanese cuisine
Acte II (formerly Au_Top), is this gourmet rooftop that hides in the heart of the capital with a surprising 360° view. In this restaurant of Jean Philippe de la Perle, we discover a panorama on the roofs of Paris while enjoying the dishes of Masahide Ikuta who reveals us a high Japanese gastronomy. [Read more]




Les Ilots de Chaillot, the gourmet and affordable restaurant with views on the Eiffel Tower
Good deal alert! We have found a fantastic restaurant with views on the Eiffel Tower, nestled in the heart of the Théâtre de Chaillot. Committed quality cuisine, a historic setting and a warm service, here is what makes Les Ilots de Chaillot a game changer for foodies craving for a fantastic experience. [Read more]




Madame Brasserie by Thierry Marx, the restaurant on the 1st floor of the Eiffel Tower is open
Madame Brasserie is the name of the new restaurant by Thierry Marx on the first floor of the Eiffel Tower. Enjoy unobstructed views on Paris whilst having creative French cuisine shining a light on local produces. Here is what to expect. [Read more]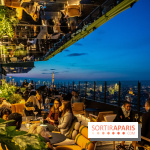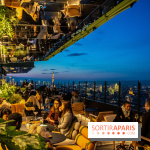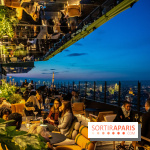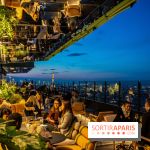 The Skybar rooftop, the highest open-air bar in Paris
The Skybar is the rooftop canon that awaits us on the 32nd floor of the Pullman hotel in Montparnasse. We discover the highest open-air bar in Paris with a beautiful view of the Eiffel Tower and an intriguing menu of original cocktails. [Read more]




A tacos bar comes to the rooftop of a beautiful Paris hotel!
A summery wind blows on the Sequoia, rooftop of hotel Kimpton Saint-Honoré. This summer, this Parisian location unveils a delightful tacos bar and magnificent views on the Eiffel Tower, Opéra Garnier and more Parisian landmarks. [Read more]




Bleu Coupole, the Printemps restaurant and tea room with its private terraces
Bleu Coupole, that's the name of the restaurant and tea room at Printemps Haussmann, which opened its doors on March 19, 2022 and is located under the dome on the 6th floor of Printemps Femme. Forget the dark brasserie that used to be there, make way for the restaurant near the bay windows that reveals a nice panorama of Paris and several privatizable terraces with on the menu, Elvira Masson's good dishes to start with. [Read more]




Edmond, an old-fashioned gastronomy revisited on the rooftop of the Terrass" Hotel
Edmond is the spot perched high on the heights of Montmartre that awaits you at the Terrass" Hotel. With its new chef, Julien Goriot, the rooftop restaurant takes you back in time by honoring the gastronomy of the early 1900s. [Read more]




La Halle aux Grains, elegant gastronomy by Michel and Sébastien Bras at the Bourse de Commerce
Michelin-starred chefs Michel and Sébastien Bras have settled in a historic venue, the Bourse de Commerce, to open the La Halle aux Grains, a timeless restaurant where grain lent cachet. [Read more]




Coeur Sacré, the rooftop of Montmartre, bar-restaurant and designer boutique
Coeur Sacré is the name of this new place of life which takes place in the heart of the Montmartre hillock. On the menu, a duplex that gathers a designer store, a delicatessen, a bakery, an exhibition space, a coffee shop and, hold on to your hat, a rooftop with a lounge bar and restaurant! [Read more]




La Plume, Madame Rêve hotel's panoramic restaurant
This November 25, 2021, Madame Rêve – the latest hotel in Paris city center – opens their restaurant La Plume. Le Plume is a restaurant featuring panoramic views on Paris and a tree-filled patio serving gastronomy inspired by Japan and desserts by Pierre Hermé. [Read more]




Quindici Trattoria, Denny Imbroisi's latest restaurant at the Novotel Paris Vaugirard Montparnasse
Reopening after undergoing renovations, the Novotel Paris Vaugirard Montparnasse gets a new restaurant, Quindici. To create this trattoria, the hotel called in Denny Imbroisi. The Italian chef has come up with a mouthwatering menu serving Italian classics. Dishes pairing Italian cocktails by Matthias Giroud. [Read more]




Le Tout-Paris, the brasserie with a view of the Seine at Cheval Blanc Paris
Le Tout-Paris welcomes you all day long on the 7th floor of the Cheval Blanc Paris on the terrace with a breathtaking view of the Seine and the emblematic monuments of the capital or in the garden suspended above the roofs of Paris. From breakfast to dinner, or simply to sip a cocktail, this contemporary Parisian brasserie will awaken both your taste buds and your conscience with the horizon as far as the eye can see. [Read more]




L'Oiseau Blanc: The Peninsula's high quality restaurant
L'Oiseau Blanc, this prestigious restaurant-bar makes hotel Peninsula Paris proud. This magical place welcomes you on the sixth floor of the Parisian palace featuring breathtaking views, 360° on the most beautiful monuments of the city, including the Eiffel Tower. [Read more]




Maison Alaena: a temple of well-being with spa, yoga and tea room perched on a rooftop in Paris
Maison Alaena is the unusual wellness address that opened its doors in summer 2021 in Paris. Perched above the rooftops of the capital, this spot unveils a spa, a tea room, yoga classes and consultations to feel good about yourself. [Read more]




MUN, the superb rooftop of the Champs-Elysées
MUN is the name of the Parisian rooftop that has something to seduce. Located on the Champs-Élysées avenue, this restaurant with Japanese accents, signed Paris Society, awaits you for a good gourmet moment with a beautiful view. [Read more]




Les Piaules Nation, the hostel with the hot rooftop terrace
Looking for a new generation youth hostel or simply a rooftop bar-restaurant with a sublime view of Paris? Let's go and discover Les Piaules 2, which is located on the Place de la Nation, right at the exit of the metro. We take the height and we admire the view! [Read more]




Khayma Rooftop Bar: an affordable rooftop-bar with views on Paris
An affordable rooftop in Paris, it can exist! Head to the last floor of Generator Paris to discover Khayma Rooftop Bar, a super-trendy terrace with beautiful views on the Sacré Coeur. [Read more]




Pedzouille La Grange : the high altitude inn perched on top of the Novotel Porte de Versailles in Paris
The Pedzouille team will take you to the 7th heaven, or rather to the 8th floor of the Novotel Porte de Versailles, thanks to the opening of its new restaurant called La Grange. To be discovered since May 19, 2021, this high altitude inn, perched in the 15th district of Paris, is likely to delight lovers of beautiful views, but also fans of generous and franchouillard dishes. [Read more]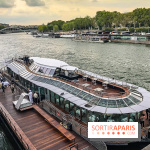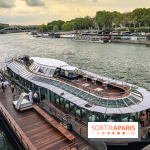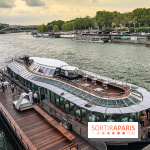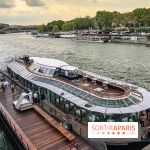 Ducasse sur Seine, Alain Ducasse's gourmet restaurant boat
Since September 2018, Alain Ducasse's floating restaurant Ducasse sur Seine invites you to travel and discover during lunch and dinner cruises aboard a specially designed electric boat. Let's discover it together in pictures. [Read more]




Les Dames du Panthéon, the hotel bar with unobstructed views on the Panthéon
Craving a cup of tea or a nice glass of wine in a hotel bar with unobstructed views? Let's meet at Les Dames du Panthéon, the bar of the hotel of the same name set in Paris 5th arrondissement, and a true ode to femininity and elegance. The occasion to enjoy champagne and other Saint-Emilion wines with friends or colleagues! [Read more]