Published by La rédaction · Photos by My B. · Published on 10 May 2022 at 15h58
Looking for space? Come along and discover the large and wide terraces waiting for you in Paris. A great idea to make sure you can enjoy the sun!
Looking for a wide and beautiful terrace to enjoy the great weather in Paris? How perfect! We have found gorgeous terraces to get a spot in the sun. We must say that when sunny days make it to town, Parisians and tourists flock to typical terraces of cafés, as well as trendier spots. Although some are willing to elbow their way through to get a spot in these places, others are more willing to look for space.
If you are part of this latter category, then, you have landed just right. On this page, we tell you more about the wide terraces waiting for you in Paris and in Île-de-France. But careful, if you love this kind of venues, make sure you keep this page. It is updated as soon as we know or discover more, so, do not hesitate to check it again regularly to stay up to date!
So, are you ready to discover great places? Keep reading!
The best wide terraces in Paris:




Ernest, the solidarity-driven restaurant financing food aid!
The Ernest charity opened a solidarity-driven restaurant to finance their actions. Set within walking distance from the Porte de Bagnolet, in the 2,000sqm of garden of a new third place called "Le Sample", this restaurant works with residing chefs and is thought as a place of meeting and sharing relying on the charity's values. Come and enjoy their terrace! [Read more]




Grilled food and champagne on the terrace of the Trianon Palace Versailles
Summer is coming to the terrace of the Trianon Palace Versailles! On the menu, grilled food and champagne for foodies! [Read more]




Summum Rooftop, the huge restaurant-bar terrace and crazy and festive brunch in Créteil
Summum Rooftop is the latest spot doubling as a bar, restaurant, beer garden with 3 terraces covering over 600sqm of surface in South-East Paris in Créteil. Within metro reach, you will love this crazy rooftop serving divine brick-oven pizzas and brunch on Sundays. [Read more]




Radioeat's wide temporary plant-filled terrace aka Maison de la Radio's restaurant
To chill all summer long, Radioeat, aka Maison de la Radio's restaurant, unveils a wide, temporary and plant-filled terrace! [Read more]




Karlito Perché, the BBQ on MOB Hôtel rooftop
A BBQ on a rooftop! This is possible! Head to MOB Hôtel in Saint-Ouen to discover Karlito Perché and its huge rooftop brazier! [Read more]




Shangri-La Paris La Bauhinia's hidden garden-terrace and Asian-inspired menu
For the second year, Shangri-La Paris's magnificent landscaped garden opens to welcome us on La Bauhinia's terrace. Chef Christophe Moret cooks Asian-inspired dishes you can enjoy whilst gazing at the Eiffel Tower. [Read more]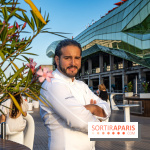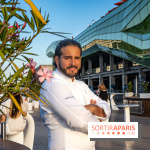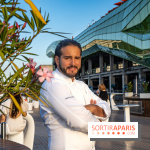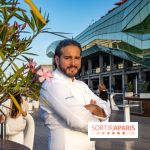 Babor by Mohamed Cheikh, the Diamant Bleu's festive dinner cruise on the Seine is on
Friends! This summer, the Le Diamant Bleu boat welcomes Babor, Mohamed Cheikh's temporary restaurant for a festive dinner cruise on the Seine on Saturdays from June to October 2022. For the night, enjoy Top Chef France 2021 winner's dishes whilst admiring the greatest landmarks of the city. [Read more]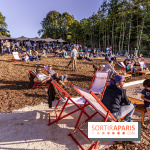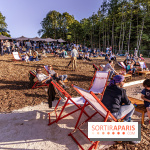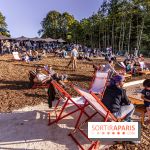 Perchoir Y, the latest crazy food camp – guinguette – barbecue in Meudon
Perchoir Y is the latest festive guinguette you will love this summer. A huge terrace across a lake, in front of the historic Hangar Y in Meudon, providing you with entertainments, bar and barbecue for you to have a blast. [Read more]




The Montparnasse Tower unveils a craft-beer bar this summer 2022 on their rooftop
This summer 2022, the Montparnasse Tower opens a craft-beer bar by La Brasserie Fondamentale on their 210-meter (688.97-feet) high rooftop! [Read more]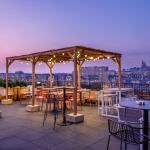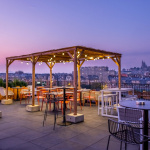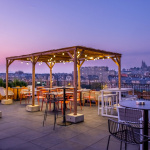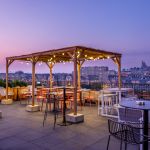 Station M, hotel Maison Montmartre's latest rooftop with views on Paris
Hotel Maison Montmartre unveils Station M, their latest rooftop with unobstructed views on the Sacred Heart and the Eiffel Tower. On the menu, tapas, cocktails, workshops and a perched boules ground! [Read more]




La Canopee, Beffroi de Montrouge's latest indulging and festive rooftop
La Canoppee – here is the name of the latest rooftop terrace coming to the rooftop of the Montrouge belfry at the gates of Paris. A huge green and festive terrace with DJ sets serving a great and affordable fusion menu so you can have a blast. [Read more]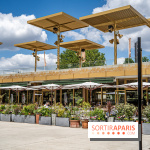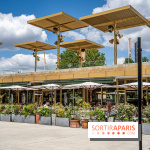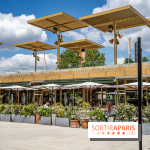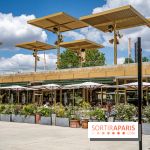 Brasserie ParisLongchamp, the huge sunny terrace at the hippodrome
Looking for a beautiful and large terrace right outside the Bois de Boulogne? Head to the Brasserie ParisLongchamp nestled in the heart of the Parisian hippodrome. A large and verdant terrace serving Parisian brasserie-inspired dishes. [Read more]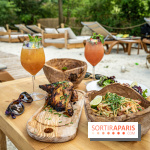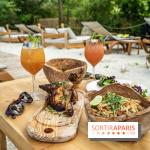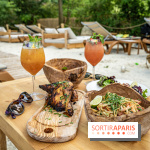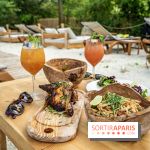 Beach Parisienne, Chalet du Lac's huge terrace-beach back to the Bois de Vincennes
How about having a drink on the beach without even leaving Paris? This is the fantastic experience provided by Chalet du Lac's Beach Parisienne this summer. Meet from May 29, 2022, at the Bois de Vincennes to discover an exclusive beach. [Read more]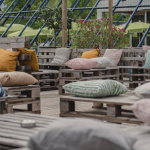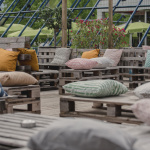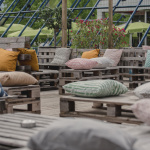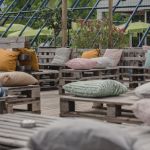 Papa Cabane: Paris beautiful summer terrace returns
Good news! The beautiful and large 1000-sqm terrace set just behind Paris Accor Arena is back. Meet from Wednesday to Saturday until late August to (re)discover Papa Cabane's very pleasant concept! [Read more]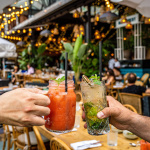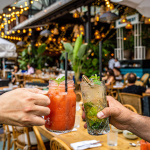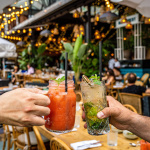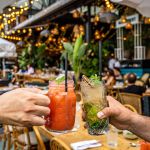 Quai Ouest restaurant, the festive brasserie terrace featuring BBQ and fun
Quai Ouest, the famous floating restaurant in Saint-Cloud, underwent a makeover, and enjoys a new menu to appeal you even more. With its huge seaside guinguette-inspired décor, its new indulging menu, its BBQ Wednesday offer, live music and entertainments for kids on Sundays, this is the perfect location for friends and family. [Read more]




Cabanon Perché, summery rooftop by Terrass Hotel and fantastic views on Paris and the Eiffel Tower
Cabanon Perché is the summer rooftop by Terrass" Hotel. On the menu, an exotic terrace taking us to the South since May 19, 2022. Seaside vibe, gin cocktails and seafood, the beach is back! [Read more]




OFF Paris Seine, the floating hotel unveils its summer terrace on the quay
The OFF Paris Seine is a floating hotel moored port d'Austerlitz. In addition to the bedrooms looking on the Seine, this spring-summer 2022, the hotel unveils a new terrace on the quay! [Read more]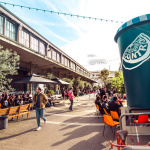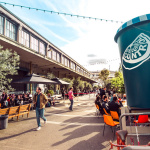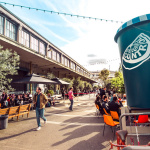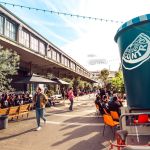 Ground Control reopens and shines a light on African culture and cuisine
Did you miss it? Ground Control reopens its wide and indulging terrace shining a light on African culture and cuisine. We are already drooling! [Read more]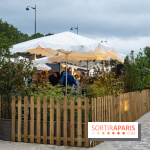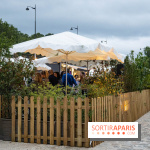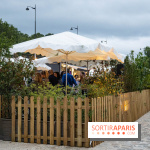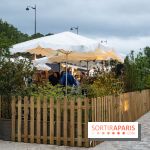 Le Cargo: the summer and musical spot by the Seine in Paris returns
Le Cargo, namely the bar and summer art and musical spot returns to the Bercy banks for a new season, starting on May 14, 2022. On the menu? Concerts, DJ sets, and pizzas! [Read more]




Bambini, Palais de Tokyo's Italian canteen and its sheltered terrace
Dolce vita is coming to Palais de Tokyo with the Italian trattoria, Bambini, where you can enjoy some aperitivo and Italian flavored cocktails on the large terrace, under sunshades. [Read more]




L'Arrière-Pays, Hotel Lancaster's summer terrace
L'Arrière-Pays is hotel Lancaster's summer terrace promising us a journey in the sun without even leaving Paris thanks to its Mediterranean-inspired décor and fresh menu created by chef Sébastien Giroud. [Read more]




Villa M rooftop, the latest terrace in Paris
Looking for the most beautiful rooftop terraces in Paris? Villa M Rooftop – set in Paris 15th arrondissement – is about to open, on Friday May 20, 2022. How about getting up in the air? [Read more]




Saint-James' hidden terrace, a chic and glamorous den for this spring-summer season
Saint-James' garden-terrace certainly is one of the most glamorous and uncommon spots in the city. This secret garden was created to be exceptional, coming every year with its share of novelties. [Read more]




Hotel Lutetia opens its spring-summer 2022 terraces
Hotel Lutetia switches to summer time and unveils two patios: one at the Brasserie and one at the Patio Saint-Germain, both changed for the warmer weather. [Read more]




Laho: Gare de Lyon railway station rooftop serving views
Laho – Paris rooftop with unobstructed 360° views - returns for the summer. Go and enjoy this splendid spot set within walking distance from the Gare de Lyon railway station, with its verdant setting, unique sunset and yummy menu... Perched 60 meters in the air! [Read more]




Roof, La Poste du Louvre Madame Rêve's new rooftop
Roof, here is the name of the new rooftop terrace set at the top of La Poste du Louvre, and expecting us from the spring of 2022. With sublime views on Paris and a nice green corner, this new spot belonging to Madame Rêve is open to all and likely to be a hit! [Read more]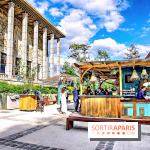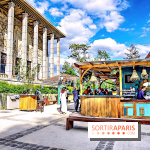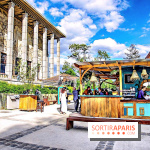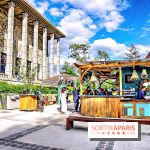 Poisson Lune: Paris Palais de la Porte Dorée temporary terrace returns for the summer 2022
Paris Palais de la Porte Dorée shows top temporary terrace, Poisson Lune comes back for its fouth edition starting May 13, 2022. It has it all to make your summer a breathe and delight children and adults. [Read more]




Acte II (former Au_Top): the hidden rooftop in Paris serving Japanese food
Acte II (formerly known as Au_Top) is a mouthwatering rooftop hidding in the heart of Paris with a surprising 360° view. In this restaurant managed by Jean Philippe de la Perle, discover views on Paris rooftops while enjoying dishes cooked by Masahide Ikuta, serving Japanese gastronomy up in the air. [Read more]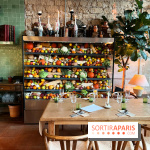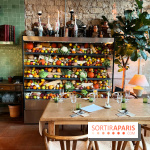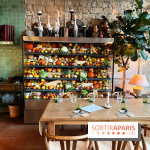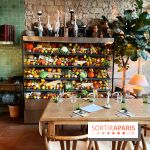 Ora, indulging vegetarian restaurant, culinary show, and edible paintings directly on the table
Set in La Caserne, Ora provides you with a genuine indulging experience through a culinary show performed by chef Saayann, uplifting vegetables in edible paintings made directly on the table. [Read more]




Printemps' new panoramic terrace: 7e Ciel
Printemps unveils a new terrace at the top of the "Femme" building. Head to the 7e Ciel, on the 7th floor, to discover a new rooftop to have a seat, a drink, and enjoy greats views on Paris and the Eiffel Tower. [Read more]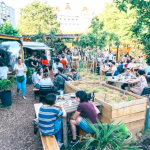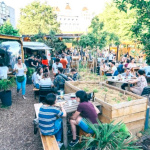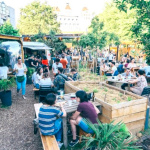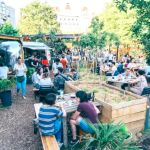 Jardin21: Canal de l'Ourcq big festive garden is back
Eastern Paris expects you again by La Villette with the edition 2022 of Jardin21 turning 5 this year. Meet from June 3, 2022! [Read more]




Iconik: the new festive street-food, and bar court opens
Iconik, here is the name of this new and great food court opening from Wednesday January 13, 2022, in Paris 13th arrondissement. Head to Italik to discover this new place of life gathering street-food, coffee shop, bar and festive entertainments. [Read more]




Sofitel Paris Le Faubourg launches an aperitivo for this summer 2021
This summer 2021, Paris 8th arrondissement 5-star hotel Sofitel Paris Le Faubourg launches an aperitivo. A gourmand and friendly moment to share with friends seated on the terrace or at the bar, over Spritz, prosecco and tapas, a stone's throw from the Champs-Elysées. [Read more]




L'Auberge du Bonheur, the confidential terrace in the Bois de Boulogne
L'Auberge du Bonheur is the hidden restaurant in the Bois de Boulogne. Go and discover the lush terrace where bistronomic dishes expect you. Hidden behind the famous "Cascade", this small corner of paradise expects you for genuine moments of relaxation. [Read more]




Le Perchoir Porte de Versailles, the rooftop returns to Paris from May 19
Le Perchoir comes for the second time to the left bank, and more extacly on the rooftop of the Pavillion 6 of the Parc des Expositions de la Porte de Versailles! The insatiable group – already behind five other places in Paris – has decided to set up their latest concept in the heart of the biggest urban farm on a rooftop in the world. Meet from Wednesday May 19, 2021 if the health conditions enable so. [Read more]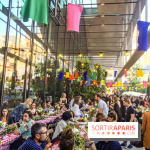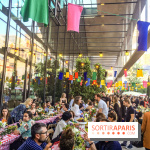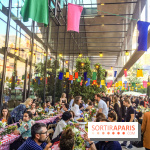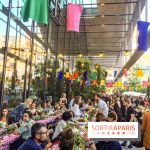 La Felicità: Big Mamma XXL restaurant in Paris Station F
Big Mamma keeps on increasing with a new address that is even bigger, more beautiful and impressive than the previous ones! Entitled La Felicità, this huge Italian restaurant x food-market has opened on May 25, 2018 within Station F in Paris 13th arrondissement. 4,5000-sqm including 1000s-qm of sunny terrace, 3 bars, 5 kitchens, a cafeteria open 24h a day… talk about crazy! [Read more]