Published by La rédaction · Photos by My B. · Published on 18 May 2022 at 15h23
Are you looking for the most beautiful terraces to discover this June 2022 in Paris? Let us help you find THE trendy terrace, rooftop or spot by the Seine, or on the beach to have a seat this June 2022, and enjoy Paris' sunny days as they should be.
Feel like relaxing on a terrace and have a sunbath? How perfect! Sunny days are back and terraces in Paris progressively reopen. Terraces serving views on the landmarks of the city, green terraces, or festive terraces… here are June 2022's top 20 beautiful terraces to discover in Paris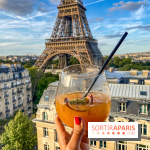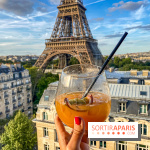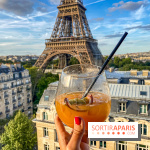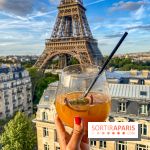 The most beautiful rooftop terraces in Paris this spring-summer 2022
In Paris, rooftops are now a must. These spots set high allow you to sip a good drink or enjoy tasty dishes while enjoying a view on the roofs of the French capital! As sunny days are back, here are the best places to enjoy this spring-summer 2022! [Read more]




The best terraces with views on the Eiffel Tower in Paris for spring-summer 2022
Wanting to admire the Eiffel Tower while sipping a delicious drink and eating up a nice dish? Discover the best spring-summer 2022 terraces with incredible views on the Iron Lady. [Read more]




Summum Rooftop, the huge restaurant-bar terrace and crazy and festive brunch in Créteil
Summum Rooftop is the latest spot doubling as a bar, restaurant, beer garden with 3 terraces covering over 600sqm of surface in South-East Paris in Créteil. Within metro reach, you will love this crazy rooftop serving divine brick-oven pizzas and brunch on Sundays. [Read more]




Dior Paris 30 Montaigne, store – museum, café and restaurant, opens
The iconic Dior location set 30 Avenue Montaigne reopens and unveils a new face. Renovated and redesigned, here is a place likely to delight all fashion addicts, as well as foodies looking for an indulging café or sophisticated restaurant. [Read more]




Créatures: the rooftop restaurant on Galeries Lafayette terrace is back in Paris
Dear vegetarian friends, a very coveted place is coming back this summer! Créatures, managed by chef Julien Sebbag, opens on Galeries Lafayette Paris-Haussmann terrace, and this is fantastic news! [Read more]




Perruche: the bar-restaurant on Printemps Haussmann rooftop
Perruche, this is the name of the cocktail bar and restaurant perched on Printemps Haussmann rooftop. This place provides you with a wonderful panorama over the French capital. [Read more]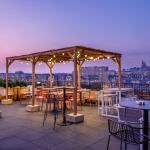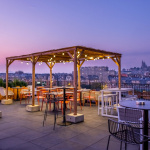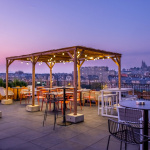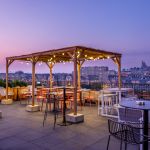 Station M, hotel Maison Montmartre's latest rooftop with views on Paris
Hotel Maison Montmartre unveils Station M, their latest rooftop with unobstructed views on the Sacred Heart and the Eiffel Tower. On the menu, tapas, cocktails, workshops and a perched boules ground! [Read more]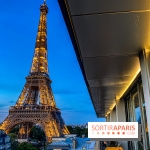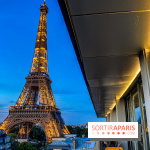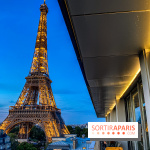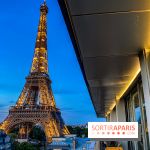 10ème Ciel, the temporary tapas and rooftop bar across the Eiffel Tower is back
How about getting on a one-on-one date with the Eiffel Tower? 10ème Ciel, here is the name of the temporary tapas bar, provided from July 9 to August 21, 2022, by the Pullman Tour Eiffel. [Read more]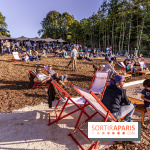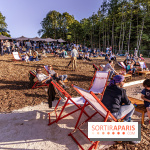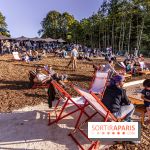 Perchoir Y, the latest crazy food camp – guinguette – barbecue in Meudon
Perchoir Y is the latest festive guinguette you will love this summer. A huge terrace across a lake, in front of the historic Hangar Y in Meudon, providing you with entertainments, bar and barbecue for you to have a blast. [Read more]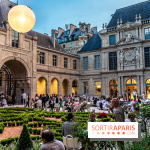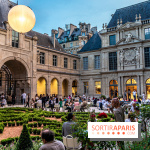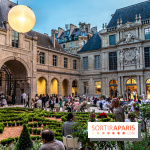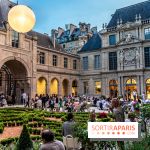 Fabula, Thibaut Spiwack's ephemeral restaurant at Paris Musée Carnavalet
Fabula, here is the name of Top Chef France contestant Thibaut Spiwack's ephemeral restaurant settling from May 6, 2022 to October within the Musée Carnavalet. [Read more]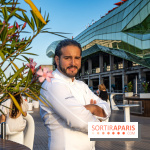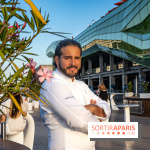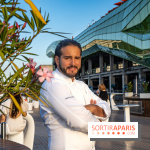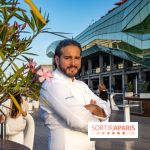 Babor by Mohamed Cheikh, the Diamant Bleu's festive dinner cruise on the Seine is on
Friends! This summer, the Le Diamant Bleu boat welcomes Babor, Mohamed Cheikh's temporary restaurant for a festive dinner cruise on the Seine on Saturdays from June to October 2022. For the night, enjoy Top Chef France 2021 winner's dishes whilst admiring the greatest landmarks of the city. [Read more]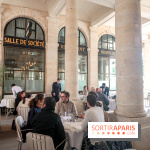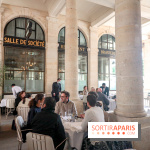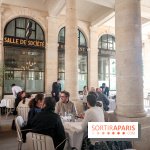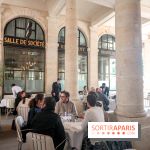 Michelin starred restaurant Le Grand Véfour renews as a bistro, our test and pictures
Le Grand Véfour signs a new page in its story. Goodbye 2 Michelin stars, hello affordable menu with market produces on the great terrace, safe from the rain and sun, across the Palais Royal garden. The team is still settling in, but the historic house is starting the year auspiciously. [Read more]




MUN, Champs-Elysées's magnificent rooftop
MUN, this is the name of the Parisian rooftop on everyone's lips for months. Set on the Champs-Elysées, this new restaurant inspired by Japan, designed by Paris Society, reopens the restaurant and the terrace for the summer 2021! [Read more]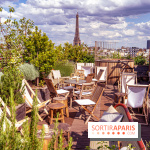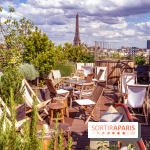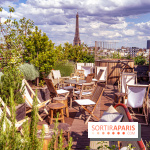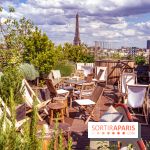 Brach hotel rooftop, the magnificent terrace hidden in a kitchen garden
This is undoubtedly one of the most beautiful rooftops in Paris, Brach hotel perched terrace set within their kitchen garden is a gem to discover. A confidential terrace with panoramic views on Paris to have a relaxing time surrounded by hens, enjoy a Norwegian bath, and smell aromatic plants. [Read more]




BHV Marais Perchoir - the urban jungle rooftop terrace
Perchoir Marais, the coveted BHV rooftop terrace in the heatr of Paris with views on the Eiffel Tower, the City Hall and Paris rooftops, expects you again for the summer. Between Vietnamese dishes and great cocktails, treat yourselves to a relaxing evening. [Read more]




La Félicité, opening of a local building with swimming pool, hostel and rooftop - pictures
La Félicité is the brand-new urban site in the 4th arrondissement likely to be the talk of the town. The former Paris administrative facilities give way to an innovative local building first called Morland Mixité Capital. Winner of the "Réinventer Paris" project, this 40,000sqm site unveils a swimming pool, a great hostel, the SO/ Paris hotel, offices and a 360° rooftop with views on Paris. [Read more]




Cheval Blanc's summer garden-inspired rooftop terraces
How about enjoying a new rooftop? Head to the Jardin aka Cheval Blanc's 650sqm rooftop serving verdant terraces for great moments above Paris rooftops. [Read more]




Roof, La Poste du Louvre Madame Rêve's new rooftop
Roof, here is the name of the new rooftop terrace set at the top of La Poste du Louvre, and expecting us from the spring of 2022. With sublime views on Paris and a nice green corner, this new spot belonging to Madame Rêve is open to all and likely to be a hit! [Read more]




The Montparnasse Tower unveils a craft-beer bar this summer 2022 on their rooftop
This summer 2022, the Montparnasse Tower opens a craft-beer bar by La Brasserie Fondamentale on their 210-meter (688.97-feet) high rooftop! [Read more]




Villa M rooftop, the latest terrace in Paris
Looking for the most beautiful rooftop terraces in Paris? Villa M Rooftop – set in Paris 15th arrondissement – is about to open, on Friday May 20, 2022. How about getting up in the air? [Read more]
Enjoy !