Published by La rédaction · Photos by My B. · Published on 18 May 2022 at 15h23
Are you looking for the most beautiful terraces to discover this June 2022 in Paris? Let us help you find THE trendy terrace, rooftop or spot by the Seine, or on the beach to have a seat this June 2022, and enjoy Paris' sunny days as they should be.
Feel like relaxing on a terrace and have a sunbath? How perfect! Sunny days are back and terraces in Paris progressively reopen. Terraces serving views on the landmarks of the city, green terraces, or festive terraces… here are June 2022's top 20 beautiful terraces to discover in Paris




Dior Paris 30 Montaigne, store – museum, café and restaurant, opens
The iconic Dior location set 30 Avenue Montaigne reopens and unveils a new face. Renovated and redesigned, here is a place likely to delight all fashion addicts, as well as foodies looking for an indulging café or sophisticated restaurant. [Read more]




The best terraces with views on the Eiffel Tower in Paris for spring-summer 2022
Wanting to admire the Eiffel Tower while sipping a delicious drink and eating up a nice dish? Discover the best spring-summer 2022 terraces with incredible views on the Iron Lady. [Read more]




Créatures: the rooftop restaurant on Galeries Lafayette terrace is back in Paris
Dear vegetarian friends, a very coveted place is coming back this summer! Créatures, managed by chef Julien Sebbag, opens on Galeries Lafayette Paris-Haussmann terrace, and this is fantastic news! [Read more]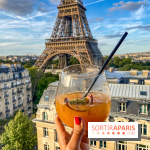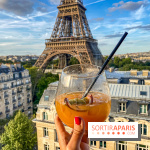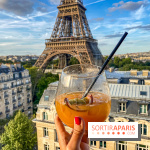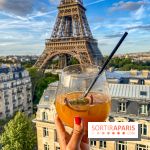 The most beautiful rooftop terraces in Paris this spring-summer 2022
In Paris, rooftops are now a must. These spots set high allow you to sip a good drink or enjoy tasty dishes while enjoying a view on the roofs of the French capital! As sunny days are back, here are the best places to enjoy this spring-summer 2022! [Read more]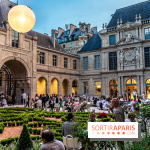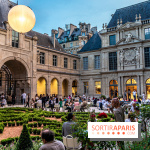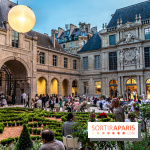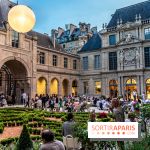 Fabula, Thibaut Spiwack's ephemeral restaurant at Paris Musée Carnavalet
Fabula, here is the name of Top Chef France contestant Thibaut Spiwack's ephemeral restaurant settling from May 6, 2022 to October within the Musée Carnavalet. [Read more]




The Montparnasse Tower unveils a craft-beer bar this summer 2022 on their rooftop
This summer 2022, the Montparnasse Tower opens a craft-beer bar by La Brasserie Fondamentale on their 210-meter (688.97-feet) high rooftop! [Read more]




SO/ Paris: an arty hotel with rooftop bar-restaurant and spa: opening date and booking
SO/ Paris is a flagship hotel opening by July 2022 by the Seine riverbanks in Paris. To be expected, rooftop with great views on the city, a Codage spa, an indoor swimming pool, all this in a venue designed for Parisians and tourists. Good news, the opening date has landed and you can book now! [Read more]




Persil: the heart-stopping restaurant in Paris 11th arrondissement
Persil is a local gem expecting you in Paris 11th arrondissement. This Berlin-inspired restaurant serves inventive cuisine with a menu half-vegetarian, half-vegan. A place to get everyone to agree! [Read more]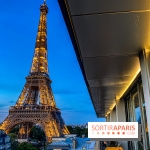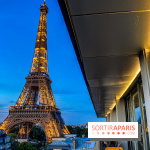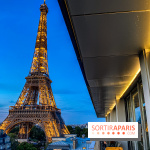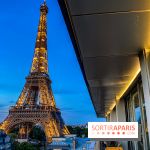 10ème Ciel, the temporary tapas and rooftop bar across the Eiffel Tower is back
How about getting on a one-on-one date with the Eiffel Tower? 10ème Ciel, here is the name of the temporary tapas bar, provided from July 9 to August 21, 2022, by the Pullman Tour Eiffel. [Read more]




Bonnie: lofty bar, restaurant and club with terrace by Paris Society - Opening soon
A new sot with lofty terrace is coming to Paris this summer. Here is Bonnie, the restaurant-bar and club by Paris Society settling on the 15th and 16th floors of SO/ Paris, the trendy hotel by the Seine, in the Marais area. Meet in September to discover it! [Read more]




Villa M rooftop, the latest terrace in Paris
Looking for the most beautiful rooftop terraces in Paris? Villa M Rooftop – set in Paris 15th arrondissement – is about to open, on Friday May 20, 2022. How about getting up in the air? [Read more]




Ladurée's 160th anniversary teatime on the flowered terrace
How about indulging us to a lovely and delicious teatime on a terrace? Head to the new flowered terrace of the historic Maison Ladurée store on the Champs-Elysées for a scrumptious break mixing pastries and macarons to enjoy this summer. [Read more]




Acte II (former Au_Top): the hidden rooftop in Paris serving Japanese food
Acte II (formerly known as Au_Top) is a mouthwatering rooftop hidding in the heart of Paris with a surprising 360° view. In this restaurant managed by Jean Philippe de la Perle, discover views on Paris rooftops while enjoying dishes cooked by Masahide Ikuta, serving Japanese gastronomy up in the air. [Read more]




MUN, Champs-Elysées's magnificent rooftop
MUN, this is the name of the Parisian rooftop on everyone's lips for months. Set on the Champs-Elysées, this new restaurant inspired by Japan, designed by Paris Society, reopens the restaurant and the terrace for the summer 2021! [Read more]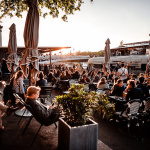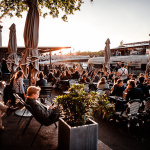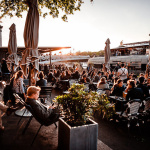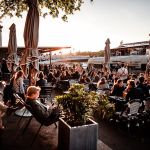 The Flow at Paris: the restaurant-bar-terrace, club and rooftop barge by the Pont Alexandre III
The Flow is a festive venue ideally set by the Seine, by the Pont Alexandre III with views on the Grand Palais and the Eiffel Tower. Doubling as a restaurant, bar, show venue, club and rooftop, this lively guinguette has it all to provide you with great nights by the water. [Read more]




Seveste – Montmartre's Théâtre de l'Atelier terrace-restaurant
Seveste is the name of the terrace-restaurant taking over the square of the Théâtre de l'Atelier. Set in Montmartre, within walking distance from the Sacred heart, discover siblings Alexis and Josselin Flocon's lovely bistro cuisine. [Read more]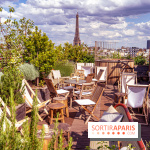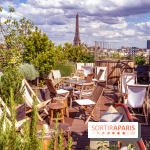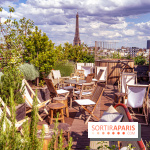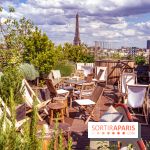 Brach hotel rooftop, the magnificent terrace hidden in a kitchen garden
This is undoubtedly one of the most beautiful rooftops in Paris, Brach hotel perched terrace set within their kitchen garden is a gem to discover. A confidential terrace with panoramic views on Paris to have a relaxing time surrounded by hens, enjoy a Norwegian bath, and smell aromatic plants. [Read more]




Hanami Paris: the temporary and mouthwatering terrace across the Eiffel Tower is back
Feel like discovering a new summer terrace inducing to travel? Head to Hanami. Set on the parvis of the Paris aquarium, this restaurant-terrace provides us with a delicious immersion in the country of the Rising Sun thanks to the yatai concept, and a very yummy street-food menu. [Read more]




BHV Marais Perchoir - the urban jungle rooftop terrace
Perchoir Marais, the coveted BHV rooftop terrace in the heatr of Paris with views on the Eiffel Tower, the City Hall and Paris rooftops, expects you again for the summer. Between Vietnamese dishes and great cocktails, treat yourselves to a relaxing evening. [Read more]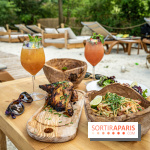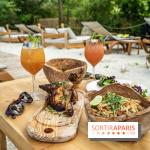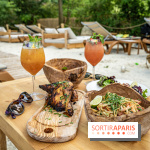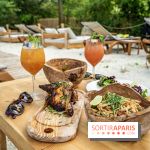 Beach Parisienne, Chalet du Lac's huge terrace-beach back to the Bois de Vincennes
How about having a drink on the beach without even leaving Paris? This is the fantastic experience provided by Chalet du Lac's Beach Parisienne this summer. Meet from May 29, 2022, at the Bois de Vincennes to discover an exclusive beach. [Read more]
Enjoy !