Published by My B., Caroline J. · Photos by My B. · Published on 3 June 2022 at 17h31
We have some questions to ask! What are you doing this Pentecost weekend in Paris? How about enjoying this extra-long weekend, on Saturday June 4, Sunday 5 and Monday 6, 2022, to relax on one of the new and most beautiful terraces in the city, opening on the Pentecost public holiday too? Are you more a rooftop or indulging terrace in front of the Eiffel Tower kind of a person? To find out, please keep reading!
What are you up to this Pentecost weekend in Paris? Meeting friends on a rooftop? Relaxing on a terrace? Look no more, we have got you covered! For this Pentecost weekend, on Saturday June 4, Sunday 5 and Monday 6, 2022, we offer you to enjoy 8 fabulous terraces to discover in Paris!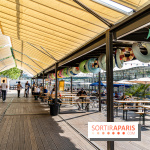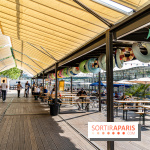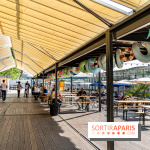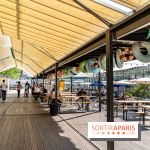 Rosé Piscine, the brand-new festive and sporting guinguette by Rosa Bonheur
Rosé Piscine – the latest Rosa Bonheur bar-guinguette – opens on Tuesday May 18, 2022. While waiting for the Arche Javel to open in July just across the venue – promising a huge barge swimming pool – go have relax, dance, have great food and work out with a fabulous program! [Read more]




Roof, La Poste du Louvre Madame Rêve's new rooftop
Roof, here is the name of the new rooftop terrace set at the top of La Poste du Louvre, and expecting us from the spring of 2022. With sublime views on Paris and a nice green corner, this new spot belonging to Madame Rêve is open to all and likely to be a hit! [Read more]




Villa M rooftop, the latest terrace in Paris
Looking for the most beautiful rooftop terraces in Paris? Villa M Rooftop – set in Paris 15th arrondissement – is about to open, on Friday May 20, 2022. How about getting up in the air? [Read more]




New Mama Shelter La Défense's rooftop restaurant-bar and its menu by Pierre Chomet
A restaurant-bar on a roof, on the 14th floor? Here is what to expect at Mama Shelter La Défense. On the menu, enjoy Asian dishes created by Pierre Chomet. [Read more]




Laho: Gare de Lyon railway station rooftop serving views
Laho – Paris rooftop with unobstructed 360° views - returns for the summer. Go and enjoy this splendid spot set within walking distance from the Gare de Lyon railway station, with its verdant setting, unique sunset and yummy menu... Perched 60 meters in the air! [Read more]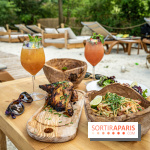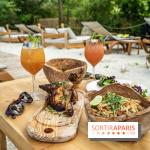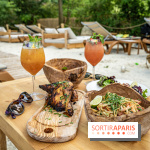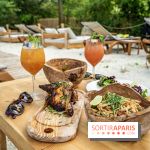 Beach Parisienne, Chalet du Lac's huge terrace-beach back to the Bois de Vincennes
How about having a drink on the beach without even leaving Paris? This is the fantastic experience provided by Chalet du Lac's Beach Parisienne this summer. Meet from May 29, 2022, at the Bois de Vincennes to discover an exclusive beach. [Read more]




Créatures: the rooftop restaurant on Galeries Lafayette terrace is back in Paris
Dear vegetarian friends, a very coveted place is coming back this summer! Créatures, managed by chef Julien Sebbag, opens on Galeries Lafayette Paris-Haussmann terrace, and this is fantastic news! [Read more]




A tacos bar comes to the rooftop of a beautiful Paris hotel!
A summery wind blows on the Sequoia, rooftop of hotel Kimpton Saint-Honoré. This summer, this Parisian location unveils a delightful tacos bar and magnificent views on the Eiffel Tower, Opéra Garnier and more Parisian landmarks. [Read more]
So, which great terrace are you enjoying this Pentecost weekend?