Published by La rédaction · Photos by My B. · Published on 24 June 2022 at 18h48
Looking for a gorgeous and sunny terrace? Come along and discover sunny and indulging places in Paris and Île-de-France!
The sun is out and Parisians are already looking for a beautiful terrace to meet with friends over a drink or a sunny meal! Are you one of them? We are too! And this is why we wanted to share our selection of the best terraces to enjoy the sun whilst enjoying a gourmet break.
From the highest rooftops to more casual places, this guide features places for all cravings and budgets. You only have to make your choice, take sunscreen and enjoy a beautiful and sunny terrace in Paris and Île-de-France!
And stay tuned! This guide is updated accordingly, and to make sure you miss none of the beautiful and sun-filled places in Paris, we recommend you keep this page and check it out again regularly.
Ready to enjoy the sun? Here we go!
The sunny and beautiful summer terraces in Paris and Île-de-France:




Summum Rooftop, the huge restaurant-bar terrace and crazy and festive brunch in Créteil
Summum Rooftop is the latest spot doubling as a bar, restaurant, beer garden with 3 terraces covering over 600sqm of surface in South-East Paris in Créteil. Within metro reach, you will love this crazy rooftop serving divine brick-oven pizzas and brunch on Sundays. [Read more]




Shangri-La Paris La Bauhinia's hidden garden-terrace and Asian-inspired menu
For the second year, Shangri-La Paris's magnificent landscaped garden opens to welcome us on La Bauhinia's terrace. Chef Christophe Moret cooks Asian-inspired dishes you can enjoy whilst gazing at the Eiffel Tower. [Read more]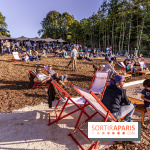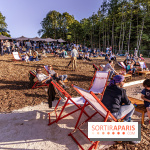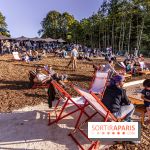 Perchoir Y, the latest crazy food camp – guinguette – barbecue in Meudon
Perchoir Y is the latest festive guinguette you will love this summer. A huge terrace across a lake, in front of the historic Hangar Y in Meudon, providing you with entertainments, bar and barbecue for you to have a blast. [Read more]




The Montparnasse Tower unveils a craft-beer bar this summer 2022 on their rooftop
This summer 2022, the Montparnasse Tower opens a craft-beer bar by La Brasserie Fondamentale on their 210-meter (688.97-feet) high rooftop! [Read more]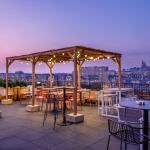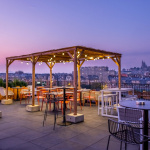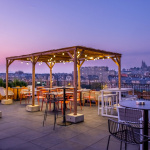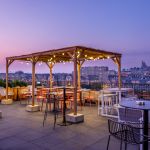 Station M, hotel Maison Montmartre's latest rooftop with views on Paris
Hotel Maison Montmartre unveils Station M, their latest rooftop with unobstructed views on the Sacred Heart and the Eiffel Tower. On the menu, tapas, cocktails, workshops and a perched boules ground! [Read more]




The renewal of Maison Fournaise, Chatou's Ile des Impressionnistes restaurant
Maison Fournaise – the guinguette that inspired Renoir's "Luncheon on the Boating Party" – rises again with a new décor, a new chef and a new menu. Treat yourselves to a bucolic break by the water. [Read more]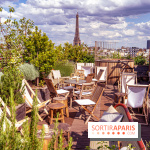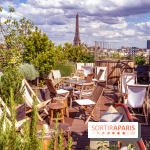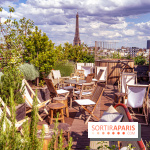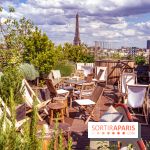 Brach hotel rooftop, the magnificent terrace hidden in a kitchen garden
This is undoubtedly one of the most beautiful rooftops in Paris, Brach hotel perched terrace set within their kitchen garden is a gem to discover. A confidential terrace with panoramic views on Paris to have a relaxing time surrounded by hens, enjoy a Norwegian bath, and smell aromatic plants. [Read more]




La Canopee, Beffroi de Montrouge's latest indulging and festive rooftop
La Canoppee – here is the name of the latest rooftop terrace coming to the rooftop of the Montrouge belfry at the gates of Paris. A huge green and festive terrace with DJ sets serving a great and affordable fusion menu so you can have a blast. [Read more]




A tacos bar comes to the rooftop of a beautiful Paris hotel!
A summery wind blows on the Sequoia, rooftop of hotel Kimpton Saint-Honoré. This summer, this Parisian location unveils a delightful tacos bar and magnificent views on the Eiffel Tower, Opéra Garnier and more Parisian landmarks. [Read more]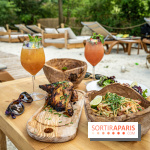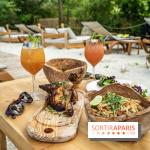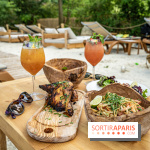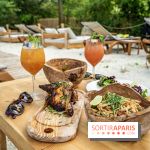 Beach Parisienne, Chalet du Lac's huge terrace-beach back to the Bois de Vincennes
How about having a drink on the beach without even leaving Paris? This is the fantastic experience provided by Chalet du Lac's Beach Parisienne this summer. Meet from May 29, 2022, at the Bois de Vincennes to discover an exclusive beach. [Read more]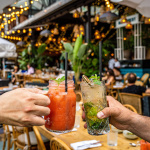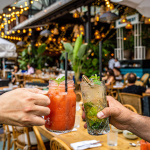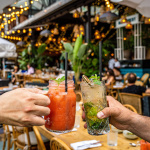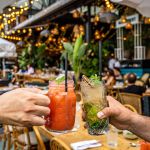 Quai Ouest restaurant, the festive brasserie terrace featuring BBQ and fun
Quai Ouest, the famous floating restaurant in Saint-Cloud, underwent a makeover, and enjoys a new menu to appeal you even more. With its huge seaside guinguette-inspired décor, its new indulging menu, its BBQ Wednesday offer, live music and entertainments for kids on Sundays, this is the perfect location for friends and family. [Read more]




Cabanon Perché, summery rooftop by Terrass Hotel and fantastic views on Paris and the Eiffel Tower
Cabanon Perché is the summer rooftop by Terrass" Hotel. On the menu, an exotic terrace taking us to the South since May 19, 2022. Seaside vibe, gin cocktails and seafood, the beach is back! [Read more]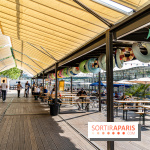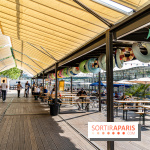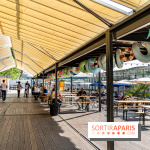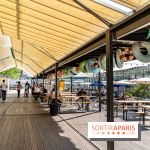 Rosé Piscine, the brand-new festive and sporting guinguette by Rosa Bonheur
Rosé Piscine – the latest Rosa Bonheur bar-guinguette – opens on Tuesday May 18, 2022. While waiting for the Arche Javel to open in July just across the venue – promising a huge barge swimming pool – go have relax, dance, have great food and work out with a fabulous program! [Read more]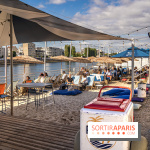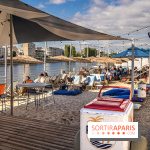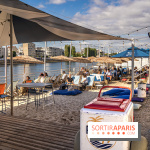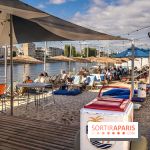 Polpo Plage, the beach-terrace on the Sseine
Craving a beautiful fine sandy beach to sip a drink in the sun, an oyster in hand? Let us run to Polpo Plage expecting us from Thursday to Sunday to take it easy. [Read more]




Seven Up, the rooftop with swimming pool and barbecue in Paris unveils a Circus spirit this summer!
The Seven Up is a fabulous rooftop with a swimming pool expecting you outside Paris, in Boulogne-Billancourt. From May 18 to late September, you are expected on Wednesdays to enjoy the Circus Wednesdays, nights themed on circus with fakir, sword swallower, fire breather, magic tricks and more uncommon performances to the sound of DJ sets! [Read more]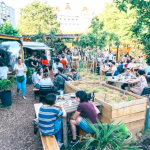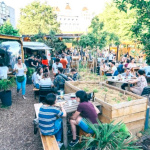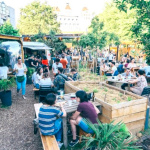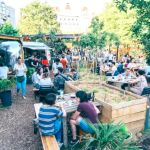 Jardin21: Canal de l'Ourcq big festive garden is back
Eastern Paris expects you again by La Villette with the edition 2022 of Jardin21 turning 5 this year. Meet from June 3, 2022! [Read more]
Summer will be very hot!