Published by La rédaction · Photos by My B. · Published on 10 July 2022 at 12h59
How does a terrace with beautiful views in Paris sound? Here are the best places to enjoy the city whilst having a drink or something to nibble on. Never boring!
Paris is a real treat for the eyes. And there is a reason why it is seen as the world's most beautiful city! Between picturesque neighborhoods, iconic landmarks, and secrets jealously kept. In this city where beautiful locations pop here and there, one can enjoy bars, cafés and restaurants which terraces provide them with great views on Paris! Whether they are perched, like rooftops, or by the water or on dry land, Paris is packed with gorgeous venues to make the most of the sun while enjoying a drink!
And this is why today, we share great places with terraces providing wonderful views on Paris. And stay tuned, this guided is updated as soon we discover more, so, do not hesitate to check it out again soon to find more good deals!
Ready? Here we go for great venues!
Terraces with the best views in Paris for spring-summer 2022




The Montparnasse Tower unveils a craft-beer bar this summer 2022 on their rooftop
This summer 2022, the Montparnasse Tower opens a craft-beer bar by La Brasserie Fondamentale on their 210-meter (688.97-feet) high rooftop! [Read more]




Hotel Rochechouart opens their rooftop bar for the summer
Head to the 9th floor of Hotel Rochechouart to discover the Bar sur le Toit reopening for the summer. On the menu, Italian dishes to share (or not), signature cocktails and even a teatime! [Read more]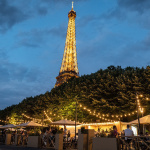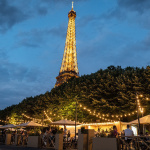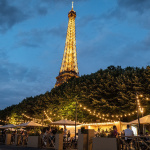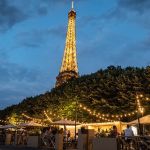 Bal de la Marine, the guinguette-restaurant by the Seine at the foot of the Eiffel Tower
The Bal de la Marine, a festive guinguette by the Seine mixing music and restaurant, expects you again for the summer. The occasion to chill out and dance all week long by the water, in a unique setting and a friendly atmosphere. [Read more]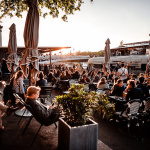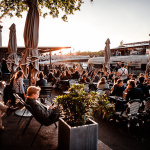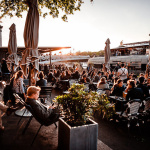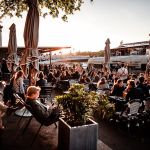 The Flow at Paris: the restaurant-bar-terrace, club and rooftop barge by the Pont Alexandre III
The Flow is a festive venue ideally set by the Seine, by the Pont Alexandre III with views on the Grand Palais and the Eiffel Tower. Doubling as a restaurant, bar, show venue, club and rooftop, this lively guinguette has it all to provide you with great nights by the water. [Read more]




The Eiffel Tower's Mediterranean-inspired 2022 terrace
Do you fancy relaxing and enjoying the sun on the 1st floor of the Eiffel Tower? Starting from May 20, 2022, a Mediterranean-inspired bar with unique panorama on Paris expects you 187 feet in the air. [Read more]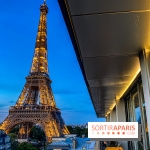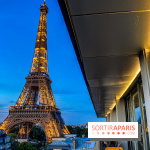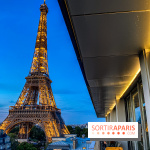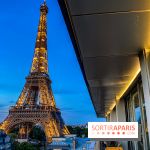 10ème Ciel, the temporary tapas and rooftop bar across the Eiffel Tower is back
How about getting on a one-on-one date with the Eiffel Tower? 10ème Ciel, here is the name of the temporary tapas bar, provided from July 9 to August 21, 2022, by the Pullman Tour Eiffel. [Read more]




Summum Rooftop, the huge restaurant-bar terrace and crazy and festive brunch in Créteil
Summum Rooftop is the latest spot doubling as a bar, restaurant, beer garden with 3 terraces covering over 600sqm of surface in South-East Paris in Créteil. Within metro reach, you will love this crazy rooftop serving divine brick-oven pizzas and brunch on Sundays. [Read more]




Shangri-La Paris La Bauhinia's hidden garden-terrace and Asian-inspired menu
For the second year, Shangri-La Paris's magnificent landscaped garden opens to welcome us on La Bauhinia's terrace. Chef Christophe Moret cooks Asian-inspired dishes you can enjoy whilst gazing at the Eiffel Tower. [Read more]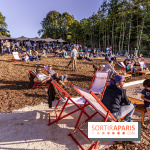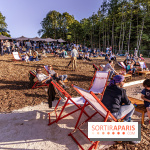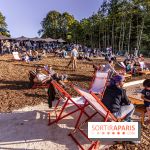 Perchoir Y, the latest crazy food camp – guinguette – barbecue in Meudon
Perchoir Y is the latest festive guinguette you will love this summer. A huge terrace across a lake, in front of the historic Hangar Y in Meudon, providing you with entertainments, bar and barbecue for you to have a blast. [Read more]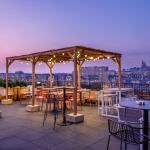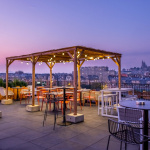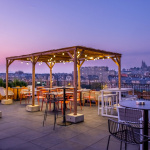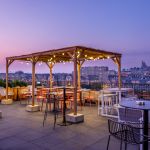 Station M, hotel Maison Montmartre's latest rooftop with views on Paris
Hotel Maison Montmartre unveils Station M, their latest rooftop with unobstructed views on the Sacred Heart and the Eiffel Tower. On the menu, tapas, cocktails, workshops and a perched boules ground! [Read more]




The renewal of Maison Fournaise, Chatou's Ile des Impressionnistes restaurant
Maison Fournaise – the guinguette that inspired Renoir's "Luncheon on the Boating Party" – rises again with a new décor, a new chef and a new menu. Treat yourselves to a bucolic break by the water. [Read more]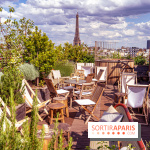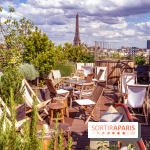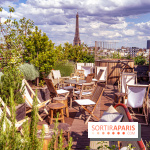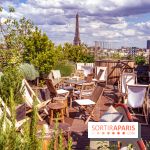 Brach hotel rooftop, the magnificent terrace hidden in a kitchen garden
This is undoubtedly one of the most beautiful rooftops in Paris, Brach hotel perched terrace set within their kitchen garden is a gem to discover. A confidential terrace with panoramic views on Paris to have a relaxing time surrounded by hens, enjoy a Norwegian bath, and smell aromatic plants. [Read more]




La Canopee, Beffroi de Montrouge's latest indulging and festive rooftop
La Canoppee – here is the name of the latest rooftop terrace coming to the rooftop of the Montrouge belfry at the gates of Paris. A huge green and festive terrace with DJ sets serving a great and affordable fusion menu so you can have a blast. [Read more]




The Rôtisserie d'Argent reopens its terrace on Quai de la Tournelle
For the third time, the Rôtisserie d'Argent unveils its summer terrace on Quai de la Tournelle! Enjoy great Parisian classics that made the fame of the House, on white and red checkered tablecloths. [Read more]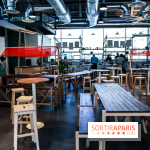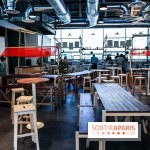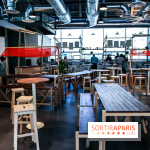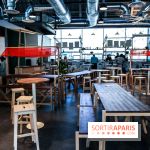 HOBA: sustainable food court at Paris Parc Martin Luther King - our pictures
You may have heard about the temporary "HO" terrace. This spring, discover HOBA, the latest place devoted to sustainable food. Initiated by Hasard Ludique team, this new mouthwatering food court expects you from June 2, 2022, in the middle of the Parc Martin Luther King in Paris 17th arrondissement. [Read more]




BHV Marais Perchoir - the urban jungle rooftop terrace
Perchoir Marais, the coveted BHV rooftop terrace in the heatr of Paris with views on the Eiffel Tower, the City Hall and Paris rooftops, expects you again for the summer. Between Vietnamese dishes and great cocktails, treat yourselves to a relaxing evening. [Read more]




A tacos bar comes to the rooftop of a beautiful Paris hotel!
A summery wind blows on the Sequoia, rooftop of hotel Kimpton Saint-Honoré. This summer, this Parisian location unveils a delightful tacos bar and magnificent views on the Eiffel Tower, Opéra Garnier and more Parisian landmarks. [Read more]




Cheval Blanc's summer garden-inspired rooftop terraces
How about enjoying a new rooftop? Head to the Jardin aka Cheval Blanc's 650sqm rooftop serving verdant terraces for great moments above Paris rooftops. [Read more]




Peninsula Paris rooftop bar and breakfast serving gorgeous views
Looking for a beautiful rooftop in Paris? Peninsula Paris terrace bar – open to all without prior booking – is now available. It is time to go touch the clouds and enjoy a delicious cocktail with veggie tapas while enjoying the city. [Read more]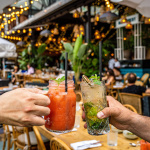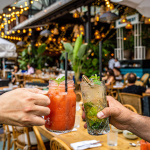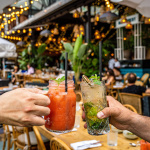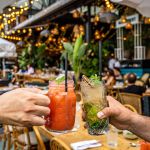 Quai Ouest restaurant, the festive brasserie terrace featuring BBQ and fun
Quai Ouest, the famous floating restaurant in Saint-Cloud, underwent a makeover, and enjoys a new menu to appeal you even more. With its huge seaside guinguette-inspired décor, its new indulging menu, its BBQ Wednesday offer, live music and entertainments for kids on Sundays, this is the perfect location for friends and family. [Read more]




Cabanon Perché, summery rooftop by Terrass Hotel and fantastic views on Paris and the Eiffel Tower
Cabanon Perché is the summer rooftop by Terrass" Hotel. On the menu, an exotic terrace taking us to the South since May 19, 2022. Seaside vibe, gin cocktails and seafood, the beach is back! [Read more]




OFF Paris Seine, the floating hotel unveils its summer terrace on the quay
The OFF Paris Seine is a floating hotel moored port d'Austerlitz. In addition to the bedrooms looking on the Seine, this spring-summer 2022, the hotel unveils a new terrace on the quay! [Read more]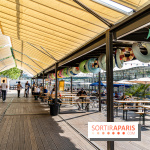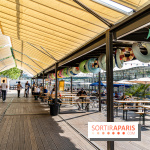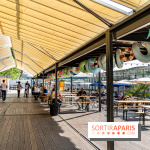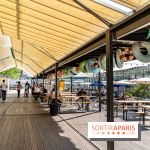 Rosé Piscine, the brand-new festive and sporting guinguette by Rosa Bonheur
Rosé Piscine – the latest Rosa Bonheur bar-guinguette – opens on Tuesday May 18, 2022. While waiting for the Arche Javel to open in July just across the venue – promising a huge barge swimming pool – go have relax, dance, have great food and work out with a fabulous program! [Read more]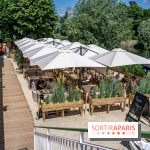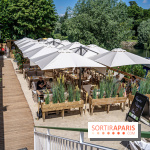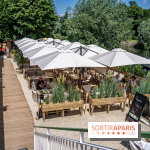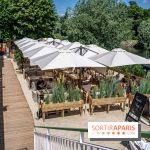 Maison Louveciennes's Beach Club beach terrace
How about enjoying a beach-inspired terrace? Head to Maison Louveciennes in Yvelines to chill by the water, a mojito in hand. [Read more]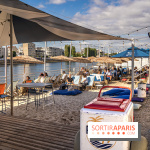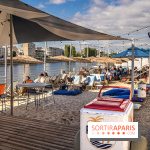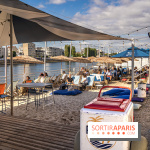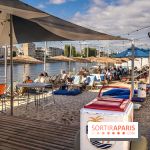 Polpo Plage, the beach-terrace on the Sseine
Craving a beautiful fine sandy beach to sip a drink in the sun, an oyster in hand? Let us run to Polpo Plage expecting us from Thursday to Sunday to take it easy. [Read more]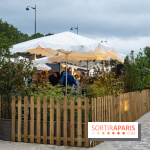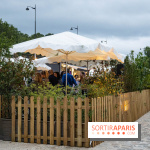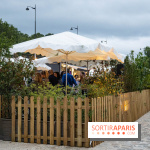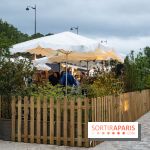 Le Cargo: the summer and musical spot by the Seine in Paris returns
Le Cargo, namely the bar and summer art and musical spot returns to the Bercy banks for a new season, starting on May 14, 2022. On the menu? Concerts, DJ sets, and pizzas! [Read more]




Bambini, Palais de Tokyo's Italian canteen and its sheltered terrace
Dolce vita is coming to Palais de Tokyo with the Italian trattoria, Bambini, where you can enjoy some aperitivo and Italian flavored cocktails on the large terrace, under sunshades. [Read more]




Villa M rooftop, the latest terrace in Paris
Looking for the most beautiful rooftop terraces in Paris? Villa M Rooftop – set in Paris 15th arrondissement – is about to open, on Friday May 20, 2022. How about getting up in the air? [Read more]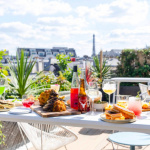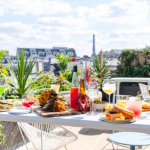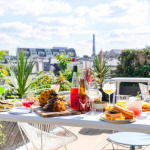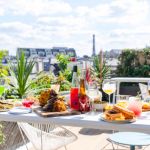 PLEY Hotel unveils its rooftop for spring-summer 2022
PLEY Hotel unveils its spring-summer 2022 rooftop. Well hidden, it can only accommodate a limited number of guests! for this new season, the PLEY Hotel rooftop looks like a Californian terrace. [Read more]




Canopy Trocadero by Hilton unveils their rooftop
This spring-summer 2022, hotel Canopy unveils a very great rooftop. Wide, very lush with views on the Eiffel Tower, serving cocktails, beers, and tapas, this terrace has it all. [Read more]




Molitor reopens its rooftop for spring-summer
Molitor Paris rooftop terrace, this rooftop bar restaurant looking over the capital and its super swimming pool reopened! Here is the perfect spot to enjoy some cocktail, good food and beautiful views. [Read more]




Laho: Gare de Lyon railway station rooftop serving views
Laho – Paris rooftop with unobstructed 360° views - returns for the summer. Go and enjoy this splendid spot set within walking distance from the Gare de Lyon railway station, with its verdant setting, unique sunset and yummy menu... Perched 60 meters in the air! [Read more]




Hanami Paris: the temporary and mouthwatering terrace across the Eiffel Tower is back
Feel like discovering a new summer terrace inducing to travel? Head to Hanami. Set on the parvis of the Paris aquarium, this restaurant-terrace provides us with a delicious immersion in the country of the Rising Sun thanks to the yatai concept, and a very yummy street-food menu. [Read more]




Rose Bakery at the Balzac's House, the café-tearoom in a bucolic garden
A confidential coffee shop nestled in the hidden and lush garden of the Maison de Balzac sounds very appealing. With a 100% organic and homemade menu, its bright setting opened onto the relaxing garden and views on the Eiffel Tower, it is hard not to be delighted. [Read more]




Roof, La Poste du Louvre Madame Rêve's new rooftop
Roof, here is the name of the new rooftop terrace set at the top of La Poste du Louvre, and expecting us from the spring of 2022. With sublime views on Paris and a nice green corner, this new spot belonging to Madame Rêve is open to all and likely to be a hit! [Read more]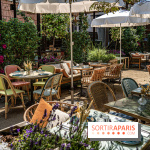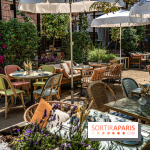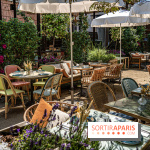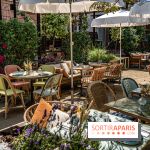 Les Belles Plantes, the Jardin des Plantes terrace-restaurant is back
Les Belles Plantes, here is the name of the café-brasserie of the Jardin des Plantes, that returns after welcoming Manzili by Mohamed Cheikh last year. Two charming green terraces with a chic and bucolic décor, boards to share and a fresh and delicious cuisine, it has it all. [Read more]




Acte II (former Au_Top): the hidden rooftop in Paris serving Japanese food
Acte II (formerly known as Au_Top) is a mouthwatering rooftop hidding in the heart of Paris with a surprising 360° view. In this restaurant managed by Jean Philippe de la Perle, discover views on Paris rooftops while enjoying dishes cooked by Masahide Ikuta, serving Japanese gastronomy up in the air. [Read more]




Printemps' new panoramic terrace: 7e Ciel
Printemps unveils a new terrace at the top of the "Femme" building. Head to the 7e Ciel, on the 7th floor, to discover a new rooftop to have a seat, a drink, and enjoy greats views on Paris and the Eiffel Tower. [Read more]




Bleu Coupole, Le Printemps's new restaurant and terraces for rent
Bleu Coupole, so is the name of the new restaurant of Printemps Haussmann, opening this March 19, 2022, and set beneath the 6th floor cupola of Printemps Femme. Forget the dark brasserie that used to stand there, please welcome a glassed restaurant featuring views on Paris, and several terraces for rent, so you can enjoy Elvira Masson's delicious dishes. [Read more]




Edmond, old-fashioned gastronomy on the rooftop of the Terrass" Hotel
Edmond is the perched spot in upper Montmartre expecting you at the Terrass" Hotel. With their new chef, Julien Goriot, the restaurant makes you jump back in time by giving pride of place to the gastronomy from the early 1900's. [Read more]




Le Tout-Paris, Cheval Blanc Paris brasserie with views on the Seine
Le Tout-Paris welcomes you all day long on the 7th floor of Cheval Blanc Paris on the terrace serving breathtaking views on the Seine and the capital city's emblematic monuments, or in the garden above the Paris roofs. From breakfast to dinner, or for a cocktail, this contemporary Parisian brasserie will arouse your taste buds and your conscious with horizon as far as the eye can see. [Read more]




Sequoia, Kimpton St Honoré Paris's new rooftop bar
Let us run to Kimpton St Honoré Paris's 10th floor to discover SEQUOIA, the brand-new rooftop bar with 360° views on Paris rooftops and beautiful monuments. Opening from Monday August 23, 2021! [Read more]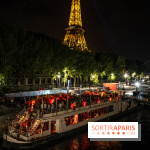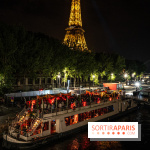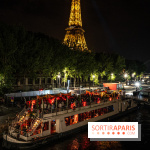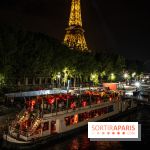 Chez Mila, the terrace-barge at the foot of the Eiffel Tower
Trendy terrace at the foot of the Eiffel Tower Chez Mila is back for the 2021 summer season. For the summer, come and dance, chill and enjoy delicious bruschetta toasts and boards to share by the water. [Read more]




Khayma Rooftop Bar: an affordable rooftop-bar with views on Paris
An affordable rooftop in Paris, it can exist! Head to the last floor of Generator Paris to discover Khayma Rooftop Bar, a super-trendy terrace with beautiful views on the Sacré Coeur. [Read more]




MUN, Champs-Elysées's magnificent rooftop
MUN, this is the name of the Parisian rooftop on everyone's lips for months. Set on the Champs-Elysées, this new restaurant inspired by Japan, designed by Paris Society, reopens the restaurant and the terrace for the summer 2021! [Read more]




Café de l'Homme: Trocadero terrace-restaurant with views on the Eiffel Tower!
In summer, Café de l'Homme is one of tourists' favorite spots. Within the Parisian Palais Chaillot, facing the Eiffel Tower, the restaurant delights taste buds and eyes. This restaurant, opened in 2004, got a makeover in 2015 with a new décor designed by Gilles & Boissier, a new layout. As for the terrace, it enjoys a new setting since September 2020. Rediscover the new Café de l'Homme now! [Read more]




Le Jardin du Petit Palais new restaurant opens
Every year, the Petit Palais welcomes many exhibitions, as well as a very lovely garden in which hides a new garden, Le Jardin du Petit Palais with a bistronomic and delicious menu created by chef Amandine Chaignot. [Read more]




Les Piaules, a second youth hostels at the Place de la Nation
In 2021, the Les Piaules team will open a second youth hostels at the Place de la Nation in Paris. [Read more]
And now? Enjoy!