Published by Manon C., My B., Laurent P. · Photos by Laurent P. · Published on 18 May 2022 at 18h25
A beautiful and shady terrace in Paris, how does it sound? Hidden patios, secret gardens and lush terraces, as many treasures waiting for you in Paris for the summer 2021.
Looking for a shady terrace in Paris? To chill in a lovely and green corner, safe from the sun, we have found some superb spots far from the hustle and bustle of the French capital.
For a lovely and bucolic break, have an ice cream, take a refreshing drink, or have lunch or brunch, discover this summer's Paris hidden terraces.
Shady terraces in Paris for the summer 2021
Hotel Particulier Montmartre somptuous gardens
Craving serenity, calm and greenery in Paris? Discover now Hotel Particulier Montmartre hidden gardens!




Cristal Room Baccarat chic and peaceful terrace
With sunny days upon us, Cristal Room Baccarat invites you to discover its garden, where lovers of delicious beverages can sip a delightful cocktail, the whole in a green and quiet setting. [Read more]




Rivié, Hôtel Hoxton restaurant in Paris
In 2017, the very awaited Hôtel Houxton from the British chain arrived in Paris! Today, the boutique-hotel is always crowded and so is its restaurant and charming and trendy neo-brasserie, Rivié! [Read more]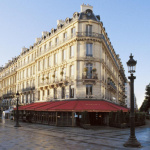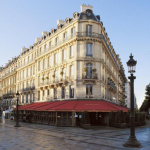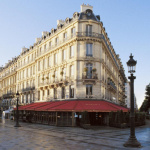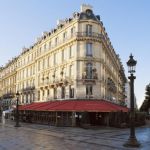 Fouquet's Paris reopens its restaurant
Fouquet's Paris reopens on Monday June 15, 2020. The most famous brasserie on the Champs-Elysées, if not Paris, will welcome you on its terrace, and within its legendary room. On the occasion, chefs Pierre Gagnaire and Nicolas Paciello provide a new and summer menu. [Read more]




La Réserve Hôtel & Spa Paris reopens their three terraces
Paris 8th arrondissement-based La Réserve hotel announced they are reopening their three terraces from May 19, 2021. On the menu, Jérôme Banctel's menu at La Pagode de Cos, as well as a lounge-inspired terrace filled with plants at the Patio. [Read more]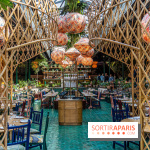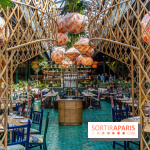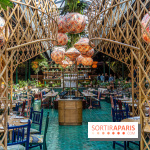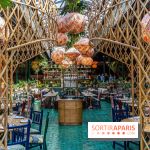 Andia, La Gare restaurant serving indulging Latino food
Andia is the restaurant set in Paris 16th arrondissement replacing La Gare and taking your taste buds to a journey to Latin America, in the heart of the Andes. From dishes to the restaurant with a verdant terrace, one is taken to the Amazonian Forest in Mexico. Great spirit and change of scenery! [Read more]




Le Clarence unveils its summer terrace and its take-away basket offer
Treat yourself to a break far from the Parisian hustle and bustle on the discreet terrace of Le Clarence restaurant. This small corner of heaven, set on a pave courtyard, down the two-star restaurant, provides simple, fresh food paired with exceptional wines. An enchanting break. [Read more]
Waiting for confirmation:




Paris Hôtel de Crillon confidential "Bonsoir Paris" roofop comes to light
Looking for an uncommon place to make the best of Paris? An iconic Parisian palace presents its temporary rooftop set within a secret suite and open to the public for a few weeks. Meet from May 19, 2021 at Paris Hôtel de Crillon to enjoy a 180° unobstructed view on the Place de la Concorde and the Eiffel Tower from an exclusive terrace covering 200sqm, featuring cocktails and tasty tapas. [Read more]




The Jardin Suspendu at the Parc Floral: new and huge bucolic terrace in Paris
A new chapter begins for the Jardin Suspendu. Still managed by Passage Enchanté - renamed Enchanté - the huge bucolic and temporary rerrace set at the Parc Floral enjoys a new name and becomes La Bamba. Meet all summer long in Eastern Paris to make the most of this new festive and convivial place likely to improve this new and highly expected summer season. [Read more]




We are_restaurant: Flavorful cuisine by Arthur Jallerat in a green setting in Paris
How about discovering a delicious restaurant set in the middle of a magnificent 1,200sqm green setting in Paris? Head to Paris 8th arrondissement to discover we are_restaurant and taste delicious dishes by chef Arthur Jallerat. [Read more]




L'Auberge du Bonheur, a garden-restaurant in the Bois de Boulogne
L'Auberge du Bonheur is the hidden restaurant in the Bois de Boulogne. Go and discover the lush terrace where bistronomic dishes expect you. Hidden behind the famous "Cascade", this small corner of paradise expects you for genuine moments of relaxation. [Read more]
In other words, enjoy your meal and this moment al fresco!