Published by Manon C., My B., Rizhlaine F., Laurent P. · Photos by Laurent P. · Published on 30 June 2022 at 08h26
A beautiful and shady terrace in Paris, how does it sound? Hidden patios, secret gardens and lush terraces, as many treasures waiting for you in Paris for the summer 2022.
Sunny days are finally there and temperatures are rising - perfect to perfect your tan, not so well for global warming, we must say. Although as soon as it is over 77°F, you switch from solid to liquid state, or if you simply do not enjoy being exposed in the sun too long, then, you might be looking for a shady terrace in Paris, to spend the spring-summer 2022 outdoors but without ending being burnt.
To relax in a lovely green corner safe from the sun, we have found fabulous spots under trees or sunshades, far from the busy streets in the city, and safe from any sunburns turning you red.
For a bucolic break, or have some refreshing ice cream, sip on delicious drinks, or have lunch or brunch outdoors, discover shady terraces for this spring-summer 2022 in Paris. Your sun resources will thank you!
Shady terraces in Paris for the summer 2022:




Ralph's restaurant opens their sublime hidden terrace with Sunday brunch
A lovely verdant terrace to make the most of summer with cocktails, authentic American cuisine and indulging brunch... This is what Ralph's provides for the reopening of their patio. Anywya, this is the perfect place to enjoy a quiet break without leaving the French capital. [Read more]




Radioeat's wide temporary plant-filled terrace aka Maison de la Radio's restaurant
To chill all summer long, Radioeat, aka Maison de la Radio's restaurant, unveils a wide, temporary and plant-filled terrace! [Read more]




Roch Hôtel & Spa's (very) indulging and hidden summer 2022 terrace, Cap au Sud
Calling all fans of south-inspired food! Roch Hôtel & Spa reopened the summer terrace and on the occasion, gives pride of place to southern cuisine. Chef Rémy Bérerd will serve dishes to share inspired by Italy, Greece, Spain, pairing cocktails and south-inspired dishes. [Read more]




Fika Paris, the latest relaxing café at the Swedish Institute
Fika is the name of the latest café inaugurated at the Swedish Institute. In the paved courtyard of this cultural venue shining a light on Sweden, enjoy a welcoming and bright coffee shop with a terrace serving delicious Swedish specialties. [Read more]




Shangri-La Paris La Bauhinia's hidden garden-terrace and Asian-inspired menu
For the second year, Shangri-La Paris's magnificent landscaped garden opens to welcome us on La Bauhinia's terrace. Chef Christophe Moret cooks Asian-inspired dishes you can enjoy whilst gazing at the Eiffel Tower. [Read more]




Peninsula Paris rooftop bar and breakfast serving gorgeous views
Looking for a beautiful rooftop in Paris? Peninsula Paris terrace bar – open to all without prior booking – is now available. It is time to go touch the clouds and enjoy a delicious cocktail with veggie tapas while enjoying the city. [Read more]




Bambini, Palais de Tokyo's Italian canteen and its sheltered terrace
Dolce vita is coming to Palais de Tokyo with the Italian trattoria, Bambini, where you can enjoy some aperitivo and Italian flavored cocktails on the large terrace, under sunshades. [Read more]




L'Arrière-Pays, Hotel Lancaster's summer terrace
L'Arrière-Pays is hotel Lancaster's summer terrace promising us a journey in the sun without even leaving Paris thanks to its Mediterranean-inspired décor and fresh menu created by chef Sébastien Giroud. [Read more]




Saint-James' hidden terrace, a chic and glamorous den for this spring-summer season
Saint-James' garden-terrace certainly is one of the most glamorous and uncommon spots in the city. This secret garden was created to be exceptional, coming every year with its share of novelties. [Read more]




Hotel Lutetia opens its spring-summer 2022 terraces
Hotel Lutetia switches to summer time and unveils two patios: one at the Brasserie and one at the Patio Saint-Germain, both changed for the warmer weather. [Read more]




Hotel Cinq Codet's spring-summer 2022 terrace
With sunny days upon us, Hotel Cinq Codet unveils its new terrace, quiet and well-hidden, chic and shady enough, in the heart of the 7th arrondissement, set close to the Eiffel Tower. [Read more]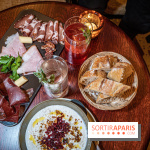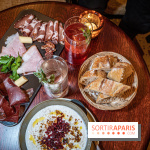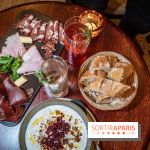 Café Aristide, the hidden bar, restaurant and terrace in Montmartre
Café Aristide opens and welcomes you in their lovely bohemian restaurant for a delicious moment at any time of the day. From breakfast to pre-dinner drink, to dinner or lunch on the hidden terrace, here is a hidden gem likely to delight you. [Read more]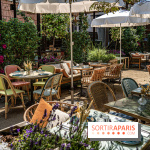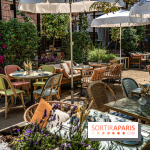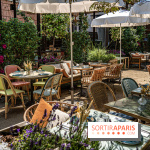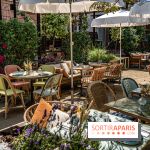 Les Belles Plantes, the Jardin des Plantes terrace-restaurant is back
Les Belles Plantes, here is the name of the café-brasserie of the Jardin des Plantes, that returns after welcoming Manzili by Mohamed Cheikh last year. Two charming green terraces with a chic and bucolic décor, boards to share and a fresh and delicious cuisine, it has it all. [Read more]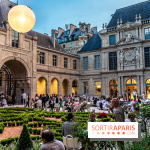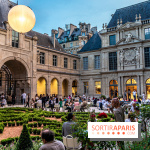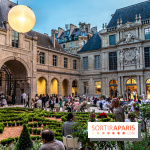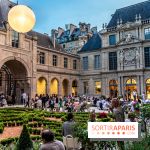 Fabula, Thibaut Spiwack's ephemeral restaurant at Paris Musée Carnavalet
Fabula, here is the name of Top Chef France contestant Thibaut Spiwack's ephemeral restaurant settling from May 6, 2022 to October within the Musée Carnavalet. [Read more]




Le Tout-Paris, Cheval Blanc Paris brasserie with views on the Seine
Le Tout-Paris welcomes you all day long on the 7th floor of Cheval Blanc Paris on the terrace serving breathtaking views on the Seine and the capital city's emblematic monuments, or in the garden above the Paris roofs. From breakfast to dinner, or for a cocktail, this contemporary Parisian brasserie will arouse your taste buds and your conscious with horizon as far as the eye can see. [Read more]




Martin, cocktail bar and big plant-filled terrace by the Canal Saint-Martin
A big plant-filled terrace, local and seasonal dishes, refreshing cocktails. No doubt, you are at Martin, a stone's throw from the Canal Saint-Martin. [Read more]




L'Île restaurant-bar unveils the widest terrace in Western Paris
A beautiful and wide terrace in Western Paris, how does it sound to you? Good? Well, then, head to L'Île restaurant set in Issy-Les-Moulineaux and its impressive and new terrace designed by renowned architect Laura Gonzalez. [Read more]




Rivié, Hôtel Hoxton restaurant in Paris
In 2017, the very awaited Hôtel Houxton from the British chain arrived in Paris! Today, the boutique-hotel is always crowded and so is its restaurant and charming and trendy neo-brasserie, Rivié! [Read more]
In other words, have a great break and relaxing break al fresco all spring-summer 2022 long in Paris!