Published by Manon C., My B., Elodie D. · Photos by My B. · Published on 3 June 2022 at 00h39
Do you crave donuts stuffed with chocolate or jam? Let us walk you through the best spots in Paris to have a blast!
Calling all fans of donuts and fritters, here are the best places and delicious spots to make sure you will have a blast at any time of the day, every day of the year, nibbling on these sweet wonders. Yes, donuts are not only a summer treat, as there are great donut locations in Paris!
Stuffed with chocolate, jam, pastry cream, or simply dusted with confectioner's sugar, choose the donut that will arouse your taste buds as much as possible!
Here are the best places in the city!
Guide to donuts in Paris: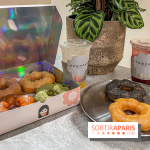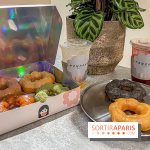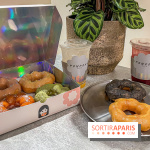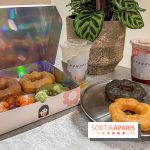 Ponpon, the first mochi donut store in Paris
Indulging food alert! The first mochi donut store has opened in Paris! Ponpon Café, here is the name of this spot already meeting great success attracting everyone in Paris. We tried it and loved it! [Read more]




Besties Bakery, the cute and quirky donut store in Paris 5th arrondissement
As we were investigating on tasty donuts in Paris, we ran across Besties Bakery, a lovely hidden store in the 5th arrondissement, a few steps from the Seine. In a girly atmosphere, Besties Bakery provides you with original donuts likely to delight children and grown-ups. Even though the store supplies donuts as big as delicious, it also provides drinks to take away and a range of customized boxes for special occasions! [Read more]




C'est mon Donuts, the tasty donut store by Bastille
Aptly named donut store "C'est mon donuts!" – It's my donuts! – is set on rue du Chemin Vert by Bastille since December 2020. This American donut-focused pastry store wishes to convert young foodies with quirky and super attractive donut recipes. Oreo donut, Daim donut, M&M's donut, brownie donut, these donuts are likely to delight children but are to be eaten responsibly! [Read more]




Donuterie, the mouthwatering donut spot in Paris 15th arrondissement
Donut alert in Paris 15th arrondissement. Donuterie has come to rue Juge with a place likely to make donut fans very happy. With this patisserie devoted to donut, about a dozen fritters eye at us with recipes as cheeky as mouthwatering. As a bonus? They are delicious! [Read more]




Boneshaker Doughnuts: the donut heaven in Paris
Tired of grabbing a bad frozen donut in an unknown bakery? Okay, we've got you covered: at Boneshaker Doughnuts, donuts are small gourmet gems your mouths won't forget anytime soon! [Read more]




Mamiche, the local bakery
Mamiche expects you in the 10th arrondissement with delicious chocolate, plain or apple donuts, we love it!




The French Bastards, Oberkampf's latest indulging bakery-patisserie
You must go to The French Bastards to discover two crazy donuts: one with salted butter caramel, the other flavored with chocolate. And they are available all year around!