Published by La rédaction · Photos by My B. · Published on 16 July 2022 at 11h04
Calling all sweet-toothed readers! How about discovering the latest patisseries delighting Paris and its surroundings? If you want to treat yourselves to tasty cakes by committed and demanding chefs, here is a selection likely to please you.
Paris is always welcoming new patisseries! The best solution to stay in high spirits, despite the current health situation!
Do you love indulging pastries, highly addictive cookies, hearty slices of custard pie, and real pastries and cakes by renown chefs? How perfect, Philippe Conticini, Nicolas Paciello and even Stéphanie Le Quellec are waiting for you in their new spots, so does Nina Métayer.
Have a look at the locations below, you may go and leave with your arms filled with pastries and sweet treats!
New patisseries to discover in Paris:




Pages Blanches, the delicious Japanese-inspired bakery and tearoom
Pages Blanches is the name of the latest bakery and tearoom set on Boulevard de Courcelles in Paris 8th arrondissement. Enjoy beautiful delicate French pastries created by talented pastry chef Kaori Akazawa bringing a Japanese twist. [Read more]




Cookidiction opens another cookie store in the Marais
Cookidiction is about to open a new cookie store in the Marais, and our gourmet heart is pounding already! [Read more]




Pablo Cheese Tart, the first Japanese tart store in Paris
Pablo Cheese Tart, the famous and successful Japanese store comes to Paris. Forget American style cheesecake tarts, Pablo Cheese Tart serves jiggly tarts coming in plenty of flavors, as well as boba teas to discover. [Read more]




Zest, France Dessert Champion Cyril Gaidella's bakery-patisserie and tearoom
Zest, this the name of 2017 France Dessert Champion Cyril Gaidella's bakery-patisserie and tearoom, enchanting Neuilly-sur-Seine, right outside Paris. Go and discover sourdough breads, homemade viennoiseries, and delicious pastries as indulging as can be. [Read more]




Paris: Yann Brys opens a Tourbillon bakery in the 4th arrondissement
Calling all sweet-toothed readers! Meilleur Ouvrier de France Yann Brys opened a new Tourbillon bakery in Paris, after the one already set in Saulx-les-Chartreux in Essonne. This time, head to the Île-Saint-Louis in the 4th arrondissement to discover this very appealing spot! [Read more]




Taozi: the Asian all-thing mochi bakery in Paris 8th arrondissement
Sweet and savory Asian flavors, run to Taozi, the latest indulging spot in Paris 8th arrondissement! Set within walking distance from the Champs-Elysées, this bakery shines a light on the staple mochi, as well as sponge cakes. Shall we give it a go? [Read more]




@unreve, the magnificent French-Asian café-tearoom
@unreve, here is the name of this new coffee shop, tearoom and patisserie that settled in Avenue Parmentier in Paris 11th arrondissement. Picture this: a lovely mix of the best of coffee shops and Asian flavors, and you get the tone. [Read more]




Basil: the bakery in Paris 16th selling delicious cinnamon rolls
Nestled in Paris 16th arrondissement, Basil is one of those bakeries we would love to see more often in the city. With tasty natural yeast bread based on organic flours from Île-de-France and delicious and very coveted cinnamon rolls, Basil has a bright future ahead! [Read more]




Panade: Merouan Bounekraf's bakery in Paris
Former Top Chef France contestant Merouan Bounekraf has settled in Paris 15th arrondissement. He recently opened Panade, his first bakery, both friendly, warm and very indulging with savory and sweet options, without forgetting viennoiseries and tasty bread! Shall we give you a round? [Read more]




The French Bastards bakery comes to Paris 17th arrondissement
Calling all foodies: The French Bastards is coming to Paris 17th arrondissement, and for the occasion, they put on a great spread with many mouthwatering novelties! [Read more]




Boulangerie Baptiste, Joël Defives's bakery in the Batignolles area
Meilleur Ouvrier de France and Thierry Marx bakeries former executive chef Joël Defives has opened his first bakery in the Batignolles area, in Paris 17th arrondissement. Go and discover low fermentation sourdough breads, tasty and well-produced products and scrumptious pastries. [Read more]




Kopain, Christophe Michalak's first bakery in Paris is open!
Pastry chef Christophe Michalak opens his first bakery in Paris. Named Kopain, this local bakery shines a light on dough in all shapes and sizes! Discover pretzel croissants, smooth cookies and divine tarts and pies. [Read more]




Jeffrey Cagnes opened his patisserie – chocolate store in Paris!
Jeffrey Cagnes finally inaugurated his patisserie-chocolate store this Tuesday September 21, 2021 The 35-year-old pastry chef has settled in rue des Moines, in the heart of the Batignolles area and has many surprises in stores such as desserts and wonderful collaborations. [Read more]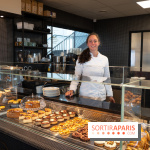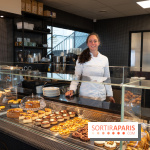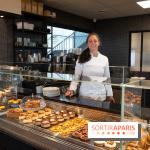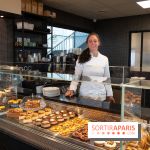 Nina Métayer opens her patisserie tearoom Délicatisserie at Printemps du Goût
Are you fond of Nina Métayer's pastries? In addition to her Délicatisserie online store, you can find your happiness at Printemps du Goût. Head to the 8th floor to find out what heaven is like enjoying a treat on site, admiring the wonderful view, or at home. [Read more]
So, how about paying a visit to these new sweet addresses delighting Paris and its surroundings?