Published by Manon C. · Photos by My B. · Published on 16 December 2021 at 10h46
French toast – and its brioche version – is the king of desserts. Golden, fluffy, topped with whipped cream or ice cream, it is available in many restaurants and coffee shops. Here are all the best places in Paris!
Whether it is a long-time memory from your childhood, or still very present in your mind, or a new discovery that shook your taste buds, one thing is sure: French toast – and its cheeky brioche version – is the quintessence of regressive and scrumptious dessert.
Plated very simply, often buttery and golden, served with fresh fruits or even topped with whipped cream or an ice cream scoop, French toast has it all to delight young or older foodies.
Good news! Paris has a lot of places featuring this little wonder: restaurants, coffee shops or even brunches and teatimes.
Guide to the best French toasts in Paris
At the end of the meal, restaurant version: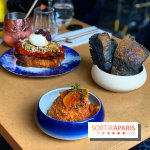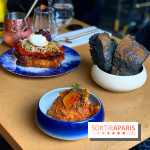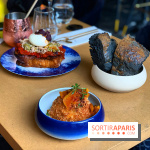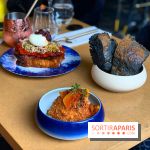 Riv'K, the hearty Israeli-inspired restaurant in Montmartre
The Riv'K restaurant set in Montmartre provides bistronomic cuisine where Israeli food and world's spices are given pride of place and where the menu changes very often. But one famous and staple dessert remains: Riv'k's incredible French toast! [Read more]




Opening of Verde by YEEELs, cocktail bar and restaurant featuring Thibault Sombardier
YEEELS turns into a new setting in the triangle d'Or, Verde by YEEELS. Verde is both a tapas and cocktail bar and a restaurant in the basement. A setting of tropical green where the cooking has been entrusted with Thibault Sombardier. A fest for the eyes and the taste buds. [Read more]




Loui's Corner, restaurant and beautiful terrace in Paris 10th arrondissement
We go to Loui's Corner to enjoy the beautiful and sunny double-terrace, have a cocktail, listen to music every two Thursdays and eat simple yet generous dishes inspired by New York cuisine. [Read more]
In coffee shops, bakeries, and pastry stores:




Petit Crème Montorgueil, the latest coffee shop in the Halles area
Petit Crème Montorgueil, this is the name of the latest restaurant replacing Aux Tonneaux des Halles, 28 rue de Montorgueil. Go and discover this new mouthwatering offer set a stone's throw from the Forum and the beautiful Nelson Mandela garden. [Read more]




Elan Café, London's famous pink tearoom opens at Paris Galeries Lafayette
The famous girly tearoom El&n Café recently opened at Paris Galeries Lafayette! To be pronounced Ilan, Elan Café is the world's most Insta-worthy café since it opened in 2019 in London. After 10 locations in England and Qatar, Elan has come o Paris with delicious drinks, brunch-inspired dishes and desserts to die for and to be enjoyed from 10 a.m. to 7 p.m. It is a yes for us! [Read more]




Kanopé, coffee shop, bistro and brunch
By day, Kanopé is a coffee shop serving major brunch classics. But at night, this new spot turns into a small bistro with plates to share, nature wines, and signature cocktails! [Read more]




French Toast & Co opens its first store in Paris 17th arrondissement
Sweet or savory, French toast comes to Paris 17th arrondissement thanks to the opening of the very first French Toast & Co store in early April 2019. [Read more]




Bab: the first brioche bar by Margaux Aycard in Paris
Calling all foodies, a new concept has just been inaugurated in Paris! Head to the 8th arrondissement to discover BAB, the first brioche bar in Paris. Created by young and passionate Margaux Aycard, BAB will delight your taste buds thanks to delicious sweet and savory, braided and flaky brioches! [Read more]




Mamiche opens a second bakery in Paris
Big news for good bread lovers, Mamiche has opened a second bakery in Paris 10th arrondissement! [Read more]
As well as: Carré Pain de Mie!
Included in brunches and teatimes:




T'Time by Jardin Privé, Sarah Ifrah Ohana's new pastries
Novotel Paris Les Halles' chic and cheap tea time is back from Thursday to Sunday! Treat yourself to a delicious teatime to enjoy on a wonderful terrace hidden in the heart of Paris or inside if the weather does not allow it. And preparing the pastries, talented chef Sarah Ifrah Ohana is coming with wonderful creations for this Fall 2021. [Read more]