Published by La rédaction · Photos by My B. · Published on 4 May 2022 at 17h44
Are you looking for an affordable, tasty and cheap teatime? Here are bargains in Paris to indulge the sweet-toothed you are. Between "goûters" and teatimes including a savory part, there is a lot to dig in to treat yourselves and have a great afternoon tea.
You love teatimes and afternoon teas offering you to discover a great range of cakes and pastries? Yes, but your budget does not really approve your yummy passion! To match cravings and reasonable, let us have a look at affordable or not-too-expensive teatimes in Paris.
Between secret and hidden venues, wonderful new findings, lovely tearooms and gems we are wrong to share (but we need to be altruistic, right?), here are good deals to have a delicious time as a couple, with friends or your mother, your BFF, you name it.




Bleu Coupole, Le Printemps's new restaurant and terraces for rent
Bleu Coupole, so is the name of the new restaurant of Printemps Haussmann, opening this March 19, 2022, and set beneath the 6th floor cupola of Printemps Femme. Forget the dark brasserie that used to stand there, please welcome a glassed restaurant featuring views on Paris, and several terraces for rent, so you can enjoy Elvira Masson's delicious dishes. [Read more]




Le Jardin de Mademoiselle, the mouthwatering tearoom changing over the seasons
Feel like discovering wonderland? Come along and discover Le Jardin de Mademoiselle, a lovely tearoom changing its decoration and menu over the seasons. Have a seat and enjoy scrumptious drinks and cakes in a bright and bucolic atmosphere. [Read more]




T'Xuan: heart-stopping Chinese tea house and patisserie in Paris
T'Xuan is a Chinese tea house in Paris offering you to enjoy unknown specialties and indulging pastries. Calling all culinary adventurers and lovers of Asian flavors, here is your next heart-stopper. [Read more]




Bachaumont's affordable and divine teatime
Set in the Montorgueil area, the Bachaumont restaurant launches its delicious and affordable teatime. Go and discover this new Parisian treat created by Sophie Coulombel and Baptiste David. [Read more]




Fu Castella opens its terrace
Have you heard of castella? This small pastry from Portugal is finally coming to Paris at Fu Castella. We bet you'll love this fine and soft cake! To adapt to the situation, Fu Castella opens its terrace starting Tuesday June 2, let's go and enjoy a sweet treat. [Read more]




Teatime at the Officine, Hotel du Louvre
Among the great confidential places to enjoy a delicious teatime, here is Julien Delhome's at the Hôtel du Louvre. At weekends, come and enjoy this tasty break in the magical and verdant setting of the Officine du Louvre. [Read more]




Pasticceria Cova, Italian bakery and teatime
Pasticceria Cova is the latest café-tearoom that settled at the corner before the Samaritaine. This iconic Milanese institution with sophisticated décor and scrumptious and creative pastries welcomes us now in Paris. Have a seat all day long, from breakfast to teatime, to aperitivo-time. [Read more]




Printemps Haussman's Café Vert, the new lush and indulging coffee shop
Printemps Haussmann keeps unveiling novelties with this new lush café called Café Vert. You are expected every day from 10 a.m. to 8 p.m. to enjoy warm beverages served with sweet treats, or lunch with fresh and scrumptious dishes, or a pre-dinner drink with friends. [Read more]
And for even more happiness, have a look at the lovely tearooms in the city:




The best new tearooms to discover in Paris
Are you looking for a new tearoom in Paris? Feel like having a seat, enjoying a real cup of tea with delicious pastries? Here are the latest locations to enjoy in the capital city. [Read more]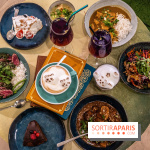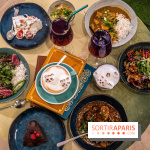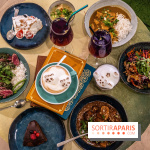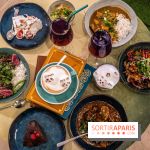 Quirky cafés and tearooms we love in Paris
Looking to discover an uncommon and original tearoom - café - coffee shop? Go and discover the most atypical and indulging spots in Paris. Never-before-seen pastries or crazy settings, here are our favorite spots! [Read more]




The best tearooms in Paris
Are you looking for a great tearoom in Paris for a sweet break? Head to one of our favorite tearooms... It will tickle your taste buds and you will have a very delightful time in the French capital! [Read more]