Published by My B. · Photos by My B. · Published on 30 June 2022 at 17h21
Calling all Japanese tea and pastry fans, here are our favorite tearooms in Paris we tried and approved. Enjoy the best spots to enjoy a Japanese cup of tea made by the book or some tasty matcha cakes and mochis.
Hey you, fan of teas served by the Japanese book, including the tea ceremony and more, the mochi eater, the lover of matcha likely to travel all the way to Paris to fulfill your passion, or the person crazy about new pastries and Japanese delights being all the rage in Paris, let us share by word of mouth the best Japanese tearooms in the capital city.




Pages Blanches, the delicious Japanese-inspired bakery and tearoom
Pages Blanches is the name of the latest bakery and tearoom set on Boulevard de Courcelles in Paris 8th arrondissement. Enjoy beautiful delicate French pastries created by talented pastry chef Kaori Akazawa bringing a Japanese twist. [Read more]




Pablo Cheese Tart, the first Japanese tart store in Paris
Pablo Cheese Tart, the famous and successful Japanese store comes to Paris. Forget American style cheesecake tarts, Pablo Cheese Tart serves jiggly tarts coming in plenty of flavors, as well as boba teas to discover. [Read more]




Taozi: the Asian all-thing mochi bakery in Paris 8th arrondissement
Sweet and savory Asian flavors, run to Taozi, the latest indulging spot in Paris 8th arrondissement! Set within walking distance from the Champs-Elysées, this bakery shines a light on the staple mochi, as well as sponge cakes. Shall we give it a go? [Read more]




Benchy: the coffee shop dedicated to sandos in Paris 6th arrondissement
Sando, this famous Japanese sandwich, can now be enjoyed in Paris 6th arrondissement thanks to the opening of the Benchy coffee shop. Savory or sweet, you cannot resist it, as it is often paired with delicious matcha latte! [Read more]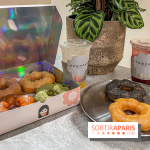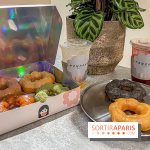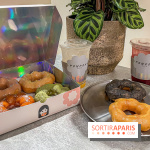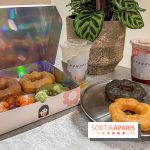 Ponpon, the first mochi donut store in Paris
Indulging food alert! The first mochi donut store has opened in Paris! Ponpon Café, here is the name of this spot already meeting great success attracting everyone in Paris. We tried it and loved it! [Read more]




Café Kitsuné Louvre turns into an evolutive pastry bar
Café Kitsuné Louvre - the magnificent café at the gates of the Jardin du Palais Royal evolves and become a new spot for pastry lovers. With the recent opening of its upper floor with views on the gorgeous fountain of the Théâtre Français, enjoy it to have a seat and have an indulging moment with latte and sweet treats. [Read more]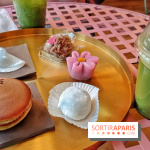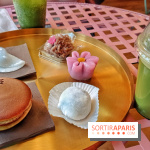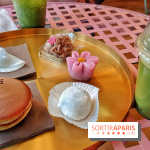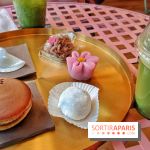 Le Renard Café, the Japanese culture-devoted bookstore-café in Paris
A stone's throw from the Le Renard Doré bookstore in Paris 5th arrondissement opened the Le Renard Café shining a light on the Japanese culture, between manga, bubble tea and quality pastries. [Read more]




Kodama, the lovely tea store and bar in Montorgueil
Store doubling up as a tea bar, set by Montorgueil, Kodama provides about forty references of teas and herbal teas to enjoy over a homemade pastry. [Read more]




Kafé Buki in Paris: the delicious coffee shop taking us to Japan
How about taking the time to unwind while sipping on genuine coffee and nibbling on delicious Japanese pastries? Come along, we take you to Kafé Buki, a very friendly and indulging Japanese coffee shop. [Read more]




Machi Machi: bubble tea, matcha latte, and tasty teas in the heart of Paris
Machi Machi is a tea counter delighting us with tasty recipes. From bubble tea to matcha latte, including fruity teas and more original creations based on panna cotta, or jelly, you will love this spot! [Read more]




Shodai Matcha: restaurant and tea house for matcha lovers in Paris
Calling all matcha lovers, here is a spot likely to make your head spin. Shodai Matcha is a restaurant and a tea house highlighting this famous green tea in pastries and drinks made by the book. [Read more]




Sabō: the Japanese tearoom at OGATA Paris
For an incredible and relaxing trip to Japan, meet at Sabō, OGATA Paris's famous tearoom, nestled in the 3rd arrondissement. Unplug and enjoy. You are off to some unique experience to the universe of tea. [Read more]




La Maison du Mochi has opened its first store in Paris
La Maison du Mochi opens its very first store in the heart of Paris 6th arrondissement. Good news for lovers of this small Japanese balls to enjoy for teatime. [Read more]




Aki Café: The Japanese tea salon in Paris
Aki Café is the brand-new café set in rue Sainte-Anne. This Japanese café-tea salon is the perfect place for a gourmet and original break in the center of Paris! [Read more]
So, shall we treat ourselves to a great break in a Japanese tearoom?