Published by Audrey L. · Photos by Audrey L. · Published on 30 July 2022 at 00h31
The Place To is the latest lively venue to linger in, in Paris 10th arrondissement! The restaurant welcomes you from dawn to nightfall with a complete and indulging offer from breakfast to dinner including lunch and happy hour. The asset: several areas, several atmospheres, perfect for coworking!
Seven years after the first restaurant set Avenue de Wagram, The Place To founders Valérie and Benoît Kistler open another lively location in the city, within walking distance from the Gare de l'Est station. A new place inspired by the ecosystem in the 10th arrondissement – a very lively district in Paris – to come up with the decoration of the place and the three-monthly menu.
The latest creation by The Place To – inaugurated in early June 2022 – was created as a bright, friendly and welcoming place. Set right across the train station, from 8 a.m. to midnight, it welcomes travelers and passersby, providing food from 11 a.m. to 11 p.m.
It will definitely be the new HQ for a lot of you! Go to the restaurant and have a seat in one of the spaces. To choose: the sweet patio covered in soft green hues, open onto the outdoors, the cozy-lounge area with leather chairs, the wood swings in the quieter corner, or straight at the bar displaying industrial curves.
Flavors and scrumptiousness are to be expected in the homemade dishes based on seasonal fresh fruits and vegetables. As for meat, it is local.
As for starters, the waiter proposes tapas to share: we loved the Baba Ganoush/pomegranate, a very surprising mix of eggplant and pomegranate molasses, and the satay-smoked hake.
Then, a dozen hearty and modern dishes available from €16, including the famous Classic Burger that won the Socopa cup in 2019! We tried it and we get it! Allow €17 for the simple burger and €22 for a double pleasure.
As for dessert, get the green cheesecake based on green matcha tea and strawberry caramel, de-li-cious!
Without forgetting the child's menu, for €15, and the all-you-can-eat brunch on Sundays for €28.
To pair it all, go for the house's favorite cocktail, the "Tsar 3", based on vodka, mashed strawberries and champagne. Also available: a great list of wines, and two editions of beers created by the house and brewed in Île-de-France.
Please also note the place provides a Happy Hour from 5 p.m. to 8 p.m.!
Check the menu thanks to the QR code.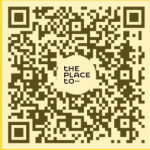 An extra and significant asset at The Place To: the coworking area you will love to have a seat at for work!
L'abus d'alcool est dangereux pour la santé, à consommer avec modération.