Published by La rédaction · Photos by My B. · Published on 18 May 2022 at 09h31
Baos are steamed buns that conquered the hearts of foodies in Paris. To enjoy this Asian specialty guilt-free, we have gathered our favorite places! Careful, here is an indulging selection!
What is round, white, fluffy and irresistible? A bao of course! This steamed bun has become a favorite in Paris. Between local gems and new trendy spots, many beautiful locations in the city helped growing the popularity of this Asian specialty. Stuffed with meat, vegetables, taro, soy, or even kidney bean, it delights people with a sweet-tooth as much as those into savory flavors.
Calling all fans of this specialty and curious people willing to discover it, here are our favorite places in Paris to enjoy a bao or two.




Yi One, the Chinese restaurant serving delicious pancakes, noodles and baozis
Yi One, here is the name of the latest Chinese restaurant that opened on the Left Bank, a stone's throw from the Jardin du Luxembourg. A great spot serving delicious Jianbing pancakes, soups, noodles and dumplings, as well as warm steamed baozis. [Read more]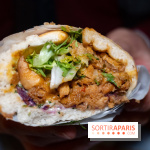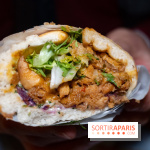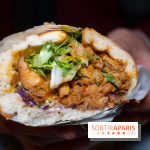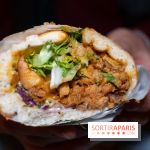 Starving Club – Thibaut Spiwack's latest street-food restaurant
Tasty street food fans, the Starving Club, the latest restaurant by Thibaut Spiwack competing in Top Chef France 2022 is likely to be very indulging. The chef serves street-food recipes from all around the world (burgers, gyros, banh mi…) based on ecofriendly produces. [Read more]




Baobar, the latest bao counter in the Marais
Baobar, this is the name of the latest restaurant by the MAHUMAHU team, a Gua Bao bar also serving more Taiwanese specialties in the Marais, likely to make you fall in love with it. Have a seat at the counter and enjoy tapas-like dishes to share, packed with flavors. [Read more]




Bleu Bao, Bao family's latest restaurant
The Bao family has a new baby! Called Bleu Bao, this new restaurant – still inspired by Chinese cuisine – is to open in February 2022 in Paris 9th arrondissement! [Read more]




Shiso Burger, the bao burger restaurant in Saint-Michel
Calling all bao and burger fans! Shiso Burger is the great place to give a shot now. This restaurant serving bao burgers expects you in Saint-Michel to indulge the Latin Quarter in a great décor! [Read more]




Yansai: the Asian street food canteen in Les Batignolles, and delicious gua boas
Sharing, friendliness and quality cuisine are the watchwords of Yansai: this new canteen promoting Asian street food and nestled in Les Batignolles. Undoubtedly the best gua baos in Paris! [Read more]




Délices Lepic, the exquisite Chinese canteen in Montmartre
Délices Lepic, this is the name of the Chinese restaurant giving pride of place to fresh noodles made by hand and before your eyes. Between noodle soups, fried noodles, dumplings, and other typical Chinese dishes, you will find something to nibble on! [Read more]




Patisserie Saison's latest Banh Bao and Baozi bar
Calling all Banh Bao and Baozi fans, Pâtisserie Saison unveils their latest bao bar. Stuffed with meat, vegetables, or even sweet style with Nutella, you will be surprised and definitely delighted. [Read more]




La Cantine Chinoise, the exquisite Chinese restaurant in Belleville
You may have walked by it without noticing it. And yet for over 20 years, La Cantine Chinoise has been delighting Belleville neighborhood locals. We recommend you go and discover Wenzhou's specialties. Dumplings, eggrolls, tempuras, woks, kaifans, tanmians… So good! [Read more]




Steam Bar, the fantastic dim sum and steamed food restaurant
Let us run to rue du Sabot to discover Steam Bar, a hidden restaurant devoted to steamed food and Dim Sum. How about diving into a universe between Hong Kong, Tokyo and Paris? [Read more]




Yi Bowl Noodle, the new noodle restaurant in the République area
République has welcomed a new noodle spot! Yi Bowl Noodle has just settled in, a stone's throw from the famous square, with Chinese specialties and its terrace with high boys and giant games! [Read more]




Gros Bao, the new tasty spot by Petit Bao team
Drum rolls… Petit Bao team has opened a new restaurant in Paris: Gros Bao, near the Canal Saint-Martin. [Read more]




Petit Bao restaurant: Shanghai food in Paris
Shanghai food comes to Paris 2nd arrondissement with the opening of Petit Bao. Authentic Chinese restaurant, this new address gives Shanghai baos pride of place. [Read more]




Baoli Bao: a new temple of Bao Burger in Paris
Bao Burger has a new spot in Paris and it's Baoli Bao. Nestled in the Faubourg Poissonnière neighborhood, this colorful restaurant will surprise you. [Read more]