Published by La rédaction · Photos by Manon C. · Published on 21 June 2022 at 16h34
Craving a delicious sandwich whilst strolling around Paris? Here are the best sandwiches to enjoy for a tasty lunch on the go! Banh Mi, Lobster Rolls or even gourmet kabob, you will be delighted.
We love roaming around Paris but it definitely whets the appetite! So, for a tasty gourmet break, we have gathered our favorite spots where you can enjoy a delicious sandwich to enjoy on-the-go. Here are the best places for a sandwich in Paris:




Pastrami & Bun, the month's street food collab by Moïse Sfez x Hirmane at Janet
When Moïse Sfez – running Janet – meets Hirmane, the street-food prince, it ends up with a cheeky collab: the Pastrami & Bun sandwich. [Read more]




Sonny's Deli, genuine New-York sandwiches in Paris
Foodporn alert! Sonny's Deli is opening so you can indulge yourselves to genuine New York style sandwiches! Heart stopping! [Read more]




Babka Zana opens its first indulging coffee shop by the Place des Vosges
Are you fan of Babka Zana's delicious babkas and Levantine specialties? Head to the Place des Vosges to discover the first coffee shop of the brand expecting you from morning to afternoon, including lunch with a great savory offer to enjoy on site or in the park next door. [Read more]




With Mie, finger food style sandwiches in Neuilly, perfect for a picnic
For an impromptu picnic or a light lunch on-the-go, With Mie is the solution with mini-sandwiches based on fresh ingredients. [Read more]




Toscanino, rue Mouffetard's schiacciate restaurant street-food style
Have you heard of schiacciate? This baked bread coming from Italy is coming to Paris as delicious sandwiches available at Toscanino, a restaurant in the 5th arrondissement, rue Mouffetard. A great product to enjoy on site or on-the-go and packed with the Florence sun. We put it to the test, let us tell you more about it. [Read more]




Guide to the best croque-monsieurs in Paris
How about having some croque-monsieur – or grilled cheese – today? Here are restaurants in Paris where you can have this French cuisine classic. [Read more]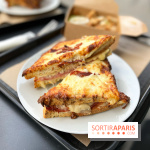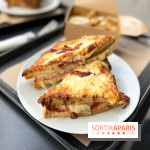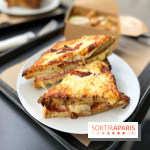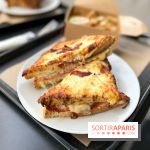 Faste, the hearty and original grilled cheese restaurant
On the menu of Faste, one star only: grilled cheese, available in countless original and regressive recipes. [Read more]




Benchy: the coffee shop dedicated to sandos in Paris 6th arrondissement
Sando, this famous Japanese sandwich, can now be enjoyed in Paris 6th arrondissement thanks to the opening of the Benchy coffee shop. Savory or sweet, you cannot resist it, as it is often paired with delicious matcha latte! [Read more]




A Têt banh mi at Plan D for the Lunar New Year 2022
Plan D celebrates the Lunar New Year 2022, and especially the Têt – the Vietnamese New Year – with a very delicious banh mi sandwich, available from January 30 to February 13, 2022, only! [Read more]




Jimmy's Street Food, the new temple of vegan street-food
At Jimmy's Street Food, street-food is served vegan style with generous and homemade dishes, without any ingredient of animal origin. A restaurant likely to delight even the most resistant. [Read more]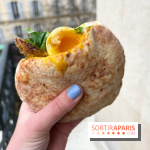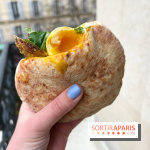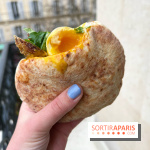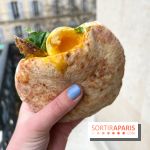 Dizen, the delicious Israeli street-food counter in Pigalle
Discover a main dish from Israeli street-food at Dizen: sabich! Pita bread stuffed with wonders. It is easy, and it is even the only dish available at the counter. [Read more]




Janet by Homer, Lobster king Moïse's Wagyu Corned Beef sandwich
Lobster Roll World's Champion Moïse Sfez opens Janet by Homer, a street food place serving real corned beef sandwich, New York style, based on Wagyu beef. Let us run and discover this new and indulging spot. [Read more]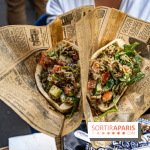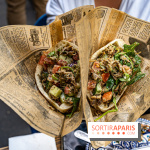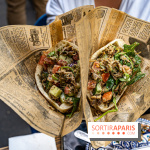 Our favorite best kabobs, pita sandwiches and shawarmas in Paris
Calling all street-food lovers, we have gathered our favorite locations in Paris to treat yourselves to an indulging kabob, super hearty pita sandwich or a delicious shawarma. Careful, mouthwatering selection! [Read more]




Road Trip Paris, the street-food spot serving indulging hot dogs and taiyaki waffles
Road Trip is a genuine culinary journey through world's street food without leaving Paris. Set a stone's throw from the Grand Rex, this indulging location invites us to enjoy homemade hot dogs and introduces us to taiyaki, Japanese waffles shaped like a fish. [Read more]




Instinct Origine, the new gourmet sandwich store in the Sentier area
Bistrot Instinct founders open a new store, Instinct Origine. This new street-food restaurant is a high-range sandwich store set in the heart of the Sentier area in Paris 2nd arrondissement. On the menu? Kebobs, and banh mi revisited in a gourmet and French fashion. So good. [Read more]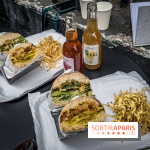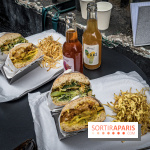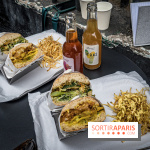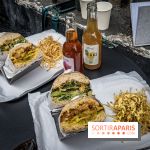 Plan D, the new vegan sandwich and ice-cream parlor by the Canal Saint Martin
Plan D is the brand-new vegan canteen that opened by the Canal Saint-Martin. On the menu? Sandwiches based on seasonal vegetables and (vegan) ice creams. Cooked street-food to enjoy on the terrace or by the canal. [Read more]




B. Bell, delicious spit-cooked food French way in République
Head to the République area to discover B. Bell, the small store giving pride of place to spit-cooked food French way with super-fresh, thoroughly sourced ingredients and very original recipes! [Read more]




Snack Attack, the latest street-food restaurant in Paris 9th arrondissement
Snack Attack is a brand-new street-food restaurant about to open in Paris 9th arrondissement rue de Rochechouart. On the menu of Snack Attack? Sandwiches, salads, pastries, and mezzes inspired by Californian cuisine, as well as Mediterranean gastronomy. And of course, everything is homemade. [Read more]




Smile Ramey, gourmet kabob house in Paris 18th arrondissement
Good food alert! We have found one of the best kebob houses in Paris. Run to the 18th arrondissement to discover Smile, the street-food restaurant delighting the 18th arrondissement with great homemade recipes for an affordable cost. [Read more]




Berry: the seasonal canteen, and coffee shop in Le Marais neighborhood
Le Marais canteen and coffee shop Berry provides you with its Mediterranean cooking and pastries available on delivery and to takeaway for lunch. Head to Paris 3rd arrondissement for a health lunch based on fresh and seasonal produces. [Read more]
Did it whet your appetite?