Published by Manon C. · Photos by Manon C. · Published on 29 June 2022 at 20h57
Street-food fans, you will certainly get more than you bargained for this spring-summer 2022! Here are the best street-food eateries to enjoy outside, in the sun!
Please street-food, dear, what do you have in store for us this spring-summer 2022? Every year, Paris street-food offer grows and unveils little-known specialties. It is simple, there is something for everyone, every craving and every budget, for our greatest foody pleasure.
Street-food to be enjoyed on the go is great and enables us to walk and visit while having a great meal. But let us be honest, having a seat on a terrace, in the sun to have a well-stuffed sandwich is as delightful!
Whether you went for a Berlin kabob with roasted veggies and fresh herbs; or Portuguese or Venezuelan specialties to make your taste buds discover something new, whether you drool in front of croque-monsieur packed with melted cheese, or some fresh banh-mi made by the book; the arrival of sunny days and long lunches or dinners outside may sound as fantastic as it sounds to us!
Here are the best street-food locations to enjoy outside this spring-summer 2022!
Street-food restaurants to enjoy outside in Paris:




Sonny's Deli, genuine New-York sandwiches in Paris
Foodporn alert! Sonny's Deli is opening so you can indulge yourselves to genuine New York style sandwiches! Heart stopping! [Read more]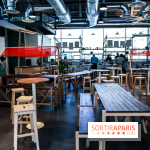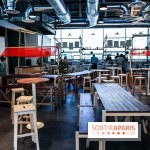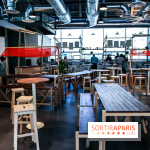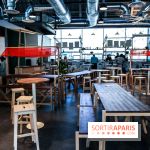 HOBA: sustainable food court at Paris Parc Martin Luther King - our pictures
You may have heard about the temporary "HO" terrace. This spring, discover HOBA, the latest place devoted to sustainable food. Initiated by Hasard Ludique team, this new mouthwatering food court expects you from June 2, 2022, in the middle of the Parc Martin Luther King in Paris 17th arrondissement. [Read more]




Hanami Paris: the temporary and mouthwatering terrace across the Eiffel Tower is back
Feel like discovering a new summer terrace inducing to travel? Head to Hanami. Set on the parvis of the Paris aquarium, this restaurant-terrace provides us with a delicious immersion in the country of the Rising Sun thanks to the yatai concept, and a very yummy street-food menu. [Read more]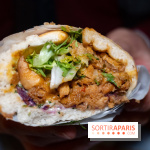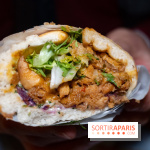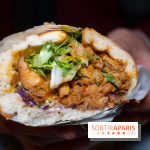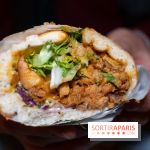 Starving Club – Thibaut Spiwack's latest street-food restaurant
Tasty street food fans, the Starving Club, the latest restaurant by Thibaut Spiwack competing in Top Chef France 2022 is likely to be very indulging. The chef serves street-food recipes from all around the world (burgers, gyros, banh mi…) based on ecofriendly produces. [Read more]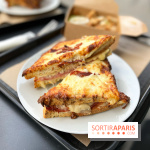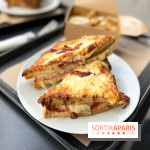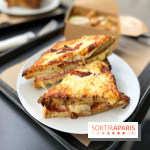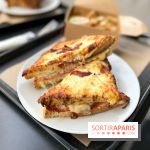 Faste, the hearty and original grilled cheese restaurant
On the menu of Faste, one star only: grilled cheese, available in countless original and regressive recipes. [Read more]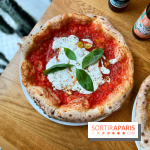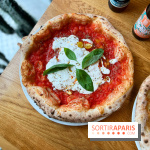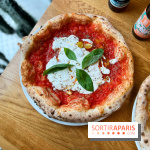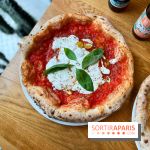 Bricktop Pizza, the fantastic pizza by the Canal Saint-Martin
For a heartily garnished Neapolitan pizza, both affordable and made by the book, run to Bricktop Pizza by the Canal Saint-Martin. [Read more]




Galbar, the creperie serving surprising flavors in Paris 10th arrondissement
Craving some crêpe with uncommon flavors? Head to Galbar, a surprising creperie set in Paris 10th arrondissement, a stone's throw from the Grand Rex, serving sweet and savory crêpes with the most uncommon fillings, served in a cone and to enjoy on site or on-the-go. [Read more]




Janet by Homer, Lobster king Moïse's Wagyu Corned Beef sandwich
Lobster Roll World's Champion Moïse Sfez opens Janet by Homer, a street food place serving real corned beef sandwich, New York style, based on Wagyu beef. Let us run and discover this new and indulging spot. [Read more]




Iconik: the new festive street-food, and bar court opens
Iconik, here is the name of this new and great food court opening from Wednesday January 13, 2022, in Paris 13th arrondissement. Head to Italik to discover this new place of life gathering street-food, coffee shop, bar and festive entertainments. [Read more]




El Vecino, the latest Mexican taqueria in Paris
Mexican street food in all its diversity at El Vecino, a small taqueria that opened in Paris. On the menu, tacos galore! [Read more]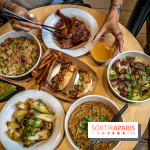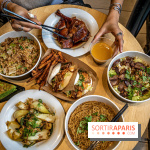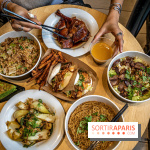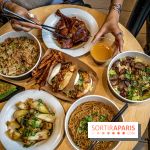 Ducky's, the comforting Asian street-food restaurant in Montparnasse
Ducky's is an indulging restaurant making Asian street-food and Peking duck fans very happy in Montparnasse. Discover a friendly spot with an excellent quality-price ration for a flavorful lunch or dinner. [Read more]




Papo, flavorful Portuguese street-food in Paris 11th arrondissement
This new eatery called Papo highlights a little-known Portuguese specialty: Papo, a small stuffed bread coming in several and mouthwatering versions. [Read more]




The Baguette du Relais, the fooding spot between street food and traditional French cuisine
The Relais de Venise reinvents itself with the Baguette du Relais, an exceptional baguette, perfect mix of French tradition and street food, thanks to bread stuffed with golden French fries, grilled rib steak and secret but flavorful sauce! [Read more]




Totuma, the latest Venezuelan street-food restaurant
Feel like discovering new flavors? How about trying Venezuelan street-food? This is what the latest restaurant in Paris 11th arrondissement, Totuma, offers. On the menu, arepas, tequeños, and even tajadas… [Read more]




Nonette, the latest banh-mi counter by The Hood
Nonette is the latest banh-mi counter created by The Hood recently inaugurated just across the first restaurant. On the menu, mouthwatering banh-mi, regressive and original donuts! [Read more]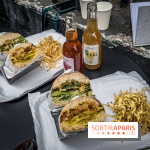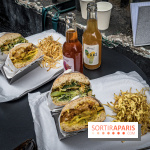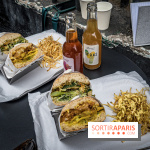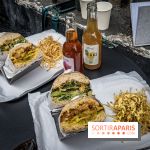 Plan D, the new vegan sandwich and ice-cream parlor by the Canal Saint Martin
Plan D is the brand-new vegan canteen that opened by the Canal Saint-Martin. On the menu? Sandwiches based on seasonal vegetables and (vegan) ice creams. Cooked street-food to enjoy on the terrace or by the canal. [Read more]




B. Bell, delicious spit-cooked food French way in République
Head to the République area to discover B. Bell, the small store giving pride of place to spit-cooked food French way with super-fresh, thoroughly sourced ingredients and very original recipes! [Read more]




Mabrouk: Jewish Tunisian cuisine comes to Paris 3rd arrondissement
Mabrouk is a small corner of Tunisia in the upper Marais. A bit as if someone cut a piece of the La Goulette neighborhood and put it there, at the corner of the rue Réaumur and the rue Saint-Martin, just across the Eglise du Conservatoire des Arts et Métiers, a stone's throw from the Arts et Métiers metro station. [Read more]
You will definitely indulge yourselves without counting calories too much!