Published by Caroline J., Rizhlaine F. · Photos by Caroline J. · Published on 24 February 2022 at 14h37
The Fashion Week is back in Paris, coming with its share of colorful, fun, and trendy looks to enjoy in the streets of the city. And because fashion fans are definitely foodies, here is a selection of trendy, chic, and festive restaurants to discover during the Paris Fashion Week.
Fashion designers and stylists are about to once again take over the streets and monuments of Paris for the unmissable Fashion Week. For this week of fashion, shows are performed one after the other, at a crazy pace with always incredible and original stagings. For running from one show to the other whets the appetite, here is a selection of restaurants where you can have lunch or dinner for the Paris Fashion Week. Trendy, festive, fashionable, with great views, or chic, you only have to make your choice!




Relais Plaza by Jean Imbert serving traditional dishes
Calling all foodies! Relais Plaza has reopened the brasserie with Jean Imbert at the helm. Go and (re)discover the place with a great menu revisited old-fashioned style! [Read more]




Sfacciata, the latest retro-contemporary Italian restaurant
Sfacciata, here is the name of this new Italian restaurant opening in Paris 1st arrondissement, a stone's throw from the Jardins des Tuileries. A retro-inspired concept serving contemporary Italian cuisine, we love it! [Read more]




Tzantza à Paris: Latin-American-inspired and festive restaurant and cocktail bar
To enjoy a fabulous gustatory journey between Peru and Japan, head to Tzantza. Nestled in Paris 1st arrondissement, this Latin-American inspired restaurant and cocktail bar reveals Nikkei-inspired food, delicious beverages and the friendly and festive atmosphere we missed so much! [Read more]




+400° Laboratorio, Gennaro Nasti's chic and gourmet pizzeria
Italian chef Gennaro Nasti unveils his very first restaurant in Paris, +400° Laboratorio, in the 9th arrondissement. A pizzeria displaying chic and smart decor, serving delicious gourmet pizzas among other Italian specialties. [Read more]




Le Tout-Paris, Cheval Blanc Paris brasserie with views on the Seine
Le Tout-Paris welcomes you all day long on the 7th floor of Cheval Blanc Paris on the terrace serving breathtaking views on the Seine and the capital city's emblematic monuments, or in the garden above the Paris roofs. From breakfast to dinner, or for a cocktail, this contemporary Parisian brasserie will arouse your taste buds and your conscious with horizon as far as the eye can see. [Read more]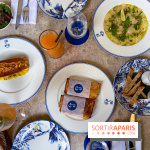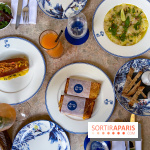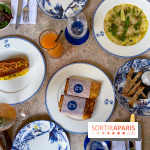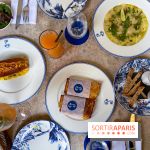 Café Lapérouse, the explorers' brasserie at Hôtel de la Marine
Although Hôtel de la Marine is a cultural gem to absolutely discover in Paris, Café Lapérouse is also a stop you do not want to miss. This restaurant serves a menu paying a proud tribute to sailors, including explorer Jean-François de La Pérouse. On the menu, a magnificent setting and fresh, tasty cuisine at the level of the monument! [Read more]




Dalloyau Saint-Lazare: new restaurant ran by chef Justine Piluso
Dalloyau takes over the magnificent Passerelle Eugénie in Saint-Lazare and opens a new restaurant. To tickle your taste buds, the menu has been put up by former Top Chef France 2020 contestant Justine Piluso. She serves delicious dishes based on seasonal ingredients from Île-de-France. And let us not forget about the staple desserts made by Jérémy Del Val. [Read more]




Granite, Tom Meyer's restaurant aiming at the stars
Tom Meyer recently opened his first restaurant in Paris, Granite, surrounding himself with Stéphane Manigold and Anthony Chenoz for the pastry part. A new restaurant soon to be awarded their first star in a few weeks. [Read more]




Mademoiselle Mouche, Bateaux-Mouches' rooftop is back for the winter 2021/2022 season
After summer, comes winter. Mademoiselle Mouche aka Bateaux-Mouches rooftop has decided to tackle the winter season. On the menu of the venue with views on the Eiffel Tower? A new festive restaurant serving CBD-based cocktail and a winter garden. [Read more]




Le Comptoir de la Traboule, a new gourmet restaurant a stone's throw from the Eiffel Tower
Le Comptoir de la Traboule, a restaurant offering a variety of small dishes, has recently settled close to the Eiffel Tower. Behind the stove, chef Jules Monnet working before the eyese of guests seated at the counter. [Read more]




The 99 Haussmann – Hotel Bowmann's bistronomic restaurant
At the foot of the elegant Hôtel Bowmann and its historic cut stone building stands the 99 Haussmann, a bistronomic restaurant with chef Matthieu Garrel at the helm. Coming from Brittany he shines a light on seafood produces and ingredients from his region among others. [Read more]




Peppe, Europe's best pizzeria 2022 aka Giuseppe Cutraro's pizzeria
Peppe restaurant by chef Giuseppe Cutraro in the Saint-Blaise area in Paris 20th arrondissement has been named Europe's best pizzeria 2022. Let's go and enjoy delicious pizzas facing the Saint-Germain de Charonne church. [Read more]