Published by Manon C., Caroline J., Rizhlaine F. · Photos by My B. · Published on 13 June 2022 at 11h33
The Fashion Week is back in Paris, coming with its share of colorful, fun, and trendy looks to enjoy in the streets of the city. And because fashion fans are definitely foodies, here is a selection of trendy, chic, and festive restaurants to discover during the Paris Fashion Week.
Fashion designers and stylists are about to once again take over the streets and monuments of Paris for the unmissable Fashion Week. From June 21 to 26, 2022, The Men's Fashion Week is coming to the city!
For this week of fashion, shows are performed one after the other, at a crazy pace with always incredible and original stagings. For running from one show to the other whets the appetite.
So, to help you out, here is a selection of restaurants where you can have lunch or dinner for the Paris Fashion Week, and relax your feet for a little while!
Trendy, festive, fashionable, with great views, or chic, you only have to make your choice in the selection of great restaurants to discover for Fashio Week 2022!
Fashion Week 2022 in Paris: restaurants to discover this week: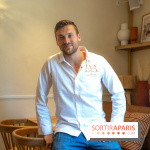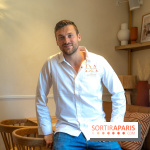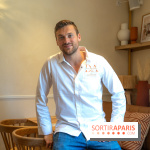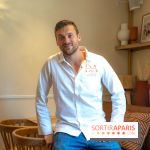 Dame Augustine, Top Chef France 2022 Lilian Douchet's affordable and delicious restaurant
Lilian Douchet – who competed in Top Chef France 2022 – recently inaugurated his new restaurant in Paris, called Dame Augustine. We went and discovered this charming restaurant. Divine cocktails, great dishes that are affordable, indulging and fuss-free. [Read more]




Tasty and beautiful hotel restaurants in Paris
Confidential and tastefully decorated, hotel restaurants are the solution to have an indulging moment in a smart setting, far from the Parisian hustle and bustle. [Read more]




Tamara, Clément Vergeat's delicate and genius gourmet table
Two years later, here we are, back at Tamara aka Clément Vergeat's delicate and inventive table. A gourmet peregrination that went straight to our hearts. [Read more]




Peppe, Europe's best pizzeria 2022 aka Giuseppe Cutraro's pizzeria
Peppe restaurant by chef Giuseppe Cutraro in the Saint-Blaise area in Paris 20th arrondissement has been named Europe's best pizzeria 2022. Let's go and enjoy delicious pizzas facing the Saint-Germain de Charonne church. [Read more]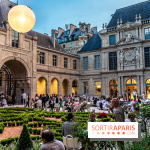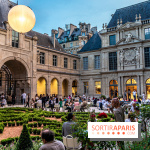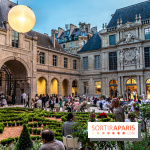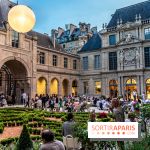 Fabula, Thibaut Spiwack's ephemeral restaurant at Paris Musée Carnavalet
Fabula, here is the name of Top Chef France contestant Thibaut Spiwack's ephemeral restaurant settling from May 6, 2022 to October within the Musée Carnavalet. [Read more]




The most beautiful restaurants in Paris
Are you looking for the most beautiful restaurants in Paris? Those taking your breath away from the moment you get in, those making your eyes sparkle? Between new places and hidden gems, here are the greatest, trendiest or unmissable locations discovered by our editorial board worthy of your time, even if it is to indulge your eyes for a gourmet and lovely break. [Read more]




Le Shack, majestic restaurant and cocktail bar in the former Calmann-Levy printing works
Both a restaurant, cocktail bar, coworking area and place dedicated to wellness, the Le Shack is a unique venue set within the former Calmann-Levy printing works. Chef Albane Auvray unveils vegetable and seasonal food, local and complying with the environment convincing everyone tasting it. [Read more]




CoCo, the magnificent restaurant at the Opéra Garnier
CoCo, here is the name of this wonderful restaurant set within the Opéra Garnier. Imagine: a restaurant featuring curved shapes, lush vegetation, cozy alcoves and great terrace, the whole within an iconic landmark in Paris. [Read more]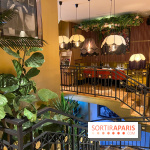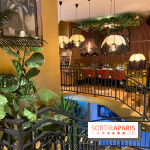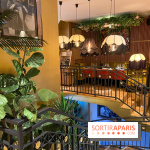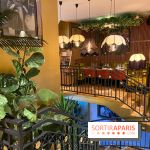 Paillettes Paris, the festive restaurant with dancefloor a stone's throw from the Champs-Elysées
Paillettes, so is the name of this fantastic location expecting you a stone's throw from the Champs-Elysées. In this new generation restaurant, enjoy an art déco setting while eating fusion and modern cuisine cooked over charcoal. As a bonus, enjoy a great atmosphere with live music. [Read more]




Granite, Tom Meyer's restaurant aiming at the stars
Tom Meyer recently opened his first restaurant in Paris, Granite, surrounding himself with Stéphane Manigold and Anthony Chenoz for the pastry part. A new restaurant soon to be awarded their first star in a few weeks. [Read more]




Mimosa, Jean-François Piège's restaurant at the Hôtel de la Marine opens
Mimosa is Jean-François Piège's restaurant opening very soon at the Hôtel de la Marine serving a never-before-seen food concept in Paris: a deviled egg (English for "oeuf mimosa" in French) bar but not only. Go and discover this unique place with majestic decor while enjoying the chef's dishes. [Read more]




Tzantza à Paris: Latin-American-inspired and festive restaurant and cocktail bar
To enjoy a fabulous gustatory journey between Peru and Japan, head to Tzantza. Nestled in Paris 1st arrondissement, this Latin-American inspired restaurant and cocktail bar reveals Nikkei-inspired food, delicious beverages and the friendly and festive atmosphere we missed so much! [Read more]




Relais Plaza by Jean Imbert serving traditional dishes
Calling all foodies! Relais Plaza has reopened the brasserie with Jean Imbert at the helm. Go and (re)discover the place with a great menu revisited old-fashioned style! [Read more]




Le Tout-Paris, Cheval Blanc Paris brasserie with views on the Seine
Le Tout-Paris welcomes you all day long on the 7th floor of Cheval Blanc Paris on the terrace serving breathtaking views on the Seine and the capital city's emblematic monuments, or in the garden above the Paris roofs. From breakfast to dinner, or for a cocktail, this contemporary Parisian brasserie will arouse your taste buds and your conscious with horizon as far as the eye can see. [Read more]




Montecito, the new Californian restaurant in Opéra
Montecito, this is the name of the latest Californian restaurant opening in Opéra. New restaurant of Hotel Kimpton St Honoré – opening on Monday August 23, 2021. This wide restaurant-bar can be accessed from the street and enjoys a verdant patio likely to seduce you. [Read more]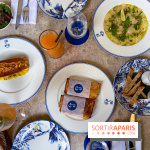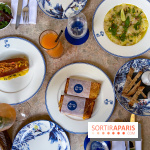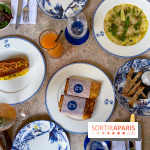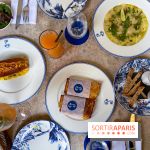 Café Lapérouse, the explorers' brasserie at Hôtel de la Marine
Although Hôtel de la Marine is a cultural gem to absolutely discover in Paris, Café Lapérouse is also a stop you do not want to miss. This restaurant serves a menu paying a proud tribute to sailors, including explorer Jean-François de La Pérouse. On the menu, a magnificent setting and fresh, tasty cuisine at the level of the monument! [Read more]




L'Oiseau Blanc: The Peninsula's high quality restaurant
L'Oiseau Blanc, this prestigious restaurant-bar makes hotel Peninsula Paris proud. This magical place welcomes you on the sixth floor of the Parisian palace featuring breathtaking views, 360° on the most beautiful monuments of the city, including the Eiffel Tower. [Read more]




Café de l'Homme: Trocadero terrace-restaurant with views on the Eiffel Tower!
In summer, Café de l'Homme is one of tourists' favorite spots. Within the Parisian Palais Chaillot, facing the Eiffel Tower, the restaurant delights taste buds and eyes. This restaurant, opened in 2004, got a makeover in 2015 with a new décor designed by Gilles & Boissier, a new layout. As for the terrace, it enjoys a new setting since September 2020. Rediscover the new Café de l'Homme now! [Read more]
Happy Fashion Week to you all in Paris!