Published by My B. · Photos by My B. · Published on 28 July 2022 at 13h56
With the warmer weather, we want to go to the countryside and unearth great cafés and lush restaurants a tad confidential. Between museum terrace or sunny terrace nestled in a fabulous park or garden, here is our selection of great deals to relax and enjoy the sun.
Are you looking for a great terrace in a Parisian garden? We have got you covered! We must say the capital city does not lack great deals for cafés and restaurants to go to the countryside without leaving the city. To hit the nail on the head every time, here are the gems we love, the rare treasures hidden or private inviting to relaxation while enjoying the greenery and flowers. Note sunglasses and a good book are highly recommended to relax while delighting your taste buds.




Café Mulot, Maison de Victor Hugo's hidden restaurant
Sponsored - How about taking a walk in the Marais? Have a break at Café Multo, the French café-restaurant nestled in the heart of the iconic Place des Vosges! This place is perfect to quench your thirst, have lunch or enjoy homemade pastry, far from the Parisian hustle and bustle and the summer heat. [Read more]




Fika Paris, the latest relaxing café at the Swedish Institute
Fika is the name of the latest café inaugurated at the Swedish Institute. In the paved courtyard of this cultural venue shining a light on Sweden, enjoy a welcoming and bright coffee shop with a terrace serving delicious Swedish specialties. [Read more]




Les Petites Mains restaurant in Palais Galliera garden: Spring cuisine by Justine Piluso
Palais Galliera garden houses again a temporary restaurant called Les Petites Mains feaaturing Top Chef France contestant Justine Piluso behind the stove for fresh and spring cuisine, and pastry chef Jeffrey Cagnes for the sweet part. The perfect spot to enjoy the sun across the Eiffel Tower. [Read more]




Rose Bakery at the Balzac's House, the café-tearoom in a bucolic garden
A confidential coffee shop nestled in the hidden and lush garden of the Maison de Balzac sounds very appealing. With a 100% organic and homemade menu, its bright setting opened onto the relaxing garden and views on the Eiffel Tower, it is hard not to be delighted. [Read more]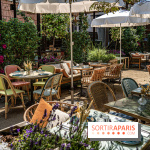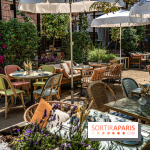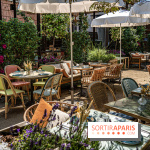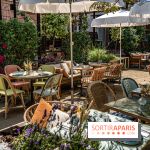 Les Belles Plantes, the Jardin des Plantes terrace-restaurant is back
Les Belles Plantes, here is the name of the café-brasserie of the Jardin des Plantes, that returns after welcoming Manzili by Mohamed Cheikh last year. Two charming green terraces with a chic and bucolic décor, boards to share and a fresh and delicious cuisine, it has it all. [Read more]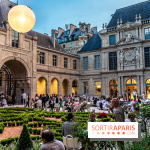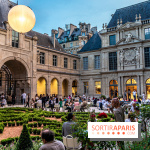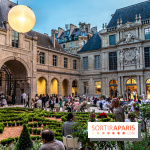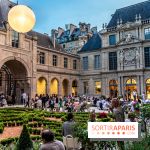 Fabula, Thibaut Spiwack's ephemeral restaurant at Paris Musée Carnavalet
Fabula, here is the name of Top Chef France contestant Thibaut Spiwack's ephemeral restaurant settling from May 6, 2022 to October within the Musée Carnavalet. [Read more]




Café Renoir, Musée de Montmartre's lush summer terrace
Café Renoir, hidden within the Musée de Montmartre, expects you for a wonderful break in the conservatory or its lush garden. A stone's throw from the Sacré Coeur, come and have a bucolic and tasty break on this shady terrace and tearoom serving a sweet and savory offer. [Read more]




L'Augustine, the new restaurant at Paris Musée Rodin
Now open, the Musée Rodin unveils a new restaurant, L'Augustine, and its magnificent green terrace open on the garden with sculptures. A little haven of peace and good food thanks to female chef Amandine Chaignot. [Read more]
So, shall we go have a seat on a beautiful terrace in a Parisian garden?