Published by La rédaction · Photos by My B. · Published on 20 July 2022 at 13h12
Do you like spicy and exotic cuisine and are you looking for a tasty Thai restaurant in Paris? Discover the best Thai restaurants in Paris, the latest eateries we tried and approved. Luxury Thai or street-food Thai, there is something for everyone.
Pad Thai fans, Khao Phat lovers, red or yellow or green curry enthusiasts, are you looking for the best Thai restaurants in Paris? Here are great places to have a blast. Between new restaurants and lovely spots, discover these Asian restaurants we love in Paris.
For the record, Thai cuisine stands out with the use of some major ingredients such as typical curries, mint, lemongrass and Thai basil. Of course, it shares common points with Chinese, Indian or even Burmese cuisines, but Thai cuisine is famous for being hot and spicy, and it delights fans of thrills and spicy flavors.




Pingwoo, the flowery restaurant-café and cute kitty lattes
Pingwoo is the name of this small eatery and lovely coffee shop set rue Saint-Lazare in Paris 9th arrondissement. A canteen-café with a brunch on Sundays, very flowery, serving genuine homemade fusion cuisine, and gorgeous pastries to pair with the famous and oh-so cute kitty lattes. [Read more]




MOOM MAM, the chic Thai restaurant in Paris 9th arrondissement
Sponsored - The Moom Mam is a fantastic Thai restaurant in Paris mixing chic setting and gourmet Thai cuisine in the department store area, a stone's throw from the Théâtre Mogador in the 9th arrondissement. [Read more]




Nana, MK2 Quai de Loire's new Thai restaurant
New Thai restaurant recently inaugurated within MK2 Quai de Loire movie theater; Nana provides foodies with simple but well-made French-Thai food taking you to faraway lands. [Read more]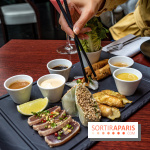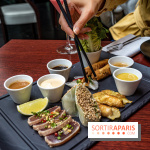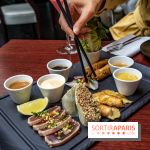 Bon Paris 16e, the restaurant with many rooms
Go and discover Bon, the restaurant set in Paris 16th arrondissement providing many bright rooms designed by Starck and serving divine Asian dishes. [Read more]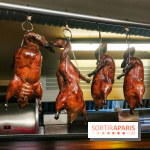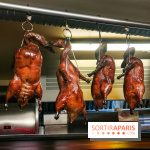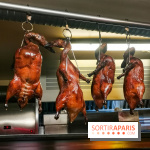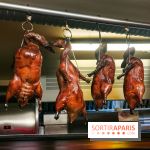 Street BKK Roast & Beer Pigalle, the latest Street Bangkok restaurant
Calling all Asian street food and meat lovers! We have found your brand-new canteen: Street BKK Roast & Beer serving Asian-style roasted meats – including some exquisite Peking duck. The restaurant recently opened by Pigalle. The menu is available for delivery and takeout while we wait for the terrace to open. [Read more]




Little Bambou, the new take-away in Paris
Little Bambou, this is the name of new generation Thai restaurant Bambou's new takeaway. In addition to be a top bar, the place has started to provide – in the street – a takeaway counter likely to delight fans of delicious meals to bring home or back to work. [Read more]




Bambou: New Thai restaurant in Paris
It's a magnificent and delicious travel that Bambou offers us to experience. Through this new Thai restaurant, Thomas Delafon and Jean-Pierre Lopes, the two masterminds behind the project, take us to Asia, on the visual level and on the culinary level! [Read more]




Chang, the new Thai restaurant near Paris Opéra
It's been four months that the Thai restaurant CHANG has set up on rue des Pyramides, not far from Paris Opéra to offer you a creative and oh-so delicious Thai cuisine… [Read more]
So, shall we go get some Thai food, then?