Published by La rédaction · Photos by My B. · Published on 25 June 2022 at 00h54
Feel like sipping a drink with friends or colleagues in a confidential place? Hotel or restaurant terraces, discover the greatest confidential terraces in Paris for spring-summer 2022.
How about chilling in a confidential setting? Sipping a glass of champagne or a cocktail with friends or colleagues? Let us treat ourselves (we deserve it from time to time...) and discover Paris confidential terraces for spring-summer 2022!
This is a moment highly anticipated by people eager to relax in the sun as soon as it gets out again. But some of them are more demanding than other and wishes to sunbathe in exceptional places. And they are right! Why just going to an average venue when you can eat and drink on an oh-so confidential terrace. Careful though, keep it quiet to keep these coveted places still away from the Parisian hustle and bustle.
From the green setting of the L'Augustine to the very chic Pavyllon, to the confidential terrace of the Auberge du Bonheur, here is a slection of the greatest confidential terraces in Paris to enjoy this spring-summer 2022!
Confidential terraces in Paris for spring-summer 2022:




Ernest, the solidarity-driven restaurant financing food aid!
The Ernest charity opened a solidarity-driven restaurant to finance their actions. Set within walking distance from the Porte de Bagnolet, in the 2,000sqm of garden of a new third place called "Le Sample", this restaurant works with residing chefs and is thought as a place of meeting and sharing relying on the charity's values. Come and enjoy their terrace! [Read more]




Ralph's restaurant opens their sublime hidden terrace with Sunday brunch
A lovely verdant terrace to make the most of summer with cocktails, authentic American cuisine and indulging brunch... This is what Ralph's provides for the reopening of their patio. Anywya, this is the perfect place to enjoy a quiet break without leaving the French capital. [Read more]




Roch Hôtel & Spa's (very) indulging and hidden summer 2022 terrace, Cap au Sud
Calling all fans of south-inspired food! Roch Hôtel & Spa reopened the summer terrace and on the occasion, gives pride of place to southern cuisine. Chef Rémy Bérerd will serve dishes to share inspired by Italy, Greece, Spain, pairing cocktails and south-inspired dishes. [Read more]




Fika Paris, the latest relaxing café at the Swedish Institute
Fika is the name of the latest café inaugurated at the Swedish Institute. In the paved courtyard of this cultural venue shining a light on Sweden, enjoy a welcoming and bright coffee shop with a terrace serving delicious Swedish specialties. [Read more]




Westin-Paris Vendôme Summer terrace 2022
In 2022, hotel Westin-Paris Vendôme terrace is back for a new summer season. A haven of peace safe from the city's hustle and bustle serving chef David Reneux's delicious cuisine. [Read more]




Shangri-La Paris La Bauhinia's hidden garden-terrace and Asian-inspired menu
For the second year, Shangri-La Paris's magnificent landscaped garden opens to welcome us on La Bauhinia's terrace. Chef Christophe Moret cooks Asian-inspired dishes you can enjoy whilst gazing at the Eiffel Tower. [Read more]




Bar à Bulles – Machine du Moulin Rouge's hidden and verdant rooftop terrace
Bar à Bulles is the discreet rooftop of the Moulin Rouge. Have a seat in this lush setting, surrounded by vintage furniture lovingly bargain-hunted and hanging plants. Enjoy lively parties, movies and nice and affordable cocktails. [Read more]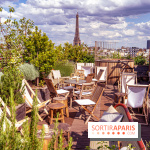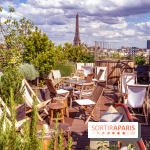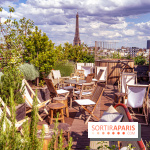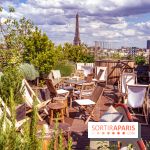 Brach hotel rooftop, the magnificent terrace hidden in a kitchen garden
This is undoubtedly one of the most beautiful rooftops in Paris, Brach hotel perched terrace set within their kitchen garden is a gem to discover. A confidential terrace with panoramic views on Paris to have a relaxing time surrounded by hens, enjoy a Norwegian bath, and smell aromatic plants. [Read more]




Joe & The Juice opens a new juice bar at the Champs-Elysées Galeries Lafayette!
Sponsored - It is at the food court of the Galeries Lafayette Champs-Elysées that magic happens! Joe & The Juice - the famous hybrid coffee shop and juice bar concept coming straight from Denmark - has decided to settle in the basement of the Champs-Elysées department store. [Read more]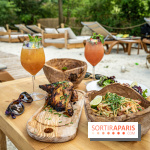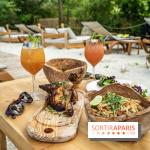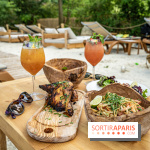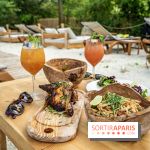 Beach Parisienne, Chalet du Lac's huge terrace-beach back to the Bois de Vincennes
How about having a drink on the beach without even leaving Paris? This is the fantastic experience provided by Chalet du Lac's Beach Parisienne this summer. Meet from May 29, 2022, at the Bois de Vincennes to discover an exclusive beach. [Read more]




Cheval Blanc's summer garden-inspired rooftop terraces
How about enjoying a new rooftop? Head to the Jardin aka Cheval Blanc's 650sqm rooftop serving verdant terraces for great moments above Paris rooftops. [Read more]




Peninsula Paris rooftop bar and breakfast serving gorgeous views
Looking for a beautiful rooftop in Paris? Peninsula Paris terrace bar – open to all without prior booking – is now available. It is time to go touch the clouds and enjoy a delicious cocktail with veggie tapas while enjoying the city. [Read more]




La Bougeotte, the floating wine bar temporarily moored in the Bassin de La Villette
Temporary wine bar barge La Bougeotte once again moors in the Bassin de La Villette until early July! This floating wine bar unveils lots of great wines by French independent winemakers! [Read more]




Hotel Lutetia opens its spring-summer 2022 terraces
Hotel Lutetia switches to summer time and unveils two patios: one at the Brasserie and one at the Patio Saint-Germain, both changed for the warmer weather. [Read more]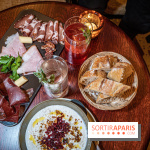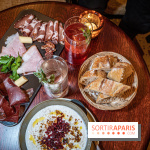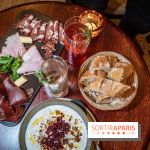 Café Aristide, the hidden bar, restaurant and terrace in Montmartre
Café Aristide opens and welcomes you in their lovely bohemian restaurant for a delicious moment at any time of the day. From breakfast to pre-dinner drink, to dinner or lunch on the hidden terrace, here is a hidden gem likely to delight you. [Read more]




Seven Up, the rooftop with swimming pool and barbecue in Paris unveils a Circus spirit this summer!
The Seven Up is a fabulous rooftop with a swimming pool expecting you outside Paris, in Boulogne-Billancourt. From May 18 to late September, you are expected on Wednesdays to enjoy the Circus Wednesdays, nights themed on circus with fakir, sword swallower, fire breather, magic tricks and more uncommon performances to the sound of DJ sets! [Read more]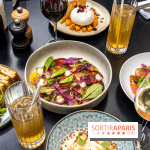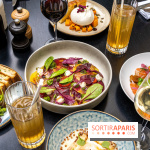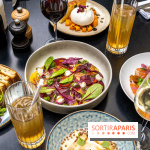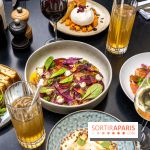 Le Camondo, divine and sustainable cuisine and lush terrace by Parc Monceau
Le Camondo is the restaurant set next to the Musée Nissim de Camondo, ideally located outside Parc Monceau in Paris 8th arrondissement, and is a genuine gem to discover. Between the gorgeous historic spaces, the lush terrace, and fresh cuisine orchestrated by chef Fanny Herpin, here is an indulging break we highly recommend. [Read more]




Rose Bakery at the Balzac's House, the café-tearoom in a bucolic garden
A confidential coffee shop nestled in the hidden and lush garden of the Maison de Balzac sounds very appealing. With a 100% organic and homemade menu, its bright setting opened onto the relaxing garden and views on the Eiffel Tower, it is hard not to be delighted. [Read more]




Petit Toit, the intimate rooftop hidden in Paris 16th arrondissement
Petit Toit is the confidential rooftop expecting you in Paris 16th arrondissement. Perched on the rooftop of restaurant Le Petit Victor Hugo, this sunny terrace provides you with an intimate and bucolic setting in a merry spirit. [Read more]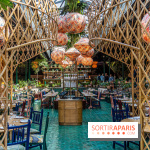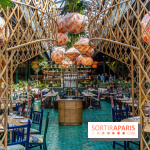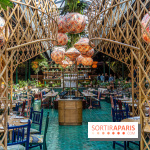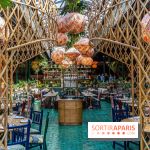 Andia, La Gare restaurant serving indulging Latino food
Andia is the restaurant set in Paris 16th arrondissement replacing La Gare and taking your taste buds to a journey to Latin America, in the heart of the Andes. From dishes to the restaurant with a verdant terrace, one is taken to the Amazonian Forest in Mexico. Great spirit and change of scenery! [Read more]




Roof, La Poste du Louvre Madame Rêve's new rooftop
Roof, here is the name of the new rooftop terrace set at the top of La Poste du Louvre, and expecting us from the spring of 2022. With sublime views on Paris and a nice green corner, this new spot belonging to Madame Rêve is open to all and likely to be a hit! [Read more]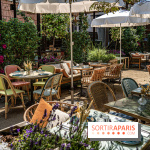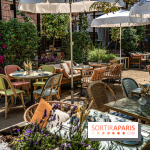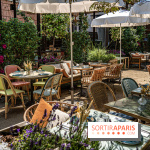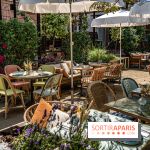 Les Belles Plantes, the Jardin des Plantes terrace-restaurant is back
Les Belles Plantes, here is the name of the café-brasserie of the Jardin des Plantes, that returns after welcoming Manzili by Mohamed Cheikh last year. Two charming green terraces with a chic and bucolic décor, boards to share and a fresh and delicious cuisine, it has it all. [Read more]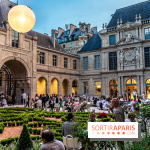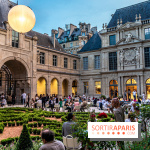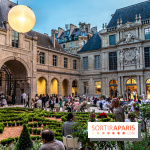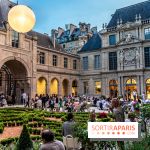 Fabula, Thibaut Spiwack's ephemeral restaurant at Paris Musée Carnavalet
Fabula, here is the name of Top Chef France contestant Thibaut Spiwack's ephemeral restaurant settling from May 6, 2022 to October within the Musée Carnavalet. [Read more]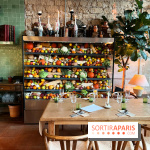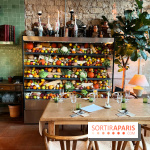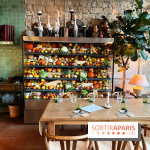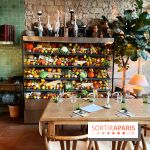 Ora, indulging vegetarian restaurant, culinary show, and edible paintings directly on the table
Set in La Caserne, Ora provides you with a genuine indulging experience through a culinary show performed by chef Saayann, uplifting vegetables in edible paintings made directly on the table. [Read more]




L'Auberge du Bonheur, the confidential terrace in the Bois de Boulogne
L'Auberge du Bonheur is the hidden restaurant in the Bois de Boulogne. Go and discover the lush terrace where bistronomic dishes expect you. Hidden behind the famous "Cascade", this small corner of paradise expects you for genuine moments of relaxation. [Read more]




Pavyllon, Yannick Alléno's Michelin-starred restaurant at Pavillon Ledoyen
It is at the heart of Pavillon Ledoyen – gathering on its own 6 Michelin stars – that chef Yannick Alléno delights foodies as they seat at the counter of his 1-star restaurant, Pavyllon. A genuine experience to enjoy. [Read more]




Eugène Eugène hidden terrace, reopening for the summer 2020
How about a shady and quiet terrace? Head to Eugène Eugène, a super restaurant only 3 kilometers from Paris. This place if a true oasis of freshness with a delicious menu and a relaxed atmosphere. [Read more]




L'Augustine, the new restaurant at Paris Musée Rodin
Now open, the Musée Rodin unveils a new restaurant, L'Augustine, and its magnificent green terrace open on the garden with sculptures. A little haven of peace and good food thanks to female chef Amandine Chaignot. [Read more]




Renewal of Le Durand Dupont in Neuilly
This past summer, Le Durand Dupont in Neuilly sur Seine reopened with a new team. Shell bar, cocktail bar, brunch... Here are the novelties at the new Le Durand Dupont. [Read more]




Rivié, Hôtel Hoxton restaurant in Paris
In 2017, the very awaited Hôtel Houxton from the British chain arrived in Paris! Today, the boutique-hotel is always crowded and so is its restaurant and charming and trendy neo-brasserie, Rivié! [Read more]
Enjoy this relaxing moment!