Published by La rédaction · Published on 20 September 2022 at 10h55
Game areas, exhibitions, stores, bars, fairs, events… Paris is heaven for nerds and pop-culture fans! Here are great places to have fun in Paris.
Are you into manga, video games, series, comics, K-pop, roleplay, movies of all kinds? Are you looking for playful experiences and great places to live your passion out in Paris? Look no more, you are on the right article. This guide proposes a selection of nerd and pop-culture outing ideas for all ages and budgets.
Paris is the capital city of fashion, art, gastronomy, and is heaven for nerds. As a matter of facts, this is where the biggest pop-culture events are held. This is also here you can find the best playful bars and cafés, street-art exhibits, themed stores, gaming areas, and the craziest escape rooms…
Whether you want to have fun on your own, with your family or friends, introducing your passion or meeting with fans, or explore new horizons, you will always find the perfect outing in Paris.
Here are our outing ideas to nerd out in Paris.
Current outings




Press Start 2022: Centre Pompidou's free video game festival
Devoted to video games, Press Start returns from September 28 to October 3, 2022, at Centre Pompidou BPI for its 10th edition. Free of charge, the festival is themed on videogame soundtrack. On the menu, workshops, meetings and video games! [Read more]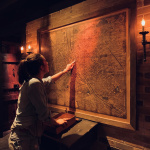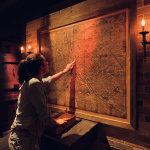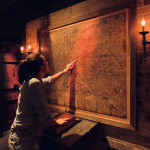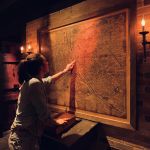 The best escape rooms and immersive experiences in Paris
Cannot get enough of the Adventures of Sherlock Holmes or solving mysteries of any sort? Have you dreamed of solving your own mystery in a haunted manor? Escape rooms let you experience these adventures for one hour with your family or friends. Use your cleverness, team spirit and your observation to help you win! [Read more]




Street-art exhibitions in Paris
Calling all street-art fans! Come along and discover the street-art exhibitions in Paris shining a light on the art of graffiti and spray can through street-artists' works. [Read more]




Saint Patrick's Day 2022: in the footsteps of Oscar Wilde in Paris
For Saint Patrick's Day 2022, follow the footsteps of Oscar Wilde, the most famous of Irish writers, in Paris. All along his life, the artist weaved a special link with the French capital city, and this is where he finished his life in 1900, in solitude and total deprivation. [Read more]




Player One, the ultra-playful retrogaming bar in Paris Halles area
Creative cocktails as tasty as good-looking, a playful and festive ambiance, self-service games: we found the best bar in Paris to have a great night with friends. Retrogaming and pop-culture fans, head to the Player One bar! [Read more]




Uncommon sport: where to practice Quidditch in Paris and Île-de-France?
Calling all Muggles out there who would like to become wizards! Harry Potter's magical world's sport Quidditch is meeting a great success and four sporting clubs offer you to be introduced to it in Paris and Île-de-France. [Read more]




Fun and uncommon experiences to live with friends in Paris
Feel like enjoying something new and fun with your friends? Come along and discover fantastic, fun and uncommon experiences to try in Paris and beyond! [Read more]
Events coming up




Paris Games Week 2022 at Paris Expo Porte de Versailles
After being off for three years, the Paris Games Week is back this year, from November 2 to 6, 2022, with a fabulous program. The ticketing service is now open. Here is more about it! [Read more]
To enjoy all year long!




Stranger Things: a never-before-seen temporary pop-up store this summer on Paris Champs-Elysées, our pictures
This is the biggest series at the moment, a series fascinating worldwide: Stranger Things is on everyone's lips and screens! And from June 24, 2022, the series comes to the Champs-Elysées with a never-before-seen pop-up store! [Read more]




Activity bars in Paris: our 100% indulging and fun selection
Calling all fans of card games, darts and boardgames! To have a fun time with your friends without having to stay home, there is nothing like having a drink and playing games in one of the many activity bars in Paris, right? And if you do not know where to go, Sortiraparis has come up with a selection of activity bars to make sure you will have a blast with friends or colleagues! Cards, dices, boardgames… You choose! [Read more]




Lightsaber French open 2022 at Paris Stade Charléty
On July 8 and 9, 2022, come and attend the world's greatest lightsaber tournament at Paris Stade Charléty. On the menu, epic fights and many 100% pop culture entertainments for Star Wars fans! [Read more]




VR activities in Paris
Virtual reality and games of all kinds fans, are you looking for a place to satisfy your geek passion? Or maybe you just want to travel? We offer you a guide for VR activities in Paris, to live experiences out of the beaten paths. [Read more]




Paris Fan Festival: Celebrating pop culture at the Paris Event Center
Pop culture fans, this festival was made for you! Between exhibitions and entertainments, discover your favorite movie or video game heroes in their universes, from May 7 to 8, 2022, during the Paris Fan Festival. [Read more]




Paris Manga and Sci-Fi Show 2022, the pop culture event at the Porte de Versailles
Paris Manga & Sci-Fi Show is back for the 31st edition running on Saturday March 19 and Sunday 20, 2022, at Paris Parc des expos Porte de Versailles. For a weekend, pop culture fans will meet to enjoy with their families or friends, new manga, series and cosplays! [Read more]




World of Disney: the Disney Village store reopens
The World of Disney store expects you for a crazy shopping spree, reopening from May 22 at weekends, until the resort and Disney Village fully reopen. [Read more]




Comic Con Paris 2020 at La Villette - Cancelled
Bad news for comics fans! The sixth edition of Pars Comic Con - expect to take place from October 2 to 4, 2020 - at the Grande Halle de la Villette, has been cancelled due to the coronavirus health crisis. [Read more]
May the force be with you for your next stay in Paris! and have fun!