Published by Rizhlaine F. · Published on 11 August 2022 at 19h41
Looking for ideas to throw a bachelor party in the Paris area? Here are the best activities for a bachelor party in Paris and Île-de-France!
Your friend will marry or enter into a civil partnership soon and you are looking for ideas for his bachelor party. Not so easy… unless! To throw a fabulous bachelor party, come along and discover the best activities to do in Paris and in Île-de-France, to make sure you make the most of the French capital city and its regions.
We have gathered our best outing and unusual activity ideas, whether surprising or thrilling for a bachelor party in Paris. You just have to make your choice and come up with a surprise program with your partners in crime. This is to make sure you will have an unforgettable and fun moment with the future groom. So, are you ready to give him the best bachelor party ever? Here we go for great bachelor party ideas in Paris and Île-de-France.
As for bachelorette party, click here!
And make sure you stay tuned as the guide is updated accordingly. To make sure you miss no bachelor party idea, we recommend you keep this page and check it out again regularly whilst organizing the party!
Throwing a bachelor party in Paris and Île-de-France:




Ephemera, the first immersive restaurant in Paris taking us under the sea
Ephemera, this is the name of the first immersive and affordable restaurant taking us under the sea for the first edition. Head to Paris 13th arrondissement, to a hidden location of MK2 Bibliothèque movie theater to enjoy an incredible experience for a meal. Official opening on Monday March 14, 2022, reservations are already open! [Read more]




The Zanzi: An African-inspired hidden cocktail bar in Paris
Come along and discover the Zanzi, an incredible cocktail bar hidden in Paris 8th arrondissement. Paying tribute to magnificent Zanzibar and Tanzania, the first "African speakeasy" in town is the occasion to enjoy an enchanted break both delicious and original in the very chic "Golden Triangle". Ready to take off? [Read more]




Rehab, the CBD-based cocktail speakeasy bar in Paris
Have you heard about the Normandy Hotel speakeasy? Welcome to Rehab, the CBD cocktail bar that rocks. Here, one enjoys original creations based on cannabidiol, in a very relaxing setting. [Read more]




Solera, the craziest cocktail bar in Paris
Solera is the completely crazy cocktail bar in Paris waiting for you on the left banks. Discover a mind-blowing menu through spectacular signature creations. A good idea for an uncommon drink experience! [Read more]




The bar taking you Under the Sea
How does an immersive bar taking you 20 thousands leagues under the sea sound? Good? Well, after opening the very original restaurant, the under the sea bar is now opening. Enjoy the annex featuring the same spirit, and taking you on the discovery of nice cocktails and dishes to share. [Read more]




Paris Fury Room to let off steam
Feel like on the verge of breaking it all? Head to the Fury Room that reopened this past May 12 to let off steam without having to clean everything up after. Such a good idea in Paris! [Read more]




FAT: the Parisian bar dedicated to Hip Hop and street art
Street art lovers, hip hop enthusiasts and cocktails fans have their new headquarters! Its name? FAT, a bar nestled in Paris Marais neighborhood. [Read more]




Fun in Paris: waterski on the Seine
Waterskiing on the Seine? Yes, you can and you can go waterskiing in Paris. A club offers you 3.5km of skiable water with learning workshops. Whether you go for bi-ski, mono-ski or even if you want to learn how to do acrobatics or practice wakeboard, here is a fun spot that will make you discover a new passion. [Read more]




Gossima: the first ping pong bar in Paris
If you are crazy about table tennis, aka ping pong, here's a place that could become your new HQ! Called "Gossima", this ping pong bar set in Paris 11th arrondissement. [Read more]




Les Petites Flèches, the uncommon bar to play darts in Paris, reopens
Les Petites Flèches is this quirky bar coming to Paris 11th arrondissement. Here, you discover the concept of connected darts, never-seen before in Paris, while enjoying craft beers and tasty mezzes. [Read more]




ESpot, the gaming-dedicated concept store a stone's throw from the Louvre
Gamers and other video game fans are expected at ESpot, the new gaming and e-Sport dedicated area set in the heart of Paris, rue de Rivoli, to enjoy the multiple computers and consoles available. [Read more]




What is this secret passage behind the bookcase set rue du Quartier Latin?
When walking across rue des anglais in the Latin Quarter of Paris, you may have noticed a strange bookcase. Perhaps your curiosity already led you to the temptation of grabbing one of the books to find a secret passage. [Read more]




Player One, the ultra-playful retrogaming bar in Paris Halles area
Creative cocktails as tasty as good-looking, a playful and festive ambiance, self-service games: we found the best bar in Paris to have a great night with friends. Retrogaming and pop-culture fans, head to the Player One bar! [Read more]




La Rêverie, the incredible bar-restaurant serving sophisticated cocktails taking us to Singapore
In the Bastille area stands a genuine gem, a bar-restaurant with an original and impressive décor. La Rêverie is aptly named with fluffy clouds and lit tree taking us straight to Singapore. [Read more]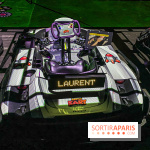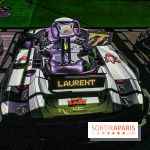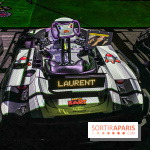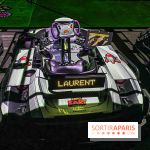 Battlekart: a Mario Kart and Rocket League-inspired augmented reality go-karting comes to Paris
Calling all crazy drivers! An uncommon go-karting track is coming in the Paris area. This is Battlekart, a promising concept waiting for us in May in Paris Nord Villepinte. On the menu, a crazy race to put your friends to a challenge, throwing bonuses to slow them down like in Mario Kart or playing a ball game like in Rocket League. [Read more]




Bowling Mouffetard, the bowling and billiards complex in Paris 5th arrondissement
Are you in Paris 5th arrondissement and looking for a fun activity to enjoy with family or friends? For bowling fans, we have it all: head to Bowling Mouffetard set rue Mouffetard, as its name suggests. The place provides eight tracks to hit strike after strike, as well as billiards tables and video game arcade cabinets. [Read more]