Published by La rédaction · Published on 13 July 2022 at 10h51
July 14 or Bastill Day firework show is wonderful in Paris. Let off from the Eiffel Tower, right by the Seine, this is a show you can enjoy from a cruise on the water, or on the riverbanks. Here are a few spot ideas to make the most of Bastille Day 2022 in Paris!
Every year, the traditional Bastill Day celebrations in Paris attract crowds. And for good reason; to mark the French National Day, the capital city offers a complete program. Among the highlights: the military parade down the Champs-Elysées in the morning and the firework show from the Eiffel Tower.
Why is July 14th a public holiday in France? Origin and story of the National Day
Every July 14th, France celebrates its National Day, also known as Bastille Day. But do you really know what happened on July 14, 1789? And do you know since when July 14th is a public holiday in France? Let us tell you more about it. [Read more]
As this iconic pyrotechnic show comes up, we are all looking for the perfect location! This year, how about attending Bastille Day 2022 firework show from the Seine? Bateaux Mouches, barges-restaurants, lots of floating places are preparing fabulous programs including dinners and/or parties to make the most of July 14, 2022 and enjoy the firework show from an incredible location, as close to the Eiffel Tower as possible:
July 14, 2022 in Paris: metro stations closed on Bastille Day
Nothing ever changes on Bastille Day: public transportations drive us crazy! You cannot use your car because of traffic jam, but the RATP keeps on working yet with metro stations closed. Discover lines to avoid and those to ride. [Read more]
Furthemore, note that you can enjoy the show from some riverbanks, like on the Quai Branly and the Port Debilly. You can also head to some bridges with views on the Eiffel Tower such as the Pont d'Iéna, Pont de Bir-Hakeim, Pont Alexandre III, Pont des Invalides, Pont de l'Alma, Pont de Grenelle and Passerelle Debilly.
Stay tuned, this guide is updated accordingly. To make sure you miss none of the cruises and barges expecting you on July 14, please check this article out again soon.
CAREFUL: THIS GUIDE IS UPDATED ACCORDINGLY.
Here are a few nice cruises to enjoy on July 14, 2022, in Paris: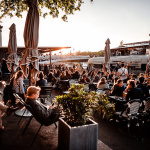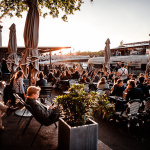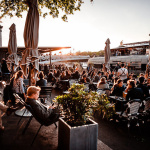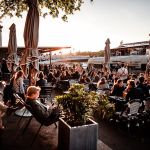 The Flow at Paris: the restaurant-bar-terrace, club and rooftop barge by the Pont Alexandre III
The Flow is a festive venue ideally set by the Seine, by the Pont Alexandre III with views on the Grand Palais and the Eiffel Tower. Doubling as a restaurant, bar, show venue, club and rooftop, this lively guinguette has it all to provide you with great nights by the water. [Read more]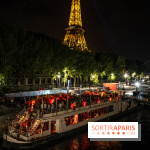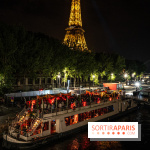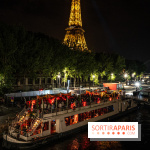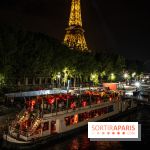 Chez Mila, the terrace-barge at the foot of the Eiffel Tower
Trendy terrace at the foot of the Eiffel Tower Chez Mila is back for the 2021 summer season. For the summer, come and dance, chill and enjoy delicious bruschetta toasts and boards to share by the water. [Read more]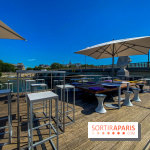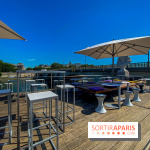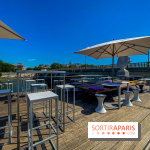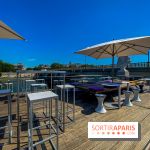 Flucturart terrace, cocktail bar in a floating urban art center for the summer 2021
How about enjoying the sun while sipping a nice cocktail in a beautiful cultural place? Head to Flucturart open-air terrace, a floating urban art center in Paris 7th arrondissement. This is also an opportunity to admire unobstructed views on the Eiffel Tower and the Grand Palais. [Read more]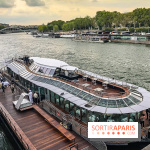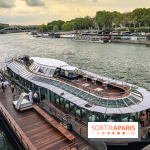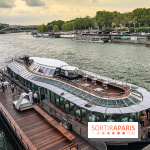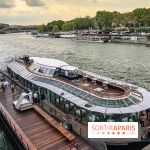 Ducasse sur Seine, Alain Ducasse's gourmet restaurant boat, is back
Open since September 2018, Alain Ducasse's floating restaurant called Ducasse sur Seine invites you to travel and discover new flavors for lunch and dinner-cruises aboard an electric boat built especially for him. [Read more]