Published by La rédaction · Photos by My B. · Published on 14 July 2022 at 13h16
What to do on July 14, 2022, in Paris and Île-de-France for Bastille Day? Between the military parade, the Eiffel Tower's firework show, the firemen's balls, and more good deals and entertainments expecting you on this public holiday, here are ideas to enjoy in the Paris area!
Bastille Day is celebrated every July 14 in France. This historic day commemorates the storming of the Bastille - a major event in the History of France - that marked the French Revolution. Today, plenty of traditions pace this festive day. In Paris, lots of curious people flock in the morning to discover the military parade walking down the Avenue des Champs-Elysées. At nighttime, the Eiffel Tower shines as bright as a diamond with the spectacular firework show. Parisians and tourists can also have a blast at the firemen's balls.
Why is July 14th a public holiday in France? Origin and story of the National Day
Every July 14th, France celebrates its National Day, also known as Bastille Day. But do you really know what happened on July 14, 1789? And do you know since when July 14th is a public holiday in France? Let us tell you more about it. [Read more]
The rest of the Paris area is not left out: everywhere across Île-de-France, firework shows and balls are available. Every year, Île-de-France inhabitants can enjoy a great and festive program. If you want to enjoy this colorful day, discover the beautiful outings expecting you on Bastille Day in Paris and Île-de-France.
And stay tuned: these guides are updated accordingly. To make sure you miss no good deals on July 14 in Paris and Île-de-France we recommend you check this page regularly.
CAREFUL: this guide is being updated




July 14, 2022 in Paris: metro stations closed on Bastille Day
Nothing ever changes on Bastille Day: public transportations drive us crazy! You cannot use your car because of traffic jam, but the RATP keeps on working yet with metro stations closed. Discover lines to avoid and those to ride. [Read more]




July 14, 2021 in Paris: closed streets and traffic restrictions for Bastille Day!
Hey friends! Bastille Day is just around the corner. But this year, because of the current health context, specific guidelines are set up to avoid big gatherings and enable social distancing. Let's discover the access restrictions as well as the metro stations closed on that day. [Read more]
Entertainments on July 14, 2022 in Paris:




Bastille Day Military Parade, July 14, 2022 on the Champs-Elysées, program
Bastille Day's traditional parade will take place on Thursday July 14, 2022. Meet on the Avenue des Champs-Elysées to attend this major event themed on "Sharing the Flame". This land and airshow will also pay tribute to Ukraine. Here is the program. [Read more]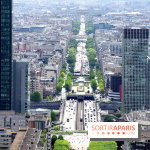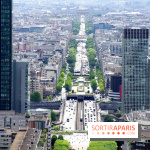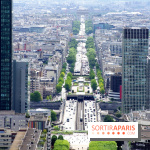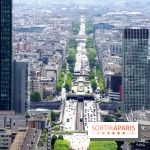 Bastille Day, July 14, 2022's airshow on the Grande Arche rooftop
On July 14, 2022, for Bastille Day, touch the sky to enjoy the airshow from the top of Paris La Défense Grande Arche. [Read more]




Bastille Day, July 14, 2022's concert on Paris Champ de Mars
To end Bastille Day 2022 - or France's National Day - on a high note, the Orchestre national de France, the Chœur and the Maîtrise de Radio France await you on the Champ de Mars on Thursday July 14, 2022, at 9:15 p.m., for a fine symphony concert at the foot of the Eiffel Tower. Stay tuned to discover the full program! [Read more]




Bastille Day in Paris: July 14, 2022's firework show from the Eiffel Tower
Every year, to celebrate Bastille Day, a magnificent firework show is let off from the Eiffel Tower. A magical pyrotechnic show to enjoy on July 14, 2022. [Read more]




Where to watch July 14, 2022's Bastille Day fireworks in Paris?
Each Bastille Day, everyone head to the Eiffel Tower to watch the firework show making children and adults very happy on July 14... Restaurants, bars, pitches, public gardens, terraces, which spot will be the best, with the most beautiful views to be blown away? Keep reading to find out more! [Read more]
And do not forget that lots of entertainments are held on this public holiday in Île-de-France.




Firework shows on July 13 and 14, 2022, in Paris and Ile-de-France
Discover the most beautiful Bastille Day fireworks on July 13 and 14, 2022, in Paris and its region. This year, fabulous pyrotechnist shows are to be performed again along with entertainments such as concerts and the famous Bastille Day firemen's ball. Discover the program near you and the best spots to make the most of Bastille Day in Île-de-France. [Read more]