Published by Manon C. · Photos by Julie M. · Published on 21 January 2022 at 17h00
Is there anything more romantic than, on Valentine's Day 2022, taking your beloved one out to make a cruise on the Seine river. Glass of champagne, festive dinner and visit of the most beautiful monuments in Paris… We concocted you a program to blow her/him away!
Paris and its monuments, its boats and the Seine! There's nothing more romantic than going on a cruise and escaping the other's look just to admire the beauty of the French capital for Valentine's Day 2022!
Here are some cruise propositions that bet on it and likely to please you.
- Selection 2022 regularly updated -

Valentine's Day 2022 on the Seine in Paris: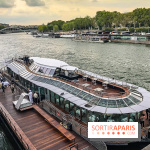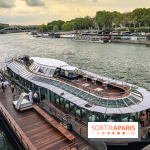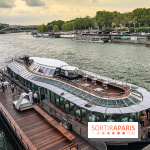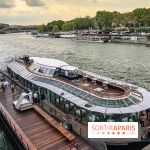 Ducasse sur Seine, Alain Ducasse's gourmet restaurant boat, is back
Open since September 2018, Alain Ducasse's floating restaurant called Ducasse sur Seine invites you to travel and discover new flavors for lunch and dinner-cruises aboard an electric boat built especially for him. [Read more]




Vedettes de Paris, cruises and a moored restaurant to make the most of the Seine River
Sponsored - Set at the foot of the Eiffel Tower, Vedettes de Paris is being reinvented to give a new look on the Seine and a getaway thanks to cruises for children and adults! Guided cruises, family cruises, pre-dinner cruises and even the Café des Vedettes on the dock with an offer entirely revisited to indulge you. [Read more]




Fun: this boat provides raclette cruises on the Seine for winter 2021/2022
Fed up of guided cruises? And what if this winter you choose to enjoy a raclette, tartiflette and mulled wine cruise on the Seine? This is what the Bateau Apéro boat offers from October 14, 2021 to March 10, 2022 once a month. [Read more]
As well as: Les Bateaux Parisiens, and Diamant Bleu
Happy Valentine's Day 2022, lovebirds!