Published by Maïlys C. · Published on 2 December 2016 at 10h36
Hotel 209 looks like new (and believe the specialists, there's not greater luxury than looking new). Set a few minutes from the Gare de Lyon, this 4-star hotel offers a contemporary and simple service ideal for business travels.
Paris counts many very fanciful hotels with an extravagant luxury or deeply romantic: but if you are looking for some simplicity, we undoubtedly found THE new address to visit. Here, no fuss, but service, a wide and soft bed and a desk to get some work done (and sometimes a terrace!).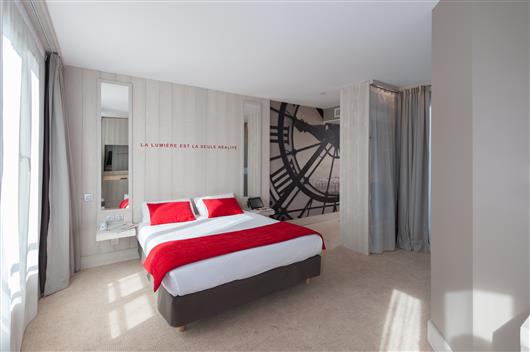 A big, comfortable and modern room with clear colors with a pop of red expect you at Hotel 209 set in Paris 12th arrondissement, at 209 rue de Charenton (meaning it's at the exit of the Dugommier metro station), the hotel combines a perfect welcome with a very detailed luxury but sober: excellent mattress, large choice of pillows, Italian shower, unlimited high speed WiFi…
Thought up by architect and designer Thierry Rétif, the place doesn't hide its love for art and cultural references: we walk by sketches from the 19th century drawn on the walls, then street art by Keith Haring in the breakfast room and in the end, it's a true life style that takes place within the hotel that wishes to become over the years and the events, a place of cultural meetings.
In other words, here's the perfect hotel to rest after a long day: we validate!
Practical information:
Hotel 209, 209 rue de Charenton, Paris 12th arrondissement
Book online
From €109