Published by La rédaction · Photos by My B. · Published on 30 July 2022 at 00h31
Coffee lovers unite! Because a coffee break is a ritual shared by many people worldwide, we decided to make you discover the best coffee shops in Paris.
Coffee shops have boomed over the past few years in Paris. From now on, there are many places you can visit on your own or with friends to enjoy a pastry with a small espresso or a latte. So, to help you out and choose your new headquarter, we have listed some of the best coffee shops in Paris.




The Place To: restaurant, bar and coworking, a place fitting your needs in Paris 10th arrondissement
The Place To is the latest lively venue to linger in, in Paris 10th arrondissement! The restaurant welcomes you from dawn to nightfall with a complete and indulging offer from breakfast to dinner including lunch and happy hour. The asset: several areas, several atmospheres, perfect for coworking! [Read more]




Printemps Haussman's Café Vert, the new lush and indulging coffee shop
Printemps Haussmann keeps unveiling novelties with this new lush café called Café Vert. You are expected every day from 10 a.m. to 8 p.m. to enjoy warm beverages served with sweet treats, or lunch with fresh and scrumptious dishes, or a pre-dinner drink with friends. [Read more]




Fika Paris, the latest relaxing café at the Swedish Institute
Fika is the name of the latest café inaugurated at the Swedish Institute. In the paved courtyard of this cultural venue shining a light on Sweden, enjoy a welcoming and bright coffee shop with a terrace serving delicious Swedish specialties. [Read more]




Bältis, the latest organic Lebanese ice cream parlor in the Marais area
Are you looking for delicious ice creams in Paris? Go and discover Bältis, the latest ice cream parlor set rue Saint-Antoine, within walking distance from the Place des Voges. Tasty, organic and indulging, here is how to treat you well. [Read more]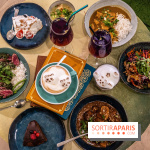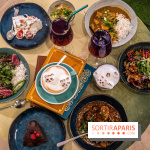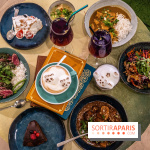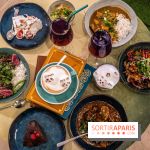 Quirky cafés and tearooms we love in Paris
Looking to discover an uncommon and original tearoom - café - coffee shop? Go and discover the most atypical and indulging spots in Paris. Never-before-seen pastries or crazy settings, here are our favorite spots! [Read more]




Coffee shop in Paris, 8 new and great places to try
Looking for a nice and new coffee shop in Paris? Here are 8 new places you need to discover to enjoy an indulging break to get a fantastic latte or have divine lunch or brunch in duo or with friends. [Read more]




Babka Zana opens its first indulging coffee shop by the Place des Vosges
Are you fan of Babka Zana's delicious babkas and Levantine specialties? Head to the Place des Vosges to discover the first coffee shop of the brand expecting you from morning to afternoon, including lunch with a great savory offer to enjoy on site or in the park next door. [Read more]




The best vegan and vegetarian coffee shops in Paris
Are you vegan or vegetarian and craving a delicious gourmet break on your own or with friends, over a cup of plant-based latte and a delicious slice of cake? We have found the best vegan coffee shops in Paris you really want to visit! [Read more]




Guide to the best chai lattes in Paris
Definitely our go-to drink in the winter, Chai latte, long-distance cousin of the latte based on black tea, foamy milk and lots of spices. The perfect comfort drink! [Read more]




Bonjour Jacob, a concept mixing works of art, magazines and coffee shop
To discover a surprising and inspiring location, head to Bonjour Jacob, by the Place de la République. On the menu, art exhibition, coffee shop and a selection of the best magazines from all over the world. [Read more]




Guide to the best hot chocolates in Paris
Fancying a tasty hot chocolate? Come along and discover the best indulging drinks in Paris for this winter. From great houses to the most uncommon, without forgetting those made by famous pastry chefs, here is a guide to the best hot chocolates in Paris. [Read more]




Rose Bakery at the Balzac's House, the café-tearoom in a bucolic garden
A confidential coffee shop nestled in the hidden and lush garden of the Maison de Balzac sounds very appealing. With a 100% organic and homemade menu, its bright setting opened onto the relaxing garden and views on the Eiffel Tower, it is hard not to be delighted. [Read more]




Pingwoo, the flowery restaurant-café and cute kitty lattes
Pingwoo is the name of this small eatery and lovely coffee shop set rue Saint-Lazare in Paris 9th arrondissement. A canteen-café with a brunch on Sundays, very flowery, serving genuine homemade fusion cuisine, and gorgeous pastries to pair with the famous and oh-so cute kitty lattes. [Read more]




Açai and You, the everyday and all-day fruity brunch in Odéon
Craving some affordable and very fruity brunch all day and every day? How perfect, this is the very concept of the latest Açai and You restaurant that opened in the Odéon area. A restaurant broving açai bowl-based brunch – a Brazilian specialty prepared with açai, namely a berry from Amazonia. [Read more]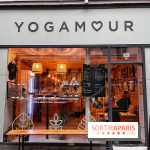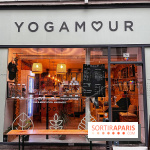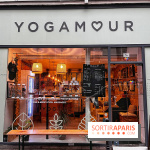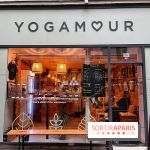 Yogamour, the soothing vegan coffee shop with meditation and yoga bubbles
Set in Paris 3rd arrondissement, Yogamour is a genuine haven of peace working both as a vegan coffee shop and a wellness center, as one can practice meditation and yoga in heated bubbles! [Read more]




Coffee shops to enjoy outside in Paris
As soon as the sun is out in Paris, there is something we love: having a cup of tea, in the sun, on a terrace, along with a great book. Keep reading to find out more! [Read more]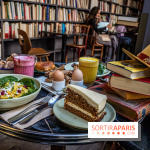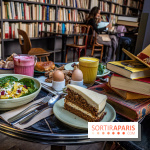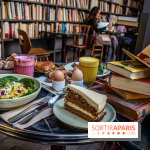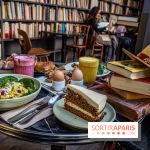 Used Book Café, the literary coffee shop
The Used Book Café is a library coffee shop created by Concept Store Merci. An uncommon coffee shop enabling you to read while enjoying a simple and homemade menu. [Read more]




Benchy: the coffee shop dedicated to sandos in Paris 6th arrondissement
Sando, this famous Japanese sandwich, can now be enjoyed in Paris 6th arrondissement thanks to the opening of the Benchy coffee shop. Savory or sweet, you cannot resist it, as it is often paired with delicious matcha latte! [Read more]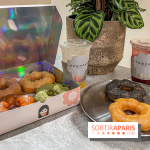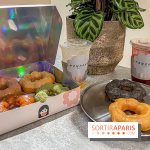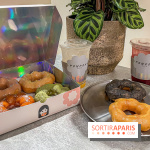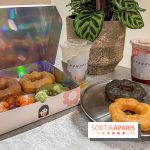 Ponpon, the first mochi donut store in Paris
Indulging food alert! The first mochi donut store has opened in Paris! Ponpon Café, here is the name of this spot already meeting great success attracting everyone in Paris. We tried it and loved it! [Read more]




@unreve, the magnificent French-Asian café-tearoom
@unreve, here is the name of this new coffee shop, tearoom and patisserie that settled in Avenue Parmentier in Paris 11th arrondissement. Picture this: a lovely mix of the best of coffee shops and Asian flavors, and you get the tone. [Read more]