Published by Rizhlaine F. · Published on 13 April 2022 at 11h24
The weather is not always the best when you are walking around Paris, visiting the city. But what you do in Paris when it is gloomy or raining? Here hare some ideas.
And here we go again, bad weather in Paris. There you were, happy to be finally enjoying some free time but the weather has decided otherwise. We must say that after weeks on lockdown, you wanted to make the best of the Parisian capital, so, you have to adapt, right?
Since being in the rain is not always the nicest feeling, we have created a little selection of outings to enjoy when it is gloomy or raining.
Walks:




The most beautiful covered passages in Paris
You may know it, but Paris houses many covered passages. Let's discover the 12 most beautiful Parisian covered passages with our self-guided tour. [Read more]
Cultural outings:




The best exhibitions this December 2021 in Paris and Île-de-France
In December 2021, there is a lot to see in Paris. Between art galleries, the decorated monuments and the Christmas lights, Paris is a treat for the eyes! To make sure you are not missing something, one solution, following our guide about the exhibitions and the arty events... [Read more]




7 secret museums to discover in Paris when lockdown is lifted
In Paris, there are major museums, but also more confidential places worth the trip. Feel like discovering hidden gems? Here are 7 secret museums to discover in Paris as soon as possible! [Read more]




Free museums and monuments in Paris and Ile de France
Looking for a free museum in Paris? Musée des Beaux-Arts, Musée d'Art Moderne, Musée de l'Aviation, Musée des Arts Asiatiques, over 20 museums are free of charge, all year round, so, discover them! [Read more]
Treat yourself to a pampering session:




The best spas in Paris!
How about a wellbeing break? What if we tested Paris best spas? Suiting all budgets, here are the top relaxing addresses to treat you to a great massage or wonderful treatment! [Read more]




The best new tearooms to discover in Paris
Are you looking for a new tearoom in Paris? Feel like having a seat, enjoying a real cup of tea with delicious pastries? Here are the latest locations to enjoy in the capital city. [Read more]




Christmas and winter teatimes in Paris
Teatimes in Paris are switching to winter mode for the Holidays. And how about enjoying some tasty afternoon tea this winter 2021 with lots of spices, orange and cinnamon? [Read more]




Guide to the best raclette, tartiflette and fondue in Paris
This winter – as it gets colder – we feel like enjoying tasty winter dishes such as raclette, tartiflette or fondue… Unlimited, perched in the air or in temporary cabins… Here are a few venues where you can treat yourself to these cheesy dishes. [Read more]




Department stores and shopping malls in Paris and Île-de-France
Craving to go on a shopping spree! Do not panic, we have got you covered with department stores and shopping malls to enjoy in Paris and Ile-de-France to enjoy great deals! [Read more]
Uncommon outings:




Christmas 2021 in Paris: a roller dancefloor to Disney+ music comes to the Galeries Lafayette
Roller-dancing to cult Disney+ songs? Here is the fantastic experience provided by the Galeries Lafayette for this Christmas 2021 in Paris.Children and adults, rehearse your most fantastic steps, the dancefloor is yours from December 1 to 23, 2021! And it is free of charge. [Read more]




The best winter 2021-2022 bars, terraces and restaurants in Paris
This winter, some Parisian establishments and hotels decided to offer temporary bars, terraces and even restaurants with hot cocoa for some, cocktails and mulled wine of others and even typical dishes likely to fulfill your taste buds. Sortiraparis invites you to have a round of these winter bars, terraces and restaurants open for the Holidays. [Read more]




Let's Jump Paris Sud, the biggest Trampoline Park in Europe!
Europe's biggest Trampoline Park reopened this past June 9, 2021 in Palaiseau. Let's Jump Paris Sud – Massy Palaiseau covers 4,5000 sqm and features many sport and fun activities, a Ninja Warrior course and an indoor tree-climbing path. On your marks, get set, jump! [Read more]




Climb Up, France's biggest climbing gym opens in Paris – our pictures
Climbing friends, here is the news you have all been waiting for! As lockdown is lifted, starting from May 19, 2021 for children and from June 9, 2021 for adults, France's biggest climbing gyms – Climb Up – opens. A huge and brand-new complex designed as a genuine place of life, set avenue de la Porte d'Italie in Paris 13th arrondissement, likely to delight all climbing and block fans. [Read more]




Sparkling VR: our tests of Paris biggest loft devoted to virtual reality
Created by FX de Seze, Sparkling VR presents the biggest loft devoted to virtual reality in Paris. In the heart of Paris 8th arrondissement, this VR temple welcomes you for a relaxing moment, just like at home. [Read more]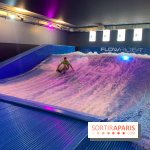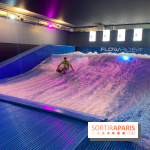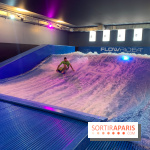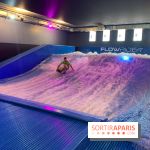 Wave in Paris: indoor surf comes to town!
How about surfing in Paris? A dream came true for the many surfing fans with the opening of Wave in Paris. This first indoor static surf wave facility recently opened in Paris 15th arrondissement. A new and never-before-seen place where you can experience incredible surfing sensations on flowboard and bodyboard, mixing surf, snowboard, and skateboard. [Read more]