Published by Manon C., My B., Julie M. · Photos by My B. · Published on 22 April 2022 at 15h24
How about having some croque-monsieur – or grilled cheese – today? Here are restaurants in Paris where you can have this French cuisine classic.
It is hard to be more scrumptious, more regressive and more satisfying than a hearty croque-monsieur packed with melted cheese, right? This French bistro cuisine staple continues – decades after being created in the late 19th century – to delight children and adults, people in a hurry and tourists stopping by Paris, for a generally affordable cost.
And speaking of which, Paris is filled with places where you can have a delicious croque-monsieur, made by the book. No matter if they are inspired by the traditional recipe, based on ham, bechamel sauce and cheese, or more original with chicken, raclette cheese, or vegetarian style, croque-monsieurs can be enjoyed all year around in Paris restaurants.
Keep reading to find out where to have the best croque-monsieurs in Paris!
Guide to the best croque-monsieurs in Paris




Galerie Georges V reinvents itself
Are you looking for a crazy truffle croque-monsieur? If so, head to the Galerie of the George V to discover this highly indulging truffled grilled cheese. [Read more]




Le Choupinet, the very tasty brasserie by the Luxembourg garden
Le Choupinet is a brasserie set across the Luxembourg Garden. It serves typically French bistro gastronomy in a warm and modern atmosphere. [Read more]




Brasserie Urbaine, Molitor's restaurant revisiting brasserie classics
Paris 16th arrondissement Molitor restaurant Brasserie Urbain has reopened for the winter season. The new chef, Martin Simolka, revisits great French brasserie classics with a modern twist, from croque-monsieur to truffle elbow pasta. It is modern, creative, delicate. We love it. [Read more]




Café Jeanne, Park Hyatt Paris Vendôme's new restaurant by Jean-François Rouquette
Park Hyatt Paris Vendôme unveiled last late summer a brand-new restaurant, Café Jeanne. More than a simple restaurant, the menu is put together by Jean-François Rouquette and welcomes you all day long in three areas for a coffee, a snack, a pre-dinner drink, or a meal. A smart restaurant allowing us to enjoy Jean-François Rouquette's exquisite cuisine for a cost smaller than at his Michelin-starred restaurant. [Read more]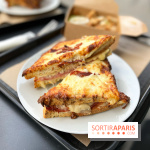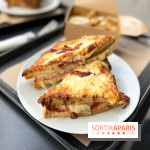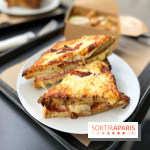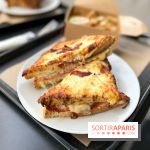 Faste, the hearty and original grilled cheese restaurant
On the menu of Faste, one star only: grilled cheese, available in countless original and regressive recipes. [Read more]




The (new) Pub Saint-Germain has arrived!
Saint-Germain-des-Prés institution for over 50 years after its creation, the Pub Saint-Germain has completed a renewal. Taken over by the O'Sullivans team, this wide venue still unveils modernized brasserie cuisine. And a very large choice of beers, especially local brews. [Read more]




Michel Sarran opens his croque-monsieur bar in Paris: a heart-stopper
Good food alert! Toulouse chef Michel Sarran is about to delight Parisians and tourists. Starting this Wednesday May 12, 2021, his gourmet croque-monsieur concept – called Croq'Michel – comes to Paris. Here is what we know. [Read more]




Chez Cheez, delicious grilled cheeses in Paris
This is a dish we almost forgot about… The croque-monsieur, simple, effective and so Parisian. A restaurant even decided to kick up a huge fuss about it, by providing a range of 5 croque-monsieur with very special cheeses for an incredible panel of flavors. At Chez Cheez, bread is covered in cheese and bechamel. [Read more]
So, are you having a croque-monsieur for lunch?